Child welfare technology is constantly evolving: trends ebb and flow, policies and mandates change, and new tools become available seemingly every day.
Beyond changing how work gets done, it's also changing the way you talk about it—both about your challenges and how technology can be used to help solve them.
We've compiled a list of terms you've likely heard in conversation or come across in practice articles related to technology, along with their definitions, how they relate to each other, and what they mean for child welfare.
We've also added a handful of CCWIS (Comprehensive Child Welfare Information System) terms and requirements that might impact how your agency evaluates and uses technology.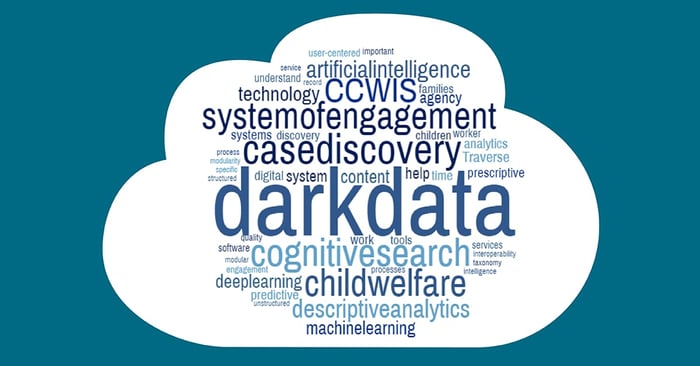 And, if you want to dive deeper into a certain topic, most entries include links to additional resources to learn more.
For starters, here are five key phrases you'll hear most often when talking about technology solutions that can positively impact the child welfare practice.

Case Discovery
The ability to automatically analyze case content and data, and quickly surface critical information through a child welfare lens.
A case discovery solution allows social workers to uncover dark data and gain insight into specific information related to a particular person, case, or topic. It presents a complete picture of the child or family's past and present to safeguard their future.
Another way to think about this: case discovery is to child welfare cases what eDiscovery is to legal cases. It describes what social workers can uncover, find, and learn through an automated case mining process.
Read "Traverse® Case Discovery: Confident Decisions. Safer Children and Families." or watch "Traverse Feature Preview: Case Discovery" to learn more.
Note: case discovery is an emerging concept, so you may not hear the term often outside of your conversations with Northwoods; however, you may hear about other similar ideas, like cognitive search (see below) or artificial intelligence.

Cognitive Search
As defined by Forrester, an influential research and advisory firm, "a new generation of enterprise search solutions that employ artificial intelligence technologies such as natural language processing and machine learning to ingest, understand, organize, and query digital content from multiple data sources."
Basically, cognitive search combines new technologies to help establish links between all the information coming at an agency from various sources, such as service providers, law enforcement, or previous social workers.
Like case discovery, cognitive search tools can empower child welfare social workers to quickly and accurately surface the right information at the right time to support the decisions they need to make.
To learn more, read "What Cognitive Search Means for Social Services" or "Using Cognitive Search to Fight the Opioid Epidemic."
(Note: you may hear this concept described as cognitive computing and/or cognitive discovery, too.)

Dark Data
As defined by Gartner, a leading research and advisory company, "the information assets organizations collect, process, and store during regular business activities, but generally fail to use for other purposes. Like dark matter in physics, dark data often comprises most organizations' universe of information assets. Thus, organizations often retain dark data for compliance purposes only."
In the context of child welfare, dark data is typically defined as information collected and compiled from numerous sources over a long period of time that becomes hidden or virtually impossible to retrieve when making decisions to protect children and strengthen families.
Dark data is some of the most valuable information an agency has within its case files, but due to its sheer volume and complex nature, it is often the most difficult for social workers to manage and discover. Plus, if the case files are not electronic, accessibility becomes an additional issue.
We've heard from several agencies, "well, we don't have any dark data, so that's not a problem for us!" But, as we continue talking and exploring the concept, they realize there's a lot more hidden information than anyone initially thought (think psychological reports, court records, emails, medical reports, case notes, and other unstructured data).
We've created a few resources and visuals to help you better understand what dark data is, how it gets created, and why it's so important:

Descriptive Analytics
As defined by Gartner, "the examination of data or content, usually manually performed, to answer the question 'What happened?' or 'What is happening?' and is characterized by traditional business intelligence and visualizations such as pie charts, bar charts, line graphs, tables, or generated narratives."
While descriptive analytics is performed manually in many industries, tools like Traverse are now available for child welfare that can analyze large sets of data in a matter of minutes.
Traverse applies next-generation technology, including artificial intelligence, to automatically read case files like a social worker would and highlight the most important information in a case. That way, a social worker is very quickly presented with a child's whole story and can make more informed decisions to ensure safety.

System of Engagement
Technology systems designed to increase efficiency, improve service delivery, and enhance an agency's existing systems, such as SACWIS or CCWIS.
A system of engagement features a flexible, lightweight, intuitive, and user-centric interface that is designed for collaboration and daily work.
For child welfare, a system of engagement can modernize agencies from the bottom up by helping workers take full advantage of their data and content, regardless of their location or level of connectivity. Social workers can efficiently collect, view, and share case content for a system of engagement to display.
A purpose-built system of engagement eliminates redundant work, allowing workers to re-purpose time previously spent on administrative tasks to do more high-value work with children and families to reduce trauma. It also helps them uncover insight (see dark data and descriptive analytics) that can be applied when making critical decisions.
Download the eBook, "Enhancing CCWIS with a System of Engagement," or read the blog, "5 Ways a System of Engagement Benefits Child Welfare," to learn more.

For the remainder of the glossary, terms are listed in alphabetical order. You can also jump to a specific word using the table below. Like the key phrases above, each one includes our take on why it matters to child welfare and how it's linked to the others. Have another term you'd like us to add? Leave a comment at the bottom of this post.



Agile Software Development
Describes a set of principles for building software that allow collaborative, cross-functional teams to accommodate changing user needs and requirements.
Previously, software development was often described as taking a "waterfall" or "big-bang" approach, which meant it could take several years before a tool being developed was available for an agency to use. Often, by the time it was ready, the agency's needs would have changed so much that the tool no longer provided the value it should have.
On the other hand, an agile approach to software development allows one large project to get broken down into several smaller modules, each of which can be delivered separately and faster.
What does all this mean for child welfare? It's simple: technology can help agencies drastically improve outcomes. The faster you can get your hands on the right technology, the faster it can deliver value and the more efficiently you can deliver services. That means the children and families who rely on those services can benefit as quickly as possible.

Artificial Intelligence (AI)
The ability of a machine to imitate human intelligence.
Digital assistants like Siri, Alexa, and Cortana, or cleaning "robots" like a Roomba, are a couple of examples of AI you might already be interacting with every day.
AI can be applied in child welfare to help automate processes and eliminate redundant work. AI can also help surface meaningful data that otherwise might have gone unnoticed (see dark data) and put critical information right at workers' fingertips with no need to re-collect, re-interpret, or dig for data (see case discovery), which means they have more time to focus on clinical interactions with children and families. View our infographic, "Artificial Intelligence in Social Services Explained," to learn how this works and read "Don't Get Spooked by Artificial Intelligence for Child Welfare."
You'll come across several terms related to AI in this glossary that have additional examples of how it can be applied in child welfare, such as machine learning and deep learning, which are both sub-disciplines of AI that mimic human decision-making. The line between the three terms can get blurry, so we've highlighted some articles that can help differentiate between the three. Forbes' article, "What is the Difference Between Deep Learning, Machine Learning, and AI?" is a good starting point.
(Note: you'll likely never hear the exact same definition of AI twice. In fact, each modern dictionary defines it differently. Forbes has another helpful article that provides context around why it constantly evolves: "The Key Definitions of Artificial Intelligence That Explain Its Importance.")

Automated Function
As defined in CCWIS regulations, "a computerized process or collection of related processes to achieve a purpose or goal."
Automated functions play a key role in CCWIS because they can help systems meet requirements for data quality, bi-directional data exchanges, and reporting. They can also support the efficient, economical, and effective requirement by freeing up social workers' time previously spent on administrative tasks and inefficient processes to be re-purposed toward more high-value work.
Every CCWIS will be slightly different based on each state's unique needs and program requirements, which means automated functions will vary by state, too.
Case discovery (using Traverse) is a prime example of an automated function a state might submit. Since Traverse can recognize and group together similar topics, agencies can use it to identify activities, statements, and behaviors that serve as support in meeting Adoption and Foster Care Analysis and Reporting System (AFCARS) or Child & Family Services Review (CFSR) measures.

Child Welfare Contributing Agency (CWCA)
As defined in CCWIS regulations, "a public or private entity that, by contract or agreement with the title IV–E agency, provides child abuse and neglect investigations, placements, or child welfare case management (or any combination of these) to children and families."
One of the cornerstones of CCWIS is that it promotes data sharing and collaboration between agencies (see data exchange and data quality), which can help improve case continuity and ensure children and families get the right combination of services to prevent future problems.
Systems of engagement that can simplify data collection, plus automatically sync that data with other systems or CCWIS modules, become even more important when you think about them through this lens.

Content Collection
Allows social workers to collect documents, photos, audio, or video from anywhere—connected or disconnected—using a point-of-entry capture philosophy.
Social workers need to be able to collect content without interrupting client interactions. Instead, they're often inundated with manual, inefficient processes (e.g., making copies of documents, taking pictures with a camera, or recording audio on a tape recorder and putting them in a file) that limit their ability to engage and build trust with vulnerable children and families.
The right tools make it possible to easily collect content anywhere, any time, and in any format to capture the whole story with minimal disruptions. They also allow social workers to capture content in a context aware mode, avoiding the need to manually tag the content to the case after it is captured.

Data Collection
Allows social workers to easily and efficiently collect quality data from anywhere without duplicate entry.
Collecting data should be a simple task, right? Realistically, it's time consuming, redundant, and error prone, which can decelerate social workers' ability to provide services to children and families.
However, thanks to next-generation data collection tools like Traverse, social workers can complete state and local forms, enter case notes and narratives, and enter other supporting information important to the case from anywhere. Limiting manual data entry reduces duplicative work and the risk for human error, while increasing efficiency.

Data Exchange
As defined in CCWIS regulations, "the automated, electronic submission and/or receipt of information between two automated data processing systems."
This CCWIS requirement (technically called "bi-directional data exchange") reduces the potential for error or inaccuracies by allowing quality data to be sent back and forth between child welfare agencies, CWCAs, and CCWIS, instead of the same data having to be entered multiple times. It also ensures that quality data is maintained in CCWIS, even if it's collected in a different system or module.
Let's use Traverse as an example to show how a bi-directional data exchange works: Traverse autofills case, client, and service provider data provided by CCWIS into state and county electronic forms. Social workers can also complete additional information as needed to be made available to CCWIS, or other systems in the agency. Because of the data exchange, workers spend less time filling out basic information (names, addresses, dates, etc.) on forms and more time engaging families, which increases the potential for a positive case outcome.
The Administration for Children and Families (ACF) has an extensive presentation that you can review, "CCWIS Final Rule Data Exchange Requirements," for more information and specifics.

Data Exchange Standard
As defined in CCWIS regulations, "the common data definitions, data formats, data values, and other guidelines that a state's or tribe's automated data processing systems follow when exchanging data."
Since collaboration is so important for CCWIS, this standard essentially ensures that all modules contributing data to CCWIS are doing so consistently. This not only helps for compliance and reporting purposes, but is also beneficial to the family—consistent data supports consistent service delivery and coordination.
Again, you can review ACF's presentation on data exchange requirements to learn more.

Data Quality
A CCWIS requirement that supports the efficient, economical, and effective administration of the child welfare program by providing complete, timely, and accurate data, supporting consistent and uniform data among all programs and users, and ensuring that CCWIS is a tool that promotes good child welfare practice and positive outcomes for children and families.
Public Consulting Group's (PCG) Shell Culp wrote an insightful LinkedIn article, "Focusing on Data Quality: Key Considerations for Child Welfare Agencies," exploring how quality data impacts all of child welfare, not just CCWIS.
Like Shell, we strongly believe that data quality has much larger implications on the entire practice. For example, tools like case discovery that can help workers make faster, more informed decisions are much more impactful when they have complete, high quality data (and content) to analyze and surface.
Carole Hussey, also from PCG, published another LinkedIn article that's helpful for tying together all of CCWIS' data-oriented requirements: "CCWIS: A Solution for Child Welfare and Important Data Trading Partners."
You can also review ACF's presentation, "CCWIS Final Rule Data Quality Requirements."

Deep Learning
A form of machine learning and artificial intelligence that is inspired by the human brain and is particularly effective in feature detection.
If you've ever uploaded a photo to Facebook and been prompted to tag someone in it, you've seen deep learning in action. Facebook has analyzed hundreds or thousands of photos of that person to determine what set of features make up his or her face, so it can now identify that person.
Think back to middle school science class: the human brain functions through a network of neurons, or nerve cells, that interact with each other to communicate and process information. This information determines how we operate and make decisions.
At its simplest, deep learning functions the same way: neural networks send signals to each other that help a machine process and understand very large amounts information. The more times this happens (referred to as "layers"), the more complex a conclusion the machine can make. As a result, it can teach itself to identify the features (think shapes, colors, patterns, or textures) that make up images and objects that humans recognize.
There's an excellent article on Medium, "Neural Networks: Is Your Brain Like a Computer?," that goes into detail on this comparison. Digital Trends also has an article, "Deep Learning vs. Machine Learning: What's the Difference Between the Two?" that explains how deep learning works.
Here's one way deep learning could be applied in child welfare: imagine if a machine could learn to identify a specific object in a photo in a case file, plus understand the context of that object based on other things surrounding it and then make assumptions based on all of this information (e.g., a needle is on a coffee table in someone's home, where there are also children's toys in the background, which means this is an unsafe living environment for a child).
In this sense, deep learning could help turn dark data and other unstructured, complex content and data into insight that workers could immediately find and use to make more informed decisions.

Diagnostic Analytics
As defined by Gartner, "a form of advanced analytics that examines data or content to answer the question "Why did it happen?" and is characterized by techniques such as drill-down, data discovery, data mining, and correlations."
In child welfare, by examining why certain events have happened, diagnostic analytics can also help a social worker determine how to prevent something from happening in the future. For example, a social worker might use diagnostic analytics to better understand what services she or he should be providing to a family to remediate a potential issue.

Digital Immigrant
A person born or brought up before the widespread use of digital technology.
Think about someone who still clips or tears out coupons to take to a store instead of loading an app on their phone. Or, a worker in your agency who would rather fill out paper forms manually than use technology to streamline the process, simply because that's how they've always done things.
Because they're learning technology in adulthood, digital immigrants are often more hesitant to learn and adopt new software and processes than their counterparts (see digital native below). So, software has to be intuitive and user-centric in order for a digital immigrant to use it.
Read our blog post, "How to Work with Multiple Generations and Technology in Human Services" to learn more.
You can also download "A Field Guide to User Adoption" or "Mitigating Risk and Removing Fear from Organizational Process Change" for tips to ensure both digital immigrants and digital natives will adopt new tools.

Digital Native
A person born or brought up during the age of digital technology and therefore familiar with computers and the internet from an early age.
Technology is second nature to most digital natives, which translates to their work. Digital natives expect technology, automation, and collaboration to be part of their job, which means agencies could struggle to attract and retain new social workers if they're not offering the tools they want to use.
It's a common misperception that all digital natives are tech-savvy because they were brought up in the digital age; however, this is not the case, as explained in The Huffington Post's article, "There's No Such Thing as 'Digital Natives'."
This debate underscores a key point: no matter what terms you use, some workers are going to embrace technology, and some workers are not. You need to be able to bridge the digital divide. This is where concepts like user-centered design come into play. Technology needs to be so intuitive and meaningful that both parties will appreciate the difference it makes on their daily lives.

Enterprise Mobility Management (EMM)
The collective set of tools, technologies, processes, and policies used to manage and maintain the use of mobile devices within an organization.
This concept is critical for child welfare because social workers need to be able to use the tools and access the information they need to do their jobs, regardless of their location.
At the same time, agency IT departments need to be able to secure data and the use of each mobile device workers are using. For example, if a mobile device is lost or stolen, a systems administrator can remotely wipe the device so that personally identifiable information is not compromised.
Note: you might hear this or similar concepts described as mobility managed services (MMS) or mobile device management (MDM).

Integration Platform as a Service (iPaaS)
As defined by Gartner, "a suite of cloud services enabling development, execution, and governance of integration flows connecting any combination of on premises and cloud-based processes, services, applications, and data within individual or across multiple organizations."
iPaaS allows for the integration of different systems in a way that requires the least effort. Since it's managed in the cloud, it needs minimal infrastructure footprint. It allows for pre-configured agents to run on premise, avoiding the need for an agency to expose data sources outside of their network.
TIBCO has an excellent collection of resources, "What is iPaaS and Why Do You Need One Now?," that explain in depth how iPaaS works and why it is suited for helping businesses accomplish their digital transformations.

Interoperability
The ability of different IT systems and software applications to communicate, exchange data, and use the information that has been exchanged.
Interoperability is a key function of systems of engagement and CCWIS, as it's the driving force that facilitates bi-directional data exchanges.

Machine Learning
A form of artificial intelligence that teaches machines to act in specific ways without explicitly programming them to do so.
If you've ever ordered something on Amazon and then received a follow-up email on additional items you might like, you've seen machine learning in action. Amazon is using a machine-learning model to analyze what you've browsed, what you've bought, and what other people who have similar attributes to you have browsed and bought, and then build recommendations based off that data.
Here's how it works: at its core, machine learning is all about gaining insight from large amounts of data. Let's say you have a spreadsheet with 10,000 rows of data that you split into two groups: training data and test data. A machine can learn a series of algorithms that teach it how to read and find patterns in the training data, and then use those patterns to make predictions or assumptions about the remaining test data.
Google has a video, "The 7 Steps of Machine Learning," that goes into more detail if you want to check it out. GovLoop also has a free 10-minute training course, "How to Get Started with Machine Learning," about machine learning and its applications in government, including best practices to help you get started.
Case discovery is an example of how machine learning can provide guidance to help workers understand all the information that exists, so they can apply it toward decision-making. When we talk about how Traverse can read a case file "like a social worker would," we're talking about machine learning: case discovery relies on machine learning to read, analyze, and extract the key concepts, events, and connections in a case. Our infographic "Artificial Intelligence in Social Services Explained" walks through the process.
(Note: you'll see this called out in a couple of places throughout this glossary because it's so important to remember: no machine can ever replace a human's ability to understand the complexities of each child welfare case. Technology can empower workers to discover elements of a case that might not have otherwise been found, but only a human can know what's best for each child and family.)

Modularity
A design approach to building computer software by breaking up complex functions into separate, manageable, independent modules.
"Module" and "modular" are big buzzwords right now in child welfare, thanks to their implications on CCWIS. For starters, this makes the system easier to maintain because one module can be changed without impacting all the others. More importantly, like agile development, modularity can help speed up the delivery of business value for states and agencies because software can be delivered faster and at lower cost.
Read ACF's technical bulletin, "Modular Design and Review Guidance" for more information.
Note: you might also hear phrases like "modular implementation" or "modular procurement" in discussions around CCWIS and technology modernization, too. The common thread that ties all these ideas together is that they help agencies get value from their software investments sooner.

Predictive Analytics
As defined by Gartner, "a form of advanced analytics which examines data or content to answer the question 'What is going to happen?' or 'What is likely to happen?' and is characterized by techniques such as regression analysis, forecasting, multivariate statistics, pattern matching, predictive modeling, and forecasting."
A social worker might use predictive analytics to better understand or confirm the specific circumstances in a case that have a high probability of leading to problems so that she or he can focus future efforts on those areas. For example, if the circumstances of a case show that a parent is more likely to use drugs, a worker can focus his or her efforts on drug abuse prevention and education.
Predictive analytics also promises to help agencies better understand which groups of children in their communities may have an increased chance of being in danger of abuse. However, we're big believers that regardless of how much we advance our work with data and technology, machines alone can't answer the entire need.
Predictive analytics can provide additional insight, but social workers must be able to apply their own training, observation, and critical thinking skills to understand how the data applies to each unique situation and case.

Prescriptive Analytics
As defined by Gartner, "a form of advanced analytics which examines data or content to answer the question 'What should be done?' or 'What can we do to make _______ happen?' and is characterized by techniques such as graph analysis, simulation, complex event processing, neural networks, recommendation engines, heuristics, and machine learning."
A social worker might use prescriptive analytics for guidance around planning and service provisioning. For example, two families that need assistance with counseling may need very different programs depending on their family make up or transportation needs. Or, two children exhibiting similar behaviors may need different types of treatment—one may benefit more from wrap around, in-home services, where the other may require a more intensive setting.
Prescriptive analytics can help determine what actions should be taken, or which services should be provided, based on the family's unique needs and specific circumstances.

Structured Data

Information or content that has a pre-defined data model and is organized in a pre-defined manner.

For child welfare, because structured data fits neatly into a database and is easily searchable (think names, dates of birth, or demographic information on a form field), it is what gets added to the system of record.

Northwoods' customers have confirmed that only 20% of case-related data is structured, which means most of the information lives elsewhere (see unstructured data) and can be more difficult to find and use when making decisions.

Note: you might also hear some things, like case notes and narratives, described as semi-structured, too.

System of Record
An information storage system that is the authoritative data source for a set of data elements.
For child welfare, a system of record is built to store data needed to generate reports for the federal government. It is not necessarily intended to help a social worker work through the case.
Even when workers put information into a system of record, it's a synopsis of what happened, not the actual documentation of the event. It summarizes the data; it isn't the data itself.
When it comes to CCWIS, we believe states should incorporate both a system of record and a system of engagement to maximize efficiency and effectiveness.

Taxonomy
Classification or organization of terms and phrases that represents a specific domain of information.
As it relates to child welfare and document management, taxonomy is just a fancy word to describe how electronic files are named and organized in a case file.
It's by no means a new term, but it remains relevant as technology changes, because having a well-structured taxonomy is foundational to help workers locate the right information at the right time and in the right context.
Think about it this way: all data needs to be organized and accessible in a way that makes sense to child welfare workers and supervisors when they're faced with a critical decision. A fire hose of jumbled information isn't helpful at all. Instead, use taxonomy to guide workers down the path to the right information that's most important to the case.
Read "How a Well Designed Taxonomy Can Increase Your Agency's ECM Success" to learn more.

Unstructured Data
Information or content that either does not have a pre-defined data model or is not organized in a pre-defined manner.
Think of unstructured data as providing the context, or the story, around the structured data, so it's very relevant when making decisions. However, it doesn't fit neatly into a database and it isn't always easy for a machine to analyze, so it can easily become dark data.
Northwoods' customers have confirmed that 80% of the information and data that completes a case file is in an unstructured format (think photos, emails, psychological reports, medical reports, social media, etc.). When you consider this, tools that can turn unstructured data into insight, like a system of engagement, become even more important.

User-Centered (or User-Centric) Design
An approach to designing a product or service in which the end user is placed in the center of the process.
It seems like common sense that a product or service should be designed with its future user in mind, but you're probably aware how often that's not the case—especially when it comes to child welfare technology.
User-centered design assures that people, processes, and products are connected. It requires a deep understanding of not just how someone is going to use a tool, but also what they expect it to help them accomplish, how they need trained and supported, or what potential challenges they'll face while learning it. User-centric systems are intrinsically linked to a child welfare agency's ability to improve outcomes and do meaningful work. If a system isn't user-friendly, social workers just won't use it, which means the agency won't see any benefits.
Our blog post, "Human-Centered Design: How Northwoods Builds Solutions Around You," provides some examples of how we put users at the center of everything we do from research and design to delivery and support.
Usability.gov has created several resources to help explain user-centered design in more detail, including "Benefits of User-Centered Design," "User-Centered Design Process Map," and "Creating a User-Centered Approach in Government."
The Child Trends blog also has a good post explaining how user-centered design can be applied in child welfare: "Human-Centered Design Can Create More Efficient and Effective Social Service Programs."
Director of Market Research Rupam Chokshi and Product Marketing Manager Lauren Hirka contributed to this post.