Editor's note: you've likely heard people talking quite a bit lately about "human-centered design" (or "user-centered design," "user-experience (UX) design," or other similar terms). While it might seem like a relatively new trend to some, it has been the foundation upon which Northwoods has developed and delivered our products for years. We invited our product design leader, Jason Wintersteller, to share a bit more about our human-centered design approach and how it influences everything we do.
The Northwoods Way
Northwoods has been taking a human-centered design approach since the beginning.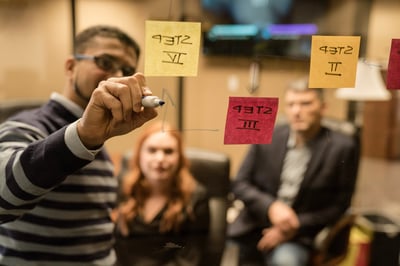 At the time, we didn't call it out … or even know that there was any other way to approach creating solutions.
To us, it's just common sense that creating technology to solve problems for human beings means that we must truly understand the problems, contexts, and conditions those human beings are subjected to. (Who knew that'd be such a groundbreaking idea one day!)
Before we go on, a quick vocabulary lesson for those who aren't familiar: human-centered design is "a design and management framework that develops solutions to problems by involving the human perspective in all steps of the problem-solving process. Human involvement typically takes place in observing the problem within context, brainstorming, conceptualizing, developing, and implementing the solution."
Here's a quick look at how we apply our human-centered approach from product idea to maturity.
Research
We have close relationships with our customers and everyone at Northwoods is encouraged to spend time in the field.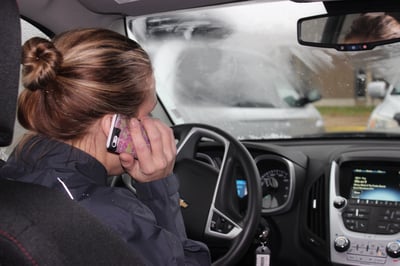 Visits to county offices, ride-alongs with caseworkers, and other interactions with the people who are, or will be, using our software are common and ongoing. Plus, Northwoods has also been conducting ethnographic research via observation and interviews throughout our history.
These experiences serve the purpose of creating a connection and promoting empathy, while also resulting in notes and conversations that feed into Northwoods' collective understanding of the humans we serve and the problems they face.
We take our connections with human services workers so seriously, in fact, that more than half of our professional services team members are former human services workers with an average 11.25 years of experience in the field.
Their firsthand understanding makes them invaluable resources to our research efforts, both directly and through the relationships they form with workers in the field.

Ideation, Design, and Planning
As you can imagine, a lot of observations and ideas come out of spending time with people you're trying to help.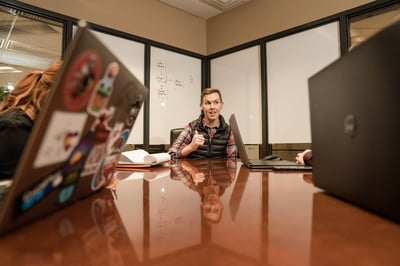 We get ideas from developers, trainers, technical support, sales reps, and more. Those ideas feed into the design and planning teams.
Of course, these ideas aren't limited to product features because a person's experience with Northwoods isn't isolated to interacting with our products—there's also training, support, change management, and other services.
Ideas are evaluated through the lenses of value provided directly to our customers, the capabilities and possibilities of technology and/or services, and the business channels and mechanisms that allow us to get our solutions into the hands of the people who need them. The more tightly aligned those aspects are, the better the final product.
Once we've decided on ideas of value, we work through the design and planning process.
Throughout the design process, we rely on information gleaned from our research, a tight feedback loop with other departments around the company, and current human services workers as often as possible. We create and evaluate prototypes, conduct brainstorming sessions, and ask a whole lot of questions.
Design leadership at Northwoods has spent 20+ years designing user interfaces and experiences, operating from the idea that great products are useful, usable, and delightful.
We tap our knowledge of usability principles, human factors experience, and visual layout and design expertise to make interacting with Northwoods' products as simple and intuitive as possible.

Development, Delivery, and Support
Northwoods' human-centered approach doesn't stop at design and planning.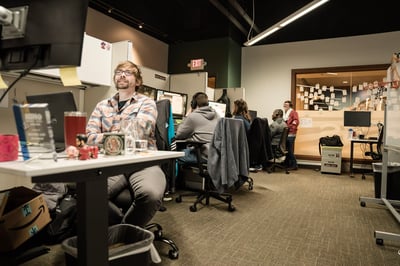 We take an iterative development approach to software and as we iterate, our developers (who are problem solvers focused on helping human beings too!) add to the process of questioning, evaluating, and coming up with better ways to solve problems.
Creating software that is fast, efficient, reliable, and delivers quality results adds to the human-centered approach at Northwoods: it is all done for the benefit of the people who use it—not just for the sake of technology.
Knowing that we're developing software for people who need and rely on it to help others makes a difference.
Once a product or service can be put into the hands of our customers, our trainers, implementation specialists, customer success team, and support staff kick into gear.
Training and implementation tuned and re-tuned to the wants, needs, and specific challenges of our customers? Human-centered. Talking with a live support person who not only sits in the same building as the people who make the product, but is within easy walking distance of them? Human-centered.

Vision and Impact
Northwoods has been focused on human services since 2003. It's our background, our passion, and born from our own human services experience.
We help over 45,000 people across the country use our products to meet their mission, solve problems, and improve their processes.
Everything we create ... everything we do ... is done with the needs of the people our solutions serve in mind.
Our products use words, organizational concepts, and processes that support and complement the work our customers do every day because we force our products to adapt to the people who use them, not the other way around.
Jason Wintersteller has been designing interactive products for over 20 years. He spent the first half of his career at design and design research firms working on products ranging from video games to programmable thermostats. Jason left design consulting to focus on creating useful products that help people who work with vulnerable populations, which ultimately led to his current role leading product design for Northwoods.