Modernizing to the new Comprehensive Child Welfare Information System (CCWIS) creates a major opportunity for child welfare organizations to apply innovative solutions to overcome systematic barriers.
However, too many states and agencies may still view CCWIS as the next Statewide Automated Child Welfare Information System (SACWIS) with little change.
Where SACWIS was more of a "one-size-fits-all" model, CCWIS allows agencies to tailor their IT needs to align with their unique program requirements.
This opens the door for child welfare organizations to consider next-generation technology, like a system of engagement, that revolutionizes how social workers deliver services and interact with clients.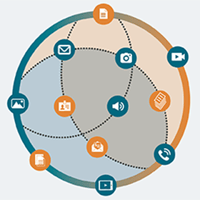 So, what is a next-generation system of engagement child welfare? How can social workers use it to improve productivity and facilitate more positive case outcomes?
Keep reading for a brief explanation, plus five key benefits your child welfare agency can realize if your CCWIS takes advantage of a system of engagement.
You can also download our eBook, "Enhancing CCWIS with a System of Engagement," to learn more about how social workers can leverage a system of engagement in the field and in the office to maximize efficiency and effectiveness.

Enhancing CCWIS with a System of Engagement


What is a System of Engagement?
A system of engagement is user-centric. It's designed for engagement, efficiency, and service delivery.
It allows social workers to collect, view, and share case content and evidence from anywhere, anytime without duplicative or additional work.
This process empowers social workers, supervisors, directors, and state executives to make informed, confident decisions for the vulnerable children and families they serve.

How Does a System of Engagement Benefit Child Welfare?
Promote data quality. It's critical to maintain timely, complete, and accurate data so that stakeholders can use it to inform decisions. However, data can get muddled when workers are forced to enter it multiple times. A system of engagement minimizes the potential for these human errors by facilitating collaboration and a bi-directional data exchange with other systems. Authorized child welfare social workers, supervisors, directors, and service providers can easily access high-quality data, regardless of who entered it or in which module it's stored.
Increase productivity. Inefficient tools and manual processes limit social workers' ability to engage and build trust with vulnerable children and families, which delays them from determining the right services to provide. A system of engagement, on the other hand, is user-centric and designed for daily work. It allows an agency to repurpose up to 2 hours per social worker, per day, by minimizing time spent on administrative functions to maximize time spent with clients.
Improve program outcomes. Enhancing CCWIS with a system of engagement opens the door for child welfare agencies to better use information, not just record it. This empowers social workers to do more high-value work with families to reduce trauma. (Spoiler alert! The eBook includes an entire section on case discovery, an emerging solution that presents the complete picture of a child or family's past and present to safeguard their future. Agencies can use intimate, detailed knowledge about the case to support major decisions, which leads to better outcomes, safer children, and stronger families.)
Demonstrate compliance. The more manual your processes, the more prone your agency becomes to errors like incomplete documents, conflicting information, or insufficient evidence that can result in a failed audit and cause financial ramifications. A system of engagement automatically syncs data captured throughout the life of a case to CCWIS, facilitating an agency's ability to demonstrate compliance on both federal and state reporting requirements and mandates.
Reduce turnover. Turnover continues to be a major problem for child welfare, especially when you consider its negative impact on children and families: when continuity of care is disrupted, families struggle to make progress and can be kept in the system longer than necessary. The right tools can help reduce burnout, stress, and other pressures that contribute to turnover for overworked social workers. A system of engagement is one of those tools, lessening the burdens placed on social workers by inefficient practices, uneconomical tasks, and ineffective processes.
Read the eBook, Enhancing CCWIS with a System of Engagement, to learn more about how a next-generation system of engagement can help modernize your agency from the bottom up.
Rupam Chokshi believes that technology should always be rooted in solving problems. It is through this lens that Rupam approaches his role as director of product marketing, where he oversees market analysis and product strategy. By ensuring Northwoods' products solve our customers' most important problems, Rupam can help free up their time to focus on the most important aspect of their jobs—their clients.