I recently read a Forbes article about government and the future of cloud. This line caught my attention:
"For many, cloud adoption is no longer an 'if,' it's a 'when.' The benefits of the public cloud are becoming too great to ignore."
While I agree with this statement, I'm not so sure human services is as far along as other government programs. There are plenty of counties, and even some states, still in the process of wrapping their heads around what—if any—cloud-based technologies are right for their needs.
I know many of you still have questions and concerns about the cloud, so this post will help address them.
Keep reading for a high-level overview of:

For starters, let's make sure we're all on the same page about what we mean when we talk about "cloud."
We created this grid to categorize four licensing and infrastructure options agencies can choose from when purchasing IT solutions from Northwoods.
Cloud/SaaS: a hosted solution with an annual subscription, meaning the agency rents their software licenses, as well as the servers/infrastructure it runs on.
Hosted/IaaS (infrastructure as a service): a hosted solution with perpetual licenses, meaning the agency rents a virtual server, but owns the licenses for its IT solution.
Subscription: an on-premise solution with an annual subscription, meaning the agency owns its servers but rents the licenses for its IT solution.
Traditional: an on-premise solution with perpetual licenses, meaning the agency owns both its servers and software licenses. While this was once the sole option for buying technology, today cloud-based options have many benefits that could make them a more attractive choice.
Benefits of Cloud for Human Services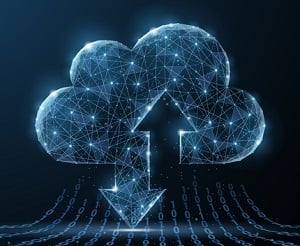 There are several benefits for human services agencies to move toward cloud-based, SaaS solutions:
Minimal IT support: A cloud solution significantly reduces IT burden, which is typically one of the biggest benefits for small and medium human services agencies with limited IT staff or resources.
Automatic upgrades: Upgrades, patches, and bug fixes are deployed automatically, so your software will always be up to date and your data will always be backed up.
Reduced ongoing cost: Cloud solutions allow you to cut out ongoing costs, like server maintenance and IT personnel/support.
Lower upfront cost: Cloud-hosted solutions also save agencies from paying large, upfront capital expenditures for infrastructure and hardware that will become obsolete within a few years.

Common Cloud Questions in Human Services
These are the questions we hear most often as we talk to agencies about their cloud options and how Northwoods and our partners can alleviate their concerns:
Who administers the system?

When you purchase a cloud solution from Northwoods, that includes a remote cloud administrator. This means we manage the underlying hosted infrastructure, including regular backups, scheduled maintenance, and upgrades, while still giving your agency full control of adding/removing users and changing configuration.
Where is the data stored?
We partner with Amazon Web Services (AWS) to store data in secure cloud environments.
To secure these environments, we leverage virtual private cloud, dedicated provisioning, FedRAMP-compliant services, and AES-256 encryption.
What about disaster recovery? What if the data center gets wiped out?
Northwoods has backup and restore procedures that are regularly reviewed and tested to ensure we can recover quickly in the event of a disaster, plus our partnership with AWS ensures minimal turnaround time to get back online. For example, full backups are saved nightly to multiple AWS data centers in different geographical regions to ensure that if one goes down, we can quickly spin up the same environment somewhere else.
What other security and privacy measures are built in?
We know security and privacy are big concerns, especially for agencies who are regularly accessing data from the state. Honestly, I could write an entire blog post just answering security questions.
Beyond the items we mentioned earlier, the key thing to know is: our team follows industry standard controls that govern how we access, use, and safeguard your data and we regularly audit these controls. (If you want more detailed security information, we can provide product-specific data sheets.)
What does it cost?
The honest answer is: it depends. The important thing to remember is that a cloud solution takes the onus off county or state resources and you won't have to invest in hardware, servers, or operating systems that will quickly become obsolete and create unexpected long-term costs—for example, having to buy additional storage. (Related resource: Technology Toolkit: An Essential Buyer's Guide for Human Services)

Additional Resources for Agencies
Still have questions about cloud? Here are a few articles and webinars that may help:

You can also watch these webinars to learn more about Northwoods' cloud-based solutions:
Traverse Demo: Northwoods' Child Welfare Software

Transform Your Human Services Lobby from Chaos to Calm

Simplifying Verification Document Collection
for Public Assistance
What other cloud questions or concerns do you have? Let us know in the comments! Feel free to reach out to discuss if one of Northwoods' solutions is right for you.


Rupam Chokshi believes that technology should always be rooted in solving problems. It is through this lens that Rupam approaches his role as director of portfolio management, where he applies externally-informed insights to drive strategic decisions and influence Northwoods' product roadmap and corporate perspective.

Rupam takes pride in helping build solutions that solve HHS workers' most critical problems and empower them to focus on the most important aspect of their jobs—their clients.