Cases increasing in complexity. Increased referrals. Impact of opioids. Rising need for out-of-home placement. Antiquated systems and processes. Employee turnover and retention.
These are just a handful of the challenges that make it difficult for child welfare agencies to fulfill their missions to safeguard and deliver the highest possible quality of service to the most vulnerable children, youth, and families in their communities.
That's why, when committing to modernization, agencies across the country are seeking proven, best-of-breed technology solutions that can enhance how social workers and service providers produce more efficient and effective child-centered and family-centered outcomes.
Our product Traverse® is one example of an outcome-oriented system of engagement that's being deployed across the country to transform how agencies operate.
Here are six specific use cases that demonstrate how Traverse meets the business needs of a child welfare agency, while positively impacting the children, youth, and families they serve. You can also read our eBook, "What's the Value of Traverse in Child Welfare?", to learn more about customers' time savings, benefits, and ROI.

ENSURE SAFETY
Collect evidence anywhere, anytime, and in any format to capture a child's whole story.
Social workers struggle to quickly and thoroughly collect, file, and access the evidence necessary to make an accurate determination of abuse, neglect, or deprivation (e.g., photos of living conditions, audio interviews, investigation-driven interview documents, etc.).
It's also difficult to record evidence for audit, compliance, or legal purposes that is then usable by front-line workers.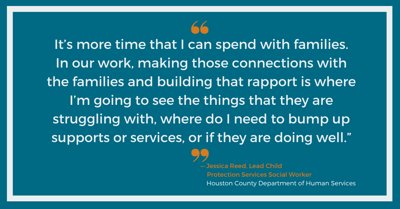 Using Traverse, social workers can collect and automatically classify documents, photos, audio, or video to use whenever and wherever they're needed—connected or disconnected. Social workers can also add notes to photos when they are taken to provide additional information. (Related resource: Investing in Essential Technology and Remote Connection for Child Welfare)
This means social workers can spend more time identifying the child or family's strengths and needs, while reducing their burden to provide documentation.
Also, the family doesn't have to provide the same information over and over again as cases are transferred because the new worker has their complete history at his or her fingertips.

ENGAGE FAMILIES
Discover and use critical case information to better understand risk factors and well-being gaps.
While social workers need to know every child's story, inside and out, to ensure the child is safer tomorrow than they are today, critical case information that tells this story is often hidden or virtually impossible to retrieve. (Learn more: What Causes Dark Data in Child Welfare?)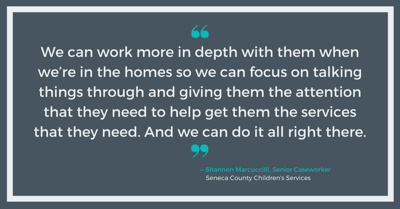 Traverse was designed to discover "needles in a haystack"—information that has a significant impact on the case, but may have previously gone unnoticed, such as gaps in treatment, changes in custody, court summaries from permanency hearings, or unrecognized connections.
It uses a child welfare lens to automatically read through the case file like a social worker would to extract specific keywords related to concepts (for example, drugs, criminal history, weapons, behavioral disorders, etc.) mentioned in a case.
Armed with this information, workers can focus on moving forward, not backward. Instead of constantly having to ask the family to recount their history, they can focus on listening and having meaningful conversations about how to connect them with the best supportive resources. They also have the information they need for court hearings, reunification, and permanency planning.

ENHANCE SERVICE DELIVERY
Create a timeline of critical events to have a holistic, chronological view of the entire case file.
It's resource-intensive and time-consuming for social workers to create case timelines that support their planning needs and demonstrate a thorough understanding of all the different events a family or child has experienced.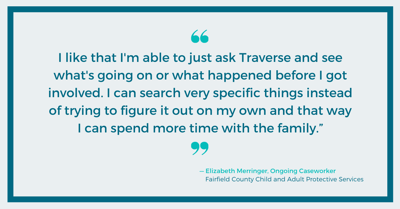 For agencies embracing a trauma-informed care approach, for example, the first step is recognizing what and when trauma has already occurred. Social workers need a tool that helps them look for patterns, cycles, and how often specific events serve as triggers for not only each traumatic incident, but also the secondary trauma that results.
Traverse automatically generates a timeline of previous transitions, legal changes, and other critical events for a child or family based on content and data as it enters the case. In doing so, social workers can clearly see an organized and structured opportunity to mitigate the adverse effects caused by the traumatic events.
With Traverse, social workers can spend less time reviewing documents, and more time preparing for upcoming court hearings, case transfers, and adoption events. They have a clear view of where the family or child has been, making it a lot easier to see where they need to go.

IMPROVE WELL-BEING
Uncover supports that can positively impact a child's life.
Ensuring support from the right people in a child's life is imperative for the child's well-being.
Often, hundreds of people are mentioned in a case, but a specific individual who has acted as a positive support may only be mentioned one time, in one document, making it dark data.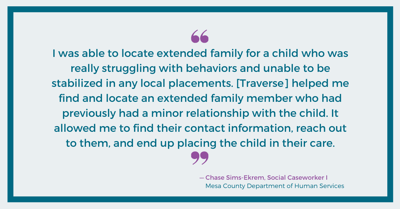 The case discovery module of Traverse automatically surfaces stable relatives or any positive supports that can serve as a placement/kinship care option or impact the child's life (for example, a youth basketball coach who was once mentioned in an email by a former worker more than two years ago). This increases the likelihood of placement stability and helps to avoid a crisis within a placement that could result in a disruption.
For young adults on the verge of aging out of the system, Traverse allows independent living team members to identify adult and peer supports from within the voluminous case history, strengthening the young adult's pathway to normalcy and independence. This can make a dramatic difference in determining whether youth emancipating from care end up homeless on the street or can make a successful transition to living on their own.

ACHIEVE PERMANENCY
Consolidate information from multiple sources to optimize a child's path to permanency.
The sheer volume of information coming in from multiple workers and service providers over an extended period of time is daunting and often insurmountable.
Consider a child's individualized permanency plan: in many cases, these plans involve IEPs, complex psychological and behavioral assessments from mental health providers, notes and logs from caregivers, and ongoing case summaries documenting the child's visits with biological parents.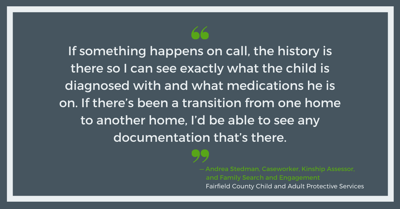 Social workers can use Traverse to surface and fill in information gaps, such as the specific and unique characteristics associated with a child's medical, educational, and emotional health that will help determine the right supportive network. (Watch "Child Welfare Software: Finding a Forever Home" for a 90-second overview.)
They can also identify barriers to permanency, like when the changing of workers results in court delays or multiple foster placements impact the likelihood a child will be adopted.
How? Traverse uses innovative technology to transform paper case files into a digital format accessible anywhere with a data connection. It also uses artificial intelligence to analyze the entire case through a child welfare lens and provide workers and service providers with insight into the key people and critical events requiring evaluation. (Learn more: Traverse Case Discovery: Confident Decisions. Safer Children and Families.)

INCREASE EFFICIENCY
Complete forms and link supportive services without disrupting client interactions.
The seemingly simple task of collecting, completing, and signing forms is time consuming, redundant, error prone, and easily delayed.
Further, it's inefficient for social workers to manually enter a child or family's demographic information into hundreds of forms as they prepare for court hearings, make referrals for services, and more.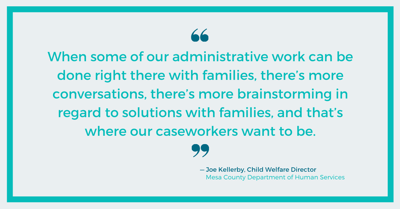 Traverse allows workers to collect, complete, process, and share forms electronically, regardless of their location. It autofills case, client, and service provider data that workers have already entered into the authoritative source (e.g., CCWIS) or system of record so that social workers only have to complete unique, additional information as needed.
Additionally, social workers, clients, and supervisors can complete and sign forms electronically on the spot, which helps provide services to the family faster.
Since social workers have confidence that the right form is always immediately accessible, they can focus more on linking the family with specific supportive services to meet their unique needs.

Northwoods purposely built Traverse to help child welfare agencies improve performance and outcomes across the entire continuum of a child's care, from intake and prevention services to placement coordination and permanency planning.
In doing so, Traverse empowers social workers and agencies to:
Make more informed, confident decisions
Significantly improve timeliness to permanency
Identify the root cause(s) contributing to risk factors in each case
Help prevent future abuse and neglect
Keep every child as close to family as possible
Ensure every child maintains a connection to a stable, caring adult
Provide unique insight into the specialized needs of every child
Deliver the best possible services in a timely manner
View these additional resources to learn more about why agencies across the country use Traverse to do high-value work with families:
Lauren Hirka, product manager, sets the long-term vision and strategy for Traverse, including the product roadmap, messaging, and communication with internal and external stakeholders. Lauren has spent hundreds of hours with child welfare professionals to research and develop Traverse from its inception.