Finding the best placement the first time for a child coming into care is every foster care or kinship social worker's mission. But that's easier said than done when you only have a partial understanding of the child's story. What if you could uncover a complete history of previous placements, medications, behavioral issues, and other key information to shape your decision?
Maybe you're new to the case or an on call social worker required to immediately find a safe place for a child to stay the night. With little time and a lot at stake, you need a complete understanding of the family and case in a moment's notice. What are the important medical and emotional needs? What can help minimize trauma?
Imagine if a child's case file could talk to you. Imagine if you could gain immediate insights from a wealth of historical knowledge to make quick decisions about safety and lessen the hurt just a little.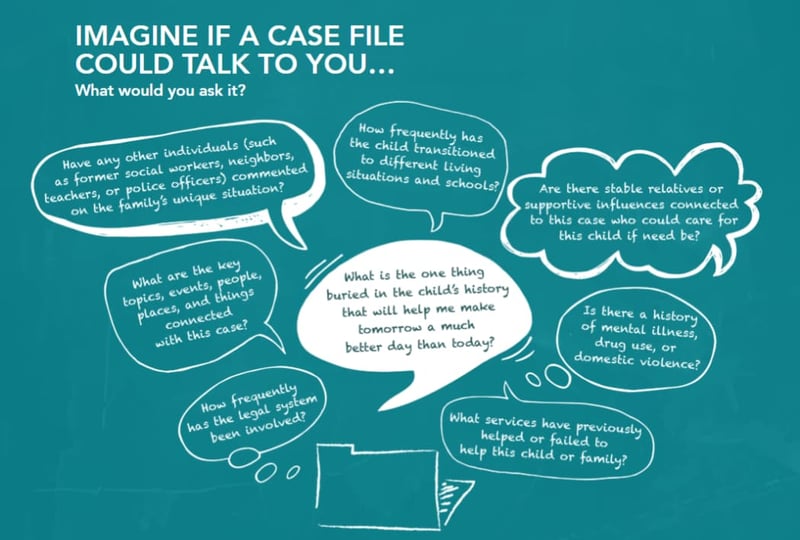 Child welfare social workers need to know every child's story, inside and out, to ensure the child is safer tomorrow than they are today. However, critical case information that tells this story is often hidden or virtually impossible to retrieve. Social workers are forced to sift through hundreds of pages in a case file to familiarize themselves with the complete history of a case before making critical decisions or launching an investigation.
That's where Traverse®: Case Discovery comes in. Traverse leverages next-generation technology for child welfare and adult & aging to present a complete picture of a child or family's past and present to safeguard their future.
Traverse: Northwoods' Case Discovery Solution
Traverse presents a child's whole story in an easily digestible, interactive view. It surfaces dark data—case content that is hidden or virtually impossible to retrieve—through a child welfare and adult & aging lens so social workers are informed about prevalent topics, important people connected with the family, and key events.
In addition to case discovery, Traverse allows social workers to collect, view, and share content and data anywhere, anytime. The combination of data collection, content management, and case discovery empowers social workers, supervisors, and directors to make informed, confident decisions. (It is important to note here that Traverse is not intended to replace human discretion, decision-making, or research. It is intended as a guidance tool only.)
Don't just take our word for it. See for yourself how Traverse's case discovery feature works, plus hear what caseworkers across the country have to say about how the software helps them do high-value work.

Why Do I Need Traverse? My Agency Doesn't Have Any Dark Data
You might want to think again. Child welfare agency directors we work with estimate that more than 80% of the information their agencies collect, process, and store at any point in a child's life is not effectively utilized by agency staff when they make safety decisions.
The problem is that the digital age has dramatically increased the volume of information, which is coming at social workers faster than they can manage.
Captions on photographs, social media, emails, treatment plans, medical records, and school and court records are just a handful of examples of dark data in child welfare.
This hidden information cannot often be utilized by agency staff when making safety decisions for children. When social workers don't have access to the information they need, the children they serve are at risk for further trauma.
We created the following resources to answer common questions around dark data in child welfare, including the potentially fatal consequences if agencies fail to find and use it:
Shining Light on Dark Data
in Child Welfare

What Causes Dark Data
in Child Welfare?
Rich Bowlen's goal is and always has been to give his very best day in and day out to do the most good for the most kids. Rich is dedicated to improving the lives of caseworkers and social workers so they can focus on what they do best: supporting the children, adults, and families that rely on the agency's care.