Adult & aging caseworkers are stretched for time and resources trying to balance paperwork requirements and spending quality time with clients. They want to focus on assessing clients' needs and coordinating services, but administrative roadblocks stand in the way.
You likely know that agencies use our software Traverse® to overcome these roadblocks in child welfare. But did you know we help many adult & aging programs do the same?
Over the years, we've spoken with workers and supervisors at Carver County Health & Human Services (HHS), Dare County Department of Health and Human Services (DHHS), Houston County Department of Human Services (DHS), and Scott County Department of Human Services (DHS) about how their agencies use Traverse for adult & aging.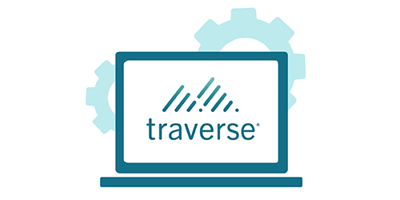 Here's a sampling of those conversations to highlight these key benefits:
Spending more time with clients
Completing work in the moment
Streamlining services
Alleviating burdens on workers
Making informed decisions
Improving internal and external collaboration
Challenges: Clunky Paperwork Processes Limit Time with Clients and Slow Down Service Delivery
Adult & aging workers want to spend time making referrals, case planning, utilizing community resources, and creating more capacity for client engagement, but are forced to spend a lot of time on documentation instead. "It feels like more clerical work than social work," said Lisa Arneson, Lead Adult and Disabilities Services Social Worker, Houston County Department of Human Services. Some additional issues:
Lack of consistency.
Clients involved with multiple adult & aging programs, each of which has its own set of procedures and paperwork requirements, often end up with several separate case files. This makes it difficult for workers or supervisors in one program to easily access case information stored by another.
"The way that each unit was naming their document was different, so there wasn't anything that was cohesive. If you needed to work even internally with another unit, trying to share documents, share records, and share information was a little bit challenging," said Brittani Lane, Adult Protection and Waiver Case Management Supervisor, Scott County DHS.
Clunky collaboration processes.
Previous processes for exchanging case documents, such as an application for transportation services or Alternative Care Waiver, have been manual and time-consuming, which causes frustration for everyone involved. Constantly handing paper forms back and forth also delays caseworkers' ability to make referrals or link clients to services.
"The old way was slow, clunky, cumbersome. It got the same result, but weeks or maybe a month later. And that's just not acceptable when people need help now," said Ann Fuller, Supervisor, Carver County HHS.
Of course, all these problems keep worsening as caseloads grow in number and complexity as the population ages. Burnout, turnover, and staffing shortages increase the burden on workers and complicate the case planning process. Long-term care facilities and in-home care providers have been hit especially hard.

Solution: Technology That Supports Complex Planning Throughout the Lifecycle of a Case
Agencies use Traverse to support workers in a variety of adult & aging programs, some of which are listed below. Traverse provides document management and forms management in addition to mobility, case discovery, and a portal.
Adult day care services
Adult community alternative care
Adult foster care licensing
Adult kinship care
Adult placement
Adult protective services
Assistive services

Developmental disabilities
Elder abuse prevention
Family/caregiver support
Financial management
Guardianship/conservatorship
Home and community-based care
In-home services/aides

Legal services
Long-term care
Mental health
Nutrition services
Payee programs
Personal care assistance
Targeted housing
Social workers, case managers, case aides, supervisors, and other workers use Traverse to scan, upload, store, and view documents and other case content in centralized electronic files. Staff can then access these case files and information from any location, regardless of connectivity.
"Our workers have full accessibility to case files and documents no matter where they are and on multiple devices. They all have laptops, iPads, and smartphones that are county-issued. To be able to access Traverse on any of those has been helpful," said Katie McCarron, Adult Services Supervisor, Dare County DHHS.
Traverse also leverages new technologies like machine learning and natural language processing to automatically analyze all the content collected and present key insights into the case, such as which services have previously helped (or failed to help) a client and suitable connections who have previously been integral in the person's life and can be used as a support resource in the future.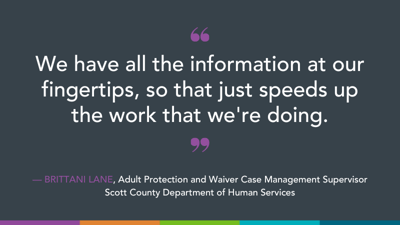 "Instead of having to go and find all the workers that might have ever worked with this family or know something, we have all the information at our fingertips, so that just speeds up the work that we're doing," said Brittani.
Some adult & aging customers use our secure portal, Traverse® Connect, to engage and collaborate with clients and providers more efficiently too. Workers use Traverse Connect to share specific documents with stakeholders outside the agency and request signatures on forms. Clients, providers, or other external collaborators then use any device, wherever they are, to create a secure account to access the portal. They can view shared documents, sign forms, and upload case documentation to be automatically added to the electronic case file in Traverse once verified by a worker.
"With Traverse, not only can you complete forms within the system, but now with Traverse Connect, you can easily send those documents to your families," Ann said. "If you know how any type of local government works, until you get a signature, you are not moving forward. So, they're signing documents, they're signing releases of information, and they're agreeing to the services that you're going to provide." (A bonus: while Ann said that staff were initially concerned that using Traverse Connect might be difficult for some older clients, the agency hasn't had any issues.)

Results: Better Collaboration to Assess Clients' Needs and Coordinate Services
Traverse equips adult & aging workers with the tools, time, and information they need to make deeper connections with clients and support better continuum of care. "The time savings is going to be is the biggest impact that I've seen. The way that we're doing business is easier," Brittani said.
Spending more time with clients.
Workers have more time to build rapport with clients and connect them to needed services quickly.
"They're more open to services because they see we're taking time and listening to them. It's more of a conversation instead of a checklist of 'these are the things that we need to get done today,'" said Lisa Arneson, Lead Adult and Disabilities Services Social Worker at Houston County Department of Human Services.
Completing work in the moment.
Workers can complete assessments, releases, and referrals and capture case notes more accurately and in real time. For example, they can complete documentation and forms from their cars or create reports as they're talking to someone on the phone.
"It's really handy to do my case notes while I'm at a meeting. Otherwise, I was coming back to the office and typing up a case note and now, I can just do it as we go along," said Lynnsey Standahl, Adult and Disabilities Services Social Worker, Houston County DHS.
"Traverse could easily save an hour or two a day," Lisa added.
Streamlining services.
Increasing efficiency of administrative work creates ripple effects across other processes and services. "Our processes have become more refined. We've been able to speed up how we take reports and intakes because everything is so accessible and easy to use," said Katie.
"We are able to provide more efficient, quicker service because we all have access to the same information in one spot," said Ann.
Alleviating burdens on workers.
The ability to complete more work in real time alleviates stress and helps workers stay on top of their casework.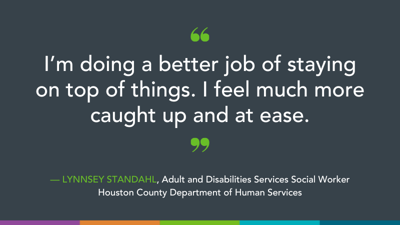 "I honestly remember months ago feeling super overwhelmed with lots of assessments to do, lots of case notes to do, and lots of filing to get done. And now I'm feeling like I'm doing a better job of staying on top of things. I feel much more caught up and at ease," said Lynnsey. "I am able to focus more on setting up visits and getting caught up on my MN Choices Assessments. It's given me a lot more time."
Making informed decisions.
With a complete case history and context at their fingertips, workers can quickly take action and make informed decisions. For example, the adult protective services unit at Scott County DHS says accessing a person's full history helps guide them to the right decision when screening reports.
"They're going into Traverse to see what other information our county already has about this person, and that has really helped us to make much more informed decisions about whether this case meets criteria for an investigation. We're not being invasive if we don't have to. We're only going out to those homes that that really need our help," said Brittani.
Better internal and external collaboration.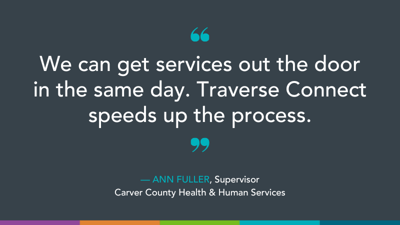 Traverse Connect allows workers to be more efficient, streamline collaboration processes, and decrease paperwork turnaround times.
"We can get services out the door in the same day. Traverse Connect speeds up the process," said Ann. "We use it with our clients and our service providers, who also need a copy of these plans to know what they're supposed to be providing. It's seamless, it's easy, and it's cut our out-the-door time drastically and that's what our consumers want."
"Being able to share our records or our information internally much more seamlessly means the people that we're serving, those that matter, are going to have a better outcome," Brittani added. "We're going to be able to do a better job for them when we can share things internally."

It's our goal to help more adult & aging workers leverage Traverse to quickly access real-time information to support clients' overall well-being. Think we might be the right partner for your agency? Reach out and let's chat!
Director of Advocacy Laura Haffield, Director of Product Marketing Lauren Hirka, and Customer Success Manager Lindsay Drerup contributed to this post.