Human services caseworkers are constantly collaborating with people outside the agency yet lack the right tools to support the process. Consider these examples:
Workers request documents and information from clients and service providers that need to be uploaded into the case file. Today, workers either collect paperwork in person or request information that is emailed, texted, or mailed back for them to upload or scan into the system. This causes significant delays in making the content available in the case file, which creates negative ripple effects, such as clients having to provide the same documentation multiple times.
Workers need clients and service providers to complete and sign forms. Right now, the process is clunky when anyone outside the agency is involved. Either all the individuals have to be present to sign or finalize the form on the worker's tablet OR the worker has to send it to the provider for a signature and then upload or scan into the system the version they get back. Now the worker has two versions, one that's partially completed and one that's completed.
Workers need to share items from the case file with clients and service providers. Currently, they download the items to email or share them in other ways. Email is not always secure, and workers may find themselves finding and resending content repeatedly. Even using Dropbox or another sharing service causes additional friction, like creating redundant copies of files. There's also risk of lost documents on the receiving end based on the external organization's systems.
All three of these scenarios have a few things in common: they create redundant work and duplicate documents, which leads to confusion and frustration between caseworkers, clients, and service providers. They also rely on disparate systems that don't talk to each other, which means each one holds a different piece of the client's story that workers are trying to understand and react to. All of this is counterproductive to the important work being done.

The good news? Technology is becoming available to help reduce friction and facilitate smoother collaboration across programs and people, both inside and outside of the agency.
In fact, that's exactly what Traverse® Connect, our new client engagement portal, is designed to do. Traverse Connect is purpose-built for clients, providers, and anyone outside of the agency that has a stake in the case. It simplifies collaboration and significantly reduces the time it takes to exchange information. This additional feature is the next step in our ongoing effort to remove barriers and inefficiencies so that caseworkers can focus on planning and providing the right care for the people they serve.
Through Traverse Connect, workers share documents and forms with clients and providers outside the agency. These external collaborators then use any device, wherever they are, to create a secure account where they can submit the requested information, which then automatically gets added to the electronic case file in Traverse. No in-person visit or interaction is required, which accelerates workers' ability to process applications and connect clients to services.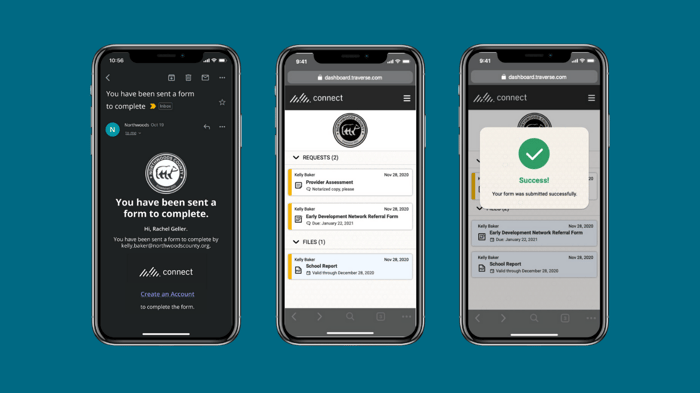 Traverse Connect is simple, secure, and has an immediate impact on users. (The interface is so simple that external collaborators don't even need training!) Here's how it helps address the challenges mentioned above:
Uploading content. Collaborators can upload content requested by the caseworker that automatically becomes part of the case file, which minimizes unnecessary steps in the process. The content is context-aware (knows which case and person it belongs to) and is immediately available to use when making decisions.
Completing forms. Workers send in-progress forms to clients or providers to complete and sign within Traverse Connect, which eliminates the previous need to download and save multiple versions.
Sharing content. Caseworkers can share a portion of the case file with providers or clients without compromising confidentiality. The collaborator has a secure account with access to only the information that has been shared by the caseworker, nothing more.

Watch the quick overview below to see for yourself just how easily your agency can take advantage of Traverse Connect. Reach out when you're ready to learn more!


Rupam Chokshi, director of market research, has always had a passion for solving problems. Rupam also thrives in ambiguity and uses his forward-thinking, figure-it-out attitude to anticipate what's coming next.

Pairing his deep understanding of the industry's past with an eye for where it's heading in the future, Rupam helps agencies realize immediate value with technology while setting themselves up for long-term success.