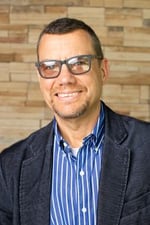 The COVID-19 pandemic is placing immediate and direct burden on economic assistance agencies tasked with handling an unprecedented uptick in applications for benefits.
We asked economic assistance evangelist, Greg Tipping, to share his insight on how agencies are adapting to remote work, how the pandemic is forcing leaders to reimagine the system, and the role modern technology will play in helping caseworkers manage the mountain of work headed their way.

How does shifting to a remote workforce impact economic assistance?
Much like everyone else, most agencies weren't ready for such a quick and dramatic shift to remote work. There was no time to ease themselves in, so the ability to access systems to do their work consistently and securely has been an issue from the start.
Some had begun replacing traditional PCs with surface tablets and other mobile devices, but not enough and not fast enough. A few counties had started using Microsoft Teams and other collaboration tools too, but again, these were just pilot projects and haven't reached a tipping point to become the norm.
Obviously if caseworkers are struggling with going remote, we can assume the communities that rely on their help are struggling too. Traditionally, clients would plan on taking the bus or driving to the agency, walking in and handing over physical documents, and interacting with staff on a personal level, but all of that went away overnight.
Agencies have had to close their lobbies, limit interactions, and roll over to phones, so there's been a lot of forced adaptation, workarounds, and bumps in the road. One example: many agencies have set up makeshift drop boxes where people can drop off paper forms in envelopes, which, as you can imagine, significantly increases risk of exposure for both clients and workers assigned to handling that mail.
On the positive side, the feds have been relaxing verification requirements and automatically extending renewal dates to give people time to adjust to this new reality without their benefits expiring. They're waiving certain timeliness requirements to give states and agencies more time to process the influx in requests. Self-attestation is now acceptable in many application and renewal scenarios to make the verification processes easier and allow for remote/telephone eligibility. And, some interview and verification requirements, such as asset testing, have been streamlined to speed up processes.


How else does what's happening today impact economic assistance programs in the future?
Everyone knows that economic assistance programs run countercyclical to the economy. When times are tough, there's a mountain of work that's going to head toward agencies.
Shocking unemployment records and the general economic downtown will inevitably turn into Medicaid, Supplemental Nutrition Assistance Program (SNAP), and Temporary Assistance for Needy Families (TANF) applications, which is going to drive up caseloads dramatically. At the same time, increased spending on these programs—especially Medicaid, which is the largest line item in most state budgets—along with decreased tax revenues (e.g., gas, sales, etc.) will make it harder to hire people and fund government operations.
All of this together is going to expose painful weaknesses in the current system. You can blame shrinking budgets or any other valid reason, but what's happening today has made very clear that the fragile, obsolete technical infrastructure agencies are forced to deal with does not hold up against the challenging environment that the pandemic has forced them to operate in.

Let's talk more about the role of technology in all this. How will economic assistance agencies think differently about technology in the future?
I always say that the business processes you have in place today are built on the technology you had on hand at the time. Technology changes, but you don't change the core of the way you do things. That's why you get systems that break when they're stretched.
Once upon a time, paper applications and face-to-face requirements were the only way to process benefits requests. The idea of teleconferencing and phone interviews didn't exist. Today, 30-some years later, the entire industry is still based on this idea that someone has to walk into an agency, hand over a bunch of paper, and talk to a worker in person to get benefits.
It's time to recognize that it no longer matters where work is done. As long as clients have access to technology to submit necessary verification documents and interact with workers, there's really no reason for a brick-and-mortar agency.
Consider how challenging it is for customers to access services. Isn't it backwards to tell someone they have to drive 50 miles to their county's agency to get a gas voucher? Everything is still built on this old way of thinking, and what we can hope for out of this pandemic is that people have a wakeup call and recognize that we can do better.
Government infrastructure is built on this very specific set of rules and policies that don't understand the capabilities of technology, so the system broke as soon as nobody could leave their house. Now, we have to fix it. There's an opportunity for technology companies, agencies, and government officials alike to step up to the plate so that we don't find ourselves in this position again. (Related resource: Envisioning the New Normal: Paving a Path Through Technology)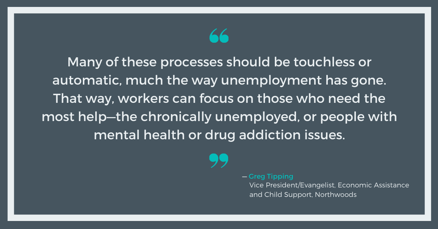 What other changes are going to become the "new normal?"
Rigid structures around protecting personally identifiable information (PII) and medical information have had to be relaxed to accommodate current needs and promote telehealth. We obviously want to continue to be respectful of those things, but we're learning that the efficiencies gained through loosening the reigns tend to outweigh the hypersensitivity to that data access.
I'm optimistic that the remote aspect of economic assistance will continue to improve, and we'll see more loosening of data sharing restrictions to facilitate programmatic sharing, interoperability, and categorical eligibility. Think about it: why are we just now realizing today that the same kids getting free and reduced lunches at school are the ones whose families are also receiving SNAP benefits? If my family's Medicaid is based on modified adjusted gross income, why can't I just fill out a check box on my taxes to say that I'm interested in receiving Medicaid?
Many of these processes should be touchless or automatic, much the way unemployment has gone. That way, workers can focus on those who need the most help—the chronically unemployed, or people with mental health or drug addiction issues. Let's push all the processing into the background and focus instead on having conversations around how we can move these people toward self-sufficiency.
I also hope remote work is here to stay, regardless of when circumstances require it. It's proven to increase productivity and increase retention, and it's a sort of insurance against natural disasters or crises beyond the current pandemic. So, I'm optimistic that, despite this terrible thing, we'll see some positive changes come forward.

Can you talk about some of the ways Northwoods is evolving to support agencies through this time?
We're really upping the game to meet the demand of this new remote economic assistance world. The goal is finding ways to save clicks, streamline processes, and automate for impact so customers are prepared for the mountain of work inevitably coming.
Check out these resources to learn more:
The long-term plan is to continue identifying new ways to meet customers where they are and help agencies effectively support a remote or hybrid workforce.

What's the one thing all technology providers should be doing to help our economic assistance partners navigate during this time?
Don't just offer apps or programs or technology. Offer solutions.
Create and provide solutions that are well thought out, elastic, and sustainable over time. Government agencies are looking to us for answers right now and we are obligated to offer fully developed interoperable solutions that address their issues.

What would you say to frontline workers right now to boost their spirits?
First and foremost, thank you. The work that you are doing makes a very real difference in people's lives right now—often the difference between whether they can feed their children—and gives them a foundation to support their families.
Second, have faith that help is on the way. Technology that is necessary to move the needle in this whole thing exists and can be quickly deployed. The barriers of the past are being suspended or eliminated entirely and those changes will make a lasting impact on the way you work and help your communities.


Anything else you want to say while you've got the mic?
Workers are first responders. They're on the front lines fighting this thing and trying to make sure their community has help, which is critically important.
We know it's going to keep getting harder and there's going to be frustration, but we have to seize the opportunity to reimagine a better service delivery model that allows us to focus on the individual and helping them move toward self-sufficiency.
We must remember that next time the economy turns, because it always does, there will still be people who need better assistance than they're getting today. Our model (and technology) has to recognize that.