The American Public Human Services Association (APHSA) recently released a special statement calling for administrative relief for Supplemental Nutrition Assistance Program (SNAP) agencies.
It states that a confluence of factors driven by the COVID-19 pandemic threaten to stretch SNAP agencies beyond their capacity, including:
In the first three months of the pandemic, SNAP enrollment grew three times faster than any previous recorded period. This flood of applications are due for eligibility reviews in the fall.
Eligibility reviews that were temporarily delayed from March through May are due to be processed in the fall, effectively doubling the number of case reviews states must handle.
State and local agencies remain at reduced capacity while many staff work remotely to follow public health precautions.
State budget shortfalls have resulted in hiring freezes and furloughs.
Agencies face the possibility of even greater caseload spikes in the coming months as Pandemic Unemployment Compensation ends and the potential need for extended Pandemic EBT in the upcoming school year further drains agency resources.
You may have heard us say before that a mountain of work was headed toward economic assistance as a result of COVID-19. Well, folks, it's here … and agencies must be ready.
We know clients tend to seek benefits in a certain pattern, which means today's increase in SNAP caseloads will impact Medicaid, Temporary Assistance for Needy Families (TANF), Child Care, and Workforce programs next.
If you haven't done so already, now is the time to evaluate your current technology and processes to make sure you're positioned to handle this immediate uptick in cases, plus any future obstacles that are bound to come your way.
Rethinking Your Economic Assistance Technology Roadmap
The challenge is that agencies that buy technology in response to a crisis, trend, or other major change often end up trying to cobble together various tools and apps that don't really support, integrate, or communicate with each other. This may seem like the best approach to meet your immediate needs, but it won't do you any favors in the long run. In fact, it'll likely cause more problems than it solves.
To avoid this, economic assistance agencies should have a defined IT roadmap to guide operations—in a state of crisis or not. That way it's clear if and how specific tools fit your overall strategy and provide long-term value.
The other major challenge is that agencies tend to gravitate toward one of two extremes when they think about the role that technology plays in meaningfully engaging clients.
On one side are those who default to thinking "yes, we need an app for that!" and see modern technology (apps, portals, etc.) as the answer for everything. On the other are those who continue to fall back on the way things have always been done and are hesitant to adopt new technology at all, especially during times of crisis and economic uncertainty.
Each of these extremes creates its own set of challenges from a client engagement perspective:
Too much tech. While apps and portals are preferable to many, there's still a large population that doesn't want to have to download something and create yet another account and password to remember. Plenty of people may not even have an email address to sign up with. Asking clients to rely too heavily on technology could alienate clients who still want to visit the agency and have access to dedicated caseworkers to help them navigate the system.
Too little tech. Archaic communication methods and application processes extend the eligibility determination cycle—potentially by 10 days for every time you have to send and receive a form or document in the mail. Even relying on email and fax can slow things down if those are the only channels available. The more you restrict the way someone can respond to requests for information and receive updates, the less efficient, effective, and customer-oriented you'll be.
Technology clearly provides plenty of benefits by helping agencies be nimbler, streamline services, and minimize churn. However, we're never going to reach a position where doors to the agency are permanently closed and technology serves all. So, what's the right answer?

Meet Clients Where They Are to Avoid Service Disruption
Agencies today must be able to serve a broad spectrum of customers with varying levels of comfort or ability to use technology to seek out and maintain necessary services.
Some will want their mobile device to be their primary tool for engaging the agency, but still have the option to connect with a caseworker for assistance if needed. Others will want to visit the agency to get access to services, but still want the ability to receive or use their benefits online. And yet others may lack transportation or expect to be able to drop off documents or submit applications through community partners (e.g., a library, church, or food bank).
We dive deeper into this topic in our recently published an article in APHSA's Policy & Practice magazine: "Envisioning the New Normal: Paving a Path Through Technology."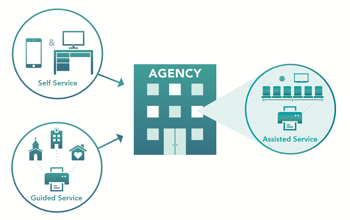 In it, we share four examples that demonstrate the path someone might take to seek out economic assistance, ranging from a single mother who wants to engage the agency through a homeless shelter to a foster youth who just aged out and needs help navigating the system.
The premise is that the path to health and well-being is not one size fits all.
Clients need multiple entry points to access services, whether that's on their mobile device, through a community partner, or at the physical agency. No matter which path they choose, clients can then easily engage multiple channels and resources to connect with all the services they need, not just the one they initially sought out.

Your Vision for the Future—Powered by Our Solutions Built for Economic Assistance
We're big believers that when access meets automation, good things happen in our communities—especially during times of crisis when vulnerable citizens need benefits the most. That's why today we offer a variety of tools to help human services agencies digitize case files, engage clients in the way they are most comfortable, and automate routine tasks (more to come on this!) so economic assistance caseworkers can focus on high-value work.
Clients' interactions with your agency should be frictionless, regardless of what path leads them to enter the system. We'll help you integrate tools and centralize information points to holistically serve clients across programs in the way they are most comfortable.
The best part is, you can pick and choose the best combination of components to enhance or fill gaps between the tools you already have in place. If you're not sure where to start, we offer consulting to analyze your current technology and processes. We'll also provide recommendations on how to move forward to ensure your agency isn't just responding to a crisis but planning for the future.
Watch the video below for a 2-minute overview of our economic assistance solutions. If you see anything that piques your interest, visit our website, watch our webinar, or reach out to learn more.


| | |
| --- | --- |
| | Greg Tipping serves as vice president/evangelist, economic assistance and child support. Internally, he's an industry expert and advocate that guides the vision for the impact of our solutions on the programs he once led. Externally, he collaborates with leaders across the country to create a shared vision for the future of economic assistance and child support. By helping agencies get more time back to focus on their core missions, Greg can fulfill his own: make a difference in the lives of folks that rely on support from agencies to get by day to day. |