Elder abuse has been called the "silent epidemic of our time" as cases of physical abuse, financial exploitation, and other mistreatment continue to increase in many areas across the country. That's why World Elder Abuse Awareness Day (WEAAD)—acknowledged annually on June 15—is a call-to-action for society's individuals, organizations, and communities to educate each other on how to identify, address, and prevent abuse.
As a technology company, we're big believers that giving adult & aging caseworkers the right tools to collect, access, and surface the right information at the right time will play a key role in facilitating an agency's ability to accomplish this goal.
Below are a couple of ways we build technology to help agencies do high-value work to ensure safety, assess risk, and evaluate the need for additional services. But first, let's look at why this is so important.

Elder Abuse: By the Numbers
These stats from the World Health Organization show the scope of the problem:
One in six seniors experienced some form of abuse in community settings in the past year
Elder abuse rates are higher in institutional settings (e.g., nursing homes or long-term care facilities), with two in three staff reporting they've committed abuse in the past year
These numbers are likely to be underestimated, as only one in 24 cases of elder abuse is reported
What's even more alarming is the long-term negative impact that abuse has on someone's mental, physical, and financial health.
As the National Center on Elder Abuse notes:
Older adults who have been abused have a 300% higher risk of death when compared to those who have not been mistreated
Elders who are abused have higher levels of psychological distress, emotional symptoms, and depression than non-abused older adults, plus they have additional healthcare problems including anxiety, chronic pain, high blood pressure, and heart problems
Financial abuse alone costs older Americans over $2.6 billion dollars annually
Since nearly 10,000 baby boomers will turn 65 each day over the next 15 years, these numbers will likely continue to keep growing. Along with them, the burden will increase on frontline caseworkers who are tasked with coordinating the right services, community resources, and care providers to protect these vulnerable adults.
Traverse®, our content collection and case discovery solution, can help adult & aging workers have more time to focus on engaging clients, ensuring safety, and improving well-being.
Here are two specific use cases that demonstrate how Traverse can positively impact the adults your agency serves.

ENGAGE CLIENTS
Repurpose time to focus building trust and establishing rapport.
Adult & aging workers are stretched for time and resources trying to balance paperwork requirements, coordinating services, and spending quality time with clients. You want to spend time building relationships and establishing rapport, but administrative roadblocks stand in the way.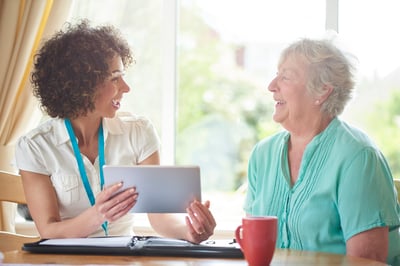 Without enough quality time with clients, it's challenging to look for signs of abuse an adult may not be telling you about, plus you risk losing the trust of the people you are trying to help.
At the same time, when caseworkers have to manually complete paperwork and sift through case files that include an overwhelming amount of information to familiarize themselves with each case and client, it delays their ability to start assessing safety and coordinating services.
Traverse puts the "social" back in social work—streamlining administrative work and enabling workers to spend as much time as possible in the field meeting with clients, visiting elderly in care, preparing potential guardianships, making referrals, and completing assessments to ensure all adults get the unique combination of services and resources they need. They can focus on having an actual conversation with clients, not just checking off a list of required questions and activities.

ENSURE SAFETY
Discover and use critical case information to better understand risk factors and assess safety.
It's imperative that adult & aging social workers and supervisors have a complete picture of each client's past and present to safeguard their future.
However, critical case information about an adult, such as the details surrounding the events leading up to abuse and neglect allegations, the supporting rationale regarding why an adult cannot safely remain in a specific situation, unique mental health needs, and medical history, is often hidden or virtually impossible to retrieve. (Learn more: What Causes Dark Data in Adult & Aging and Why Do You Need It?)
Traverse empowers caseworkers to collect content any time, anywhere, and in any format to more accurately capture an adult's whole story.
Leveraging new technologies like cognitive search and artificial intelligence, the case discovery functionality of Traverse then automatically analyzes all of the content collected to quickly bring this critical, previously hidden information to light.
It presents key insights into the case, such as which services have previously helped (or failed to help), how frequently the client has transitioned (for example, living situations or treatment facilities), and suitable connections that have previously been integral in the person's life and can be used as a support resource in the future.
Armed with this information, caseworkers can better assess risk factors and potential threats to make better safety decisions.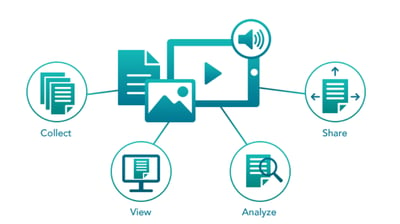 Traverse was purposely built to empower frontline adult & aging caseworkers with the tools, time, and information they need to produce more efficient and effective adult- and elderly-centered outcomes.
It supports and enhances your agency's ability to meet your mission and ensure safety by:
Maximizing time spent doing high-value work to improve client well-being
Improving worker productivity whenever and wherever they interact with clients
Discovering and using critical case information to make informed decisions
Focusing on building trust and connecting clients to all the services they need
Enabling greater collaboration between workers, supervisors, and providers
It's our mission to help adult & aging agencies and caseworkers make a positive impact on the vulnerable adults who rely on your attention and care. We'd love the opportunity to partner with you to support your elder abuse prevention efforts and other agency initiatives.


| | |
| --- | --- |
| | Chuck Barber, director of Traverse solutions, put his first-hand agency experience to work at Northwoods so we can make a meaningful impact on not just everyone we serve, but also everyone they serve. He oversees the team that implements all Traverse projects, and has spent hundreds of hours helping customers understand how to use our products to enhance their daily efforts to engage and protect vulnerable adults. |