As the population ages, more older adults are accessing services at an alarming rate. Increased demand for services leads to collecting more content in the form of notes, forms, and documents. Every piece of content has the potential to contain critical information about a case, but it gets buried deeper and deeper in the file as new information gets added.
No adult & aging, mental health, or long-term care social worker realistically has time to digest and apply the amount of both current and past information available to them, and "dark data"—critical, but hidden information—gets created as a result.

What is Dark Data in Adult & Aging?
The term "dark data" might sound new, but the concept is most likely familiar.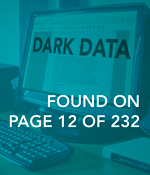 Dark data is typically in the form of documents—paper files, electronic images, or photos—but also includes case notes and other unstructured text. In the simplest terms, dark data is information collected by multiple workers from numerous sources over a long period of time that becomes hidden and cannot be applied to each decision-making point.
Think about working with a mentally ill adult. What if a medical report included a one-sentence reference to a behavioral health hospital, which the agency didn't know?
If the worker has that information readily available, she can request medical records from the behavioral health hospital to get a better picture of previous medical care to help determine future care—what's worked, and what hasn't.

How Can Dark Data Help Your Organization?
By effectively using all the information available, anyone in adult & aging could make critical decisions without delay. Even as caseloads continue to grow, agencies can simultaneously improve quantity and quality by having the right tools to find the right information at the right time.
Here are our recommendations to get started:
Identify your dark data.
Make a list of all the people and organizations that send you information. Think outside the box. Don't forget emails, hospital discharge papers, social workers' notes, or social media posts.
Eliminate paper.
Agencies have to have an electronic document management system to capture and store the documents and data they collect every day.
Be able to scan in real time.
Agencies need to have a system in place that enables real-time document collection and data gathering from internal and external sources, such as law enforcement or hospitals.
Find the right tools to surface dark data.
Technology can help adult & aging caseworkers find the right information at the right time to make more confident decisions.
If you want to learn more about the impact and opportunities of dark data, download our eBook, "Shining Light on Dark Data in Adult & Aging," for answers to more common questions around dark data.