Editor's note: This post was originally published on January 15, 2018. We continue to update it annually.
If one of your 2020 goals is to keep your finger on the pulse of key issues, trends, and topics impacting your agency and/or the community, industry conferences are a great way to get started.
We've vetted a lot of human services and digital government conferences over time, and we like to start each new year with our recommendations.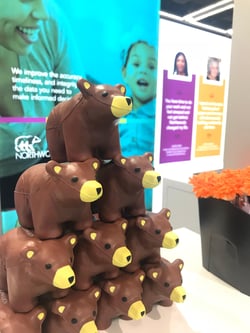 This list represents events that not only have excellent programming and speakers, but also build in time for attendees to network and discuss how they're addressing key opportunities and challenges.
(PS: View all the human services conferences we're sponsoring or attending this year. This page is updated quarterly.)

Child Welfare League of America (CWLA) 2020 Conference

Ohio Job and Family Services Directors' Association (OJFSDA) Annual Training Conference

American Public Human Services Association's (APHSA) National Health and Human Services (HHS) Summit

New York Public Welfare Association's (NYPWA) Annual Summer Conference
Who? New York's l

ocal and state social services agency administrators

What?

Promotes the exchange of ideas, development of new initiatives, and refinement of existing programs and services among

New York's 58 local departments of social services, state government agencies, and other organizations.

When?

July 19-22
Where?

Saratoga Springs, NY

Why? New York's commissioners share our commitment to innovation and helping agencies leverage new technology to make the biggest impact on the community. This year, we're excited to share updates on the projects we have underway with Cayuga, Chautauqua, Jefferson, Onondaga, Madison, and Seneca counties.
Learn more: Visit NYPWA's website for additional information

Florida Coalition for Children (FCC) Foundation's Annual Conference
Who?

Child welfare agency directors, board members, program managers, supervisors, case managers, administrative staff, and advocates

What?

Focuses on the agencies and individuals who work on the behalf of Florida's abused, abandoned, neglected, and at-risk children.
When?

July 27-29
Where?

Orlando

, FL
Why?

T

his conference draws a wide array of attendees and we value the opportunity to have conversations with both policy-makers and frontline workers

about how Traverse® can help workers facilitate more purposeful visits.
Learn more: Visit the FCC conference website for additional information

National Association of State Human Services Finance Officers Organization (HSFo) Annual Conference

Medicaid Enterprise Systems Conference (MESC) 2020
Who? Public and private sector Medicaid IT professionals and thought leaders
What? Sharing ideas and information related to Medicaid systems and initiatives, as well as policies affected by those systems.
When? August 10-13
Where? Boston, MA
Why? This conference presents an opportunity to expand our knowledge around enterprise systems, integrated eligibility, and statewide modernization efforts.

Related link:

Making IT Modernization a Reality for Agencies
Learn more: Visit the MESC 2020 website for additional information

APHSA's IT Solutions Management (ISM) for Human Services
Who? Agency directors, program administrators, IT directors, technology partners, and federal/state officials
What? Brings together federal, state, local, and private sector thought leaders to discuss lessons learned, emerging issues, and key trends relating to HHS technology.
When? September 13-16
Where? Kissimmee, FL
Why? ISM is hands down one of our favorite events to hear from partners and industry experts about the most important IT topics and innovations impacting human services.
Learn more: Visit the ISM website or find more information about all of

APHSA's conferences and events

Who?

California child welfare agency directors, program managers, and supervisors

What?

Promotes innovation and encourages attendees to expand their approaches to best serving children, families, and aging individuals
When?

October 7-9
Where?

Anaheim

, CA
Why?

This is

another good opportunity to hear about digital, forward-thinking strategies and ideas to improve service delivery across the continuum of care. We're excited to show

how our solutions can help California agencies use a person's entire history to help shape their future, plus provide updates on our work with Monterey, Ventura, and Yuba counties.

Related link: Resources for child welfare in California
Learn more: Visit

CWDA's website

for additional information

What other conferences are on your radar this year? Let us know in the comments. You can also visit our website to see a full list of national and state-specific conferences we're planning to attend each quarter.