At Northwoods, we talk a lot about "designing solutions around you." But, what does that really mean?
As one of APHSA's 2018 Emerging Leaders, I was invited to give a presentation at the annual ISM conference showcasing something that Northwoods has done to advance health and human services (HHS).
I chose to share a methodology that is at the core of how we operate and do business.
We have delivered multiple products and solutions influenced by this methodology that incorporates three "gears" of building better, faster, and more impactful solutions for human services.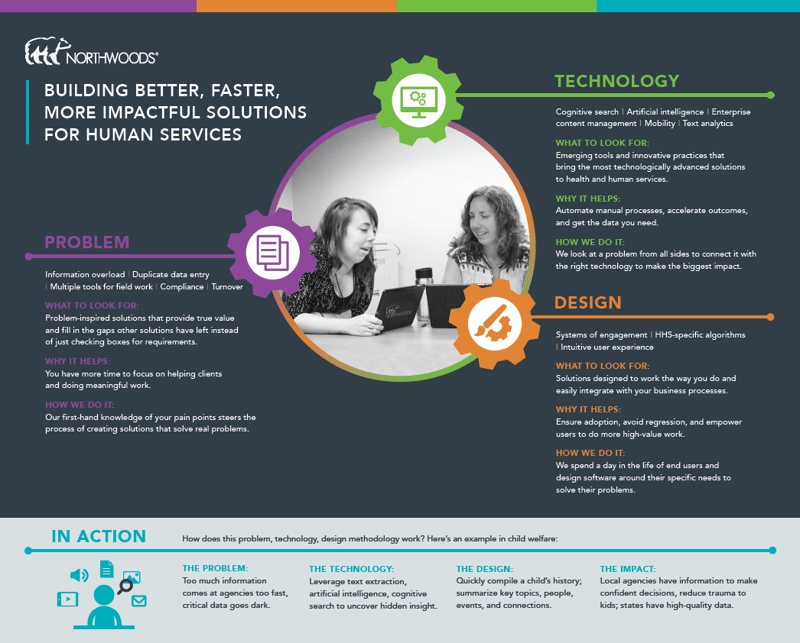 Build problem-inspired solutions.
The first gear, and something I believe should be at the root of all solutions, is problems.
Let's build solutions that are rooted in solving real problems that we know social workers and caseworkers are experiencing instead of just checking boxes on a list of requirements.
This requires first-hand, in-depth understanding of workers' key challenges.
One way that Northwoods does this is by recruiting people who have been social workers or caseworkers in their past life. In fact, more than half of our professional services team members have previous experience working at a state of local human services agency.

Employ emerging technologies and innovative ideas.
Government is generally five to 10 years behind the private sector in use of cutting-edge technology. We're trying to change that. Let's put newer technologies to work where they are needed the most.
To do this, you need to invest resources in finding new technologies and understanding how they can be applied to make the biggest impact on agency workers and the communities they serve.
At Northwoods, we have a department dedicated to research and innovation. Once we've identified key problems, that group is constantly building prototypes and proofs-of-concept to see which emerging technologies can help solve them.

Design that allows more high-value work.
We have heard from so many agency leaders things like, "we hire really good caseworkers and turn them into sub-par data entry workers."
That's why the final gear in our methodology is design. Let's design solutions that allow workers to do the job they were hired for, not just administrative work.
Northwoods invests time in experiencing a "day-in-the-life" of our users. We spend time with various workers throughout an agency, whether that's out in the field, in interview rooms, or at their desks, to get a sense of what they need and want. This directly influences how we design our solutions.

So, what does all this look like in action? When we built our latest flagship product, Traverse®, this methodology—the intersection of problem, technology, and design—is exactly what we followed.
After working with child welfare and adult & aging agencies for years, we realized "information overload," the idea that too much information is coming at social workers faster than they can manage, is a huge problem.
To help solve this problem, we combined emerging technologies, such as artificial intelligence, cognitive search, text analytics, and a social services-specific ontology to come up with a concept called "case discovery."
We designed our case discovery solution to help workers overcome information overload by uncovering critical case details and summarizing key concepts, people, events, and connections. As a result, workers are empowered by previously hidden or unknown information to make more confident decisions.
I share this not just to shine light on Northwoods' approach to building solutions, but as a call to action.
For state and local government leaders, I urge you to look for vendors who build solutions that follow this or similar methodologies. Seek out partners who are driven by something they believe in. Find out what motivates them beyond meeting requirements and fulfilling contracts.
If you are a fellow vendor, let's work together to make better solutions for health and human services.
Finally, for workers, advocates, or really anyone else reading this, I hope you'll help me encourage the next generation of leaders to think like this too. Together, we can make the biggest impact.


Rupam Chokshi believes that technology should always be rooted in solving problems.

It is through this lens that Rupam approaches his role as director of product marketing, where he oversees market analysis and product strategy. By ensuring Northwoods' products solve our customers' most important problems, Rupam can help free up their time to focus on the most important aspect of their jobs—their clients.