"It's just so much paperwork. It's hard on me because you know that the families aren't getting the money they need for that month." –

Tammy Baldwin, Child Support Agent II, Lenoir County (North Carolina) Department of Social Services
If you're a child support caseworker, you may feel overwhelmed. Creating court orders and motions is a tedious, paper-heavy, and time-consuming process, not to mention obtaining complete information regarding non-custodial parents.
Additionally, most child support caseworkers lose valuable time every day to the antiquated documentation systems and manual processes they use to collect, retrieve, and share information. This makes it impossible to be truly efficient and provide complete client service, which can delay families from accessing resources and children from receiving the support they need for their well-being.
Fortunately, there is a solution that can help child support caseworkers streamline and simplify their work. Want to learn more? Keep reading below for a short summary and overview of how Northwoods can help.

Consider the following challenges and questions. If any of these sound familiar, it may be time to implement a solution:
Manual, tedious business processes: Are you feeling the weight of the paperwork burden? Do you spend a lot of time manually entering data?


Lack of access to case information in court: Do you spend hours preparing for court? Have you ever wished you had access to a document you needed while in court?


The lengthy court order process slows getting financial help for families: Do your families have to wait a long time to get the monetary support they need? How long does it take to process court orders and other documents?


Frustrated clients and limited collaboration among staff: Are you able to help your clients as quickly as you'd like? Would it help if you could more easily share documents among caseworkers, supervisors, and attorneys?


State and federal mandates: Are you feeling pressure to close cases within federal timeframes? How often are you successful? Do you struggle to meet the rapidly changing expectations?


While the demands of your job are ever-present, your burden can be lightened by working with a partner like Northwoods that understands these challenges and has created solutions to address them head-on.

Increase Productivity and Services Levels with Compass® Pilot
Northwoods has spent thousands of hours with child support caseworkers, supervisors, and attorneys to understand their challenges and develop document management solutions to ease their paperwork burden. Compass Pilot streamlines and simplifies how child support caseworkers collect, retrieve, and share high-quality client/case data based on how they use the information to do their jobs. Here's a brief overview:
Document capture: Allows caseworkers to easily scan and index documents at the point of entry, making documents available instantly throughout the agency. This saves valuable time and eliminates bottlenecks in the imaging area.


Forms management: Automates and simplifies the paper-based forms process, reducing time spent completing forms, speeding up interviews, and significantly reducing agency costs. Easily design forms that look like paper to reduce anxiety for caseworkers. Autofill also reduces the margin of error by eliminating the opportunity for typos.


Document management: Provides instantaneous access to all electronic documents throughout the agency, saving time by eliminating the wait for documents to be pulled.


Client management: Gives caseworkers and social workers quick access and control over the client and case information they need to do their jobs.


Task management:

Enables caseworkers and social workers to automatically organize and track the workflow of routine tasks from their desktop.



Clients who have invested in Compass Pilot have reaped the following benefits: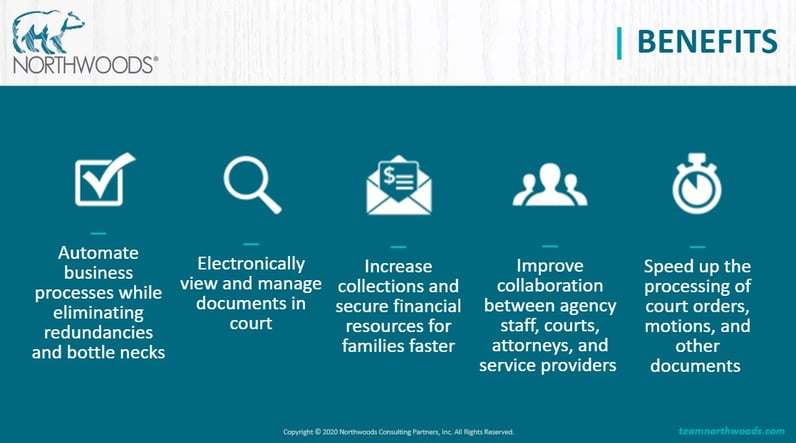 Automate business processes such as case modifications and emancipation, and eliminate
documentation bottlenecks
Client/case records are complete, accurate, up-to-date, and easily accessible in court
Streamline the application approval process to help secure financial resources for families faster
Easily keep track of complex case records and quickly share them with multiple constituents
Speed up the processing of court orders and close cases more quickly

But don't just take our word for it. Hear from program administrators who have implemented Compass Pilot at their agencies and experienced these proficiencies firsthand.

Compass Pilot: Northwoods' Solution for Child Support
View our Lenoir County DSS case study to see how the agency increased productivity and client services in child support. View our website to learn more about how Compass Pilot can dramatically lighten your paperwork burden.