Human services agencies are always adapting to meet the needs of the children, families, and a seemingly constant change in the landscape.
For many of us, from leadership to frontline workers, this has meant adjusting to the reality that as much work as possible must be done outside the agency's walls to preserve the health and safety of our vulnerable communities.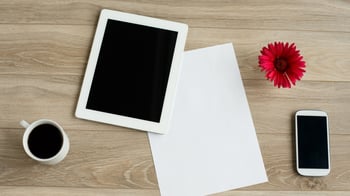 I know many of us are already struggling to find balance between completing critical tasks, making important decisions to keep at-risk kids and families safe, and figuring out how to quickly provide the right services to those who need them the most.
Now, on top of all this, the realization that what's happening today is going to dramatically alter the workforce of tomorrow is beginning to sink in.
Around this time last year, I was prepping for a presentation on managing remote teams in human services. Given the current circumstances, I thought it might help to share those tips more broadly. (You can also download the full presentation here.)
Some of these ideas can be put into place today, while others will help you create a long-term program to manage remote teams in human services.

Communicate what's expected.
Accountability looks different for a remote workforce. Set expectations for when work will be done, how often you'll communicate, and how you'll measure performance. Make sure to focus on goals and outcomes, not just daily activities.
Have trust.
We trust caseworkers with some of the most confidential information that exists. We trust them to go out into the field, have sensitive conversations, and make critical decisions. We trust them to go to court, talk to judges, and provide testimony.
Let's make sure we also trust them with their time. Let go of the idea that you constantly have to look over someone's shoulder and trust the same high-quality work is being done.
Continue to prioritize coaching.
Sure, this sounds simple, but is too often forgotten. New caseworkers can really struggle with not having direct contact with supervisors to provide coaching or validation. Ask people how they are doing and what you can do to help. What's working? What's not? Where are they getting stuck?
In the office, someone can easily see if you're free and pop in to ask questions. With a remote team, you'll have to be more intentional. Set virtual office hours and stick to them so your staff knows when you're available.
Schedule "check in" times too.
Don't limit communication to when something is needed or wrong. Create virtual ways to "bump into each other" like you normally would in the office (e.g., passing someone in the hallway, break room, or parking lot).
For example, set a time each week to check in with workers and ask how things are going—separate from supervision, coaching, or case reviews.
Keep workers engaged.
Try to avoid solely relying on email to communicate. You lose the human connection when you can't see facial expressions or hear the inflection in someone's voice.
Instead, use video conferencing as often as possible for remote meetings or check ins. More importantly, make sure everyone who's part of the conversation is present. No multitasking.
Be flexible.
Trying to force caseworkers into only being problem solvers on a set schedule, Monday through Friday, is counterproductive (even with a physical office space!). Workers shouldn't be confined, but they also shouldn't have to be available and connected all day, every day, or else they'll burn out.
The focus should be cultivating an environment where caseworkers feel they can be at their most creative. Do that, and quality outcomes are sure to follow.
Promote work-life balance.
In time of crisis, this may not be as feasible, but it can certainly be part of your long-term strategy. It's too easy to put your own well-being on the back burner when so much of your job revolves around taking care of others.
Find time to go for a walk, sip on your favorite drink, enjoy some peace and quiet, or recharge in whatever way works for you. (Related read: 10 Tips on Self-Care for Social Workers)
Celebrate successes.
Think strategically about how you can use existing communication channels to share remote workers' accomplishments, achievements, results, and outcomes. This will help keep everyone connected to the mission and value the agency provides.
Keep learning.
Remote work is commonplace for many industries and experts have been sharing their advice to help those of us adjusting to this "new normal." Here are some helpful third-party articles I've read that can benefit human services:
Provide the right technology.
Technology won't address every challenge with managing a remote workforce, but tools that are purpose-built for human services will help make your long-term plan more successful.
Technology that's built to evolve with your team's needs can help caseworkers can stay connected with supervisors and share work, provide access to case information and forms, and keep confidential information secure. (Related read: Investing in Essential Technology and Remote Connection for Child Welfare)
This will go a long way in minimizing burnout by removing obstacles that stand in the way of truly connecting with children and families. (Related read: Northwoods Mobilizes Content for Caseworkers Using AWS-Based Application)

With all these tips, the most important thing to remember is that remote workers and supervisors can often feel disconnected, so bringing them back together should be the foundation of your plan.
Focus on demonstrating the following qualities: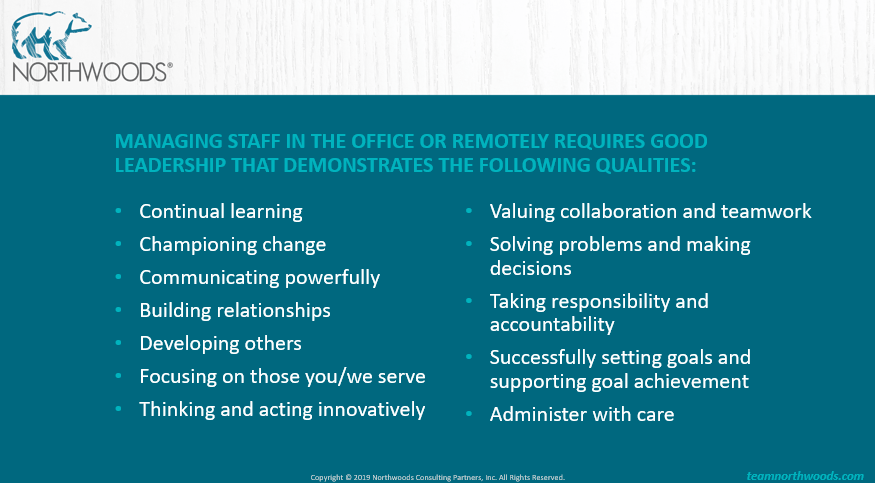 Times are uncertain, but the one thing we do know is the human services workforce will always evolve to meet the needs of those who rely on our services. We hope this advice helps you along the way.
If you're interested in discussing this concept in more detail, please don't hesitate to reach out.


Rich Bowlen's goal is and always has been to give his very best day in and day out to do the most good for the most kids. As vice president/evangelist for child welfare,

Rich serves as our national lead and advocate for child welfare and protective services. He's the connector between Northwoods' employees and our child welfare partners, including agencies, advocacy groups, policymakers, court systems, state and local legislators, national industry leaders, and more.