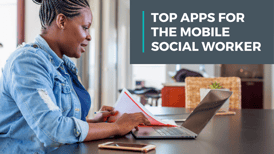 Over the past seven years, this blog post has become a go-to resource for social workers looking for tools and apps to both assist with their work and manage their everyday lives. As the COVID-19 pandemic continues to evolve here in the U.S. and around the world, we wanted to expand our current list with some additional apps that can help you work from home, save time, and deal with stress.

Time-saving apps for remote work
Microsoft Teams - Your hub for teamwork in Office 365. All your team conversations, files, meetings, and apps live together in a single shared workspace, and you can take it with you on your favorite mobile device. Whether you're sprinting towards a deadline or sharing your next big idea, Teams can help you achieve more. At Northwoods, this is the tool we use and prefer to enhance productivity. Available for both iOS and Android. Free.
Trello - A visual tool for organizing your work and life. Organize all your projects at work, at home, or anywhere in between. Get more done with Trello's customizable-yet-simple boards, lists, and cards. Available for both iOS and Android. Free.
Microsoft Office Lens - Office Lens is like having a scanner in your pocket. Like magic, it will digitize notes on whiteboards or blackboards. Office Lens can convert images to editable Word and PowerPoint files too. Always find important documents or business cards. Sketch your ideas and snap a picture for later. Don't lose receipts or stray sticky notes again! Only available on iOS. Free.
LastPass - A password manager that securely stores your passwords and personal information in a secure vault. As you visit apps and sites, LastPass autofills your login credentials. All you have to do is remember your LastPass master password, and LastPass will autofill logins for you. Available on iOS and Android. Free.

Doodle - An app that allows simplified group scheduling. Propose potential times, invite a group of people, and get notified once the best time for everyone is found. Available on iOS and Android. Free.

Rescue Time - A multipurpose productivity appand distraction blocker, cutting off your access to distracting websites when needed, while also recording how much time you spend working in different apps and sites. Available on iOS and Android. Free.
Evernote - Make virtual notes that can include to-do lists and pictures and access them on any device. These notes can be shared with others, or you can even collaborate with others in a group notebook. Notes can be easily searched for using key words, so you will never lose anything. Available on iOS and Android. Basic version is free.
Speedtest - Discover the speed of your mobile connection with easy, one-tap testing—accurate anywhere thanks to their massive global server network. Available on iOS and Android. Free.

Social work apps
Caretivity - A tool that helps multi-disciplinary teams communicate and collaborate, empowering them to be more informed, better react to crises, and help their clients achieve their outcomes quicker. It makes services coordination easy by allowing teams to create goals for clients, assign milestones to help clients reach those goals, and send updates to their team. Available on iOS and Android. Free.
The Savvy Social Worker - Android app that functions as a newsreader pulling in key RSS feeds from around the United States. Developed by the University at Buffalo School of Social Work, the app is designed to help social workers stay current with new developments in social work practice, especially evidence-based practices and best practices. Free.
Social Work Mentor - This app provides a framework for social work practitioners that includes tools and resources such as harm and danger statements, safety mapping, solution-focused questions and techniques, social work courses, and more. Available only on Android. Free.

Child safety apps
3 Houses Tool/My Three Houses - This app puts the Three Houses Tool on a tablet so children can explore their House of Good, House of Worries, and House of Hopes and Dreams as part of the Signs of Safety approach to child protection. (Now we just need apps for the Wizards and Fairies Tool, Safety House Tool, and Words and Pictures Tool.) Available on iOS and Android. Free.
Know Bullying by SAMHSA* - This app has conversation starters, tips for preventing bullying, warning signs of a bullied child, and more. Great for working with children and discussing proper peer interactions. Available on iOS and Android. Free.

General safety apps
bSafe - A personal safety alarm that sends an emergency message with a link to a map showing your location via GPS to your chosen contacts with the push of a single button. Available on Android, iOS, and Blackberry. (Editor's note: as of May 10, 2017, bSafe is in the process of relaunching. We'll update when new information is available.)
FiLIP - A smartwatch for children aged 4 to 11 that allows parents or guardians to call and locate kids. Embedded GPS, Wi-Fi and GSM radios support location tracking and two-way phone calls between parent and child. Available on iOS and Android. App is free, but additional technology may be required.

Health care apps
Pear reSET - The first mobile medical application approved by the U.S. Food and Drug Administration (FDA) to help treat substance use disorders. The digital therapy app consists of a specialized, 12-week program schedule that includes weekly check-ins. Available on iOS and Android. Free.
AA Big Book - Whether you're new to AA, or you're a seasoned veteran, this is the easiest and most useful app to aid in your recovery. The free version features the full text of the Big Book, prayers, personal stories, podcasts, meeting finder, and more. Available on iOS and Android. Free.
PocketPharmacist - This app shows what specific drugs are prescribed for, what the drug looks like, and how it interacts with other drugs. This is a great app to help social workers quickly understand what their clients are being prescribed. Only available on iOS. Free.
Micromedex Drug Essentials* - Another helpful app for learning about various drugs being prescribed to clients. Available on iOS and Android. $2.99/year.
WebMD Pain Coach* - Great for working with clients who are coping with chronic pain. The app allows users to track pain levels, mood, and more to help them learn what triggers pain and what treatments work best. Custom PDF reports can also be made with information that's been entered in the app that users could take to their next doctor's appointment. Avaiable on iOS and Andorid. Free.

Mental health apps
ReliefLink* - Designed by Emory University for suicide prevention, this app allows users to track their current medications, moods, and thoughts, as well as look at various appropriate coping methods to create a safety plan for handling depression. Only available on iOS. Free.
Suicide Safe by SAMHSA* - Browse education and support resources based on the nationally recognized Suicide Assessment Five-Step Evaluation and Triage (SAFE-T) practice guidelines. This app is also helpful for locating and referring clients to behavioral health treatment centers and other community resources. Available on iOS and Android. Free.
PTSD Coach* - This app provides PTSD education, information about professional care, a self-assessment, support opportunities, and various tools to help those with PTSD manage the stresses of daily life. Tools range from relaxation skills to anger management, and can be customized to each user's needs. Available pn iOS and Android. Free.

Apps to engage kids
Calm Counter - A social story and anger management tool that was originally built for children with autism and other conditions that make it difficult to calm down, but can be great for any distraught child. The app offers two modes, an "I need a break" mode, which had a number of deep breathing and "reset" exercises, and a social story mode that reinforces that uses explanatory feelings to ensure the viewer that they're alright. Available for iOS only. $2.99
Sesame Street: Incarceration* - The app helps kids whose parents or other family members are incarcerated. It includes tips for parents to help kids, an interactive storybook, and videos with real families and the Sesame Street Muppets. Available on iOS and Android. Free.
Toonia Colorbook* - With over 160 coloring pages, this app is great for social workers to use with kids in a variety of situations: waiting for a doctor's appointment, as an ice breaker for shy kids, or to assess motor skills and hand-eye coordination. Only available on iOS. Free.

Apps for working with adults
368+ Elder and Dependent Adult Abuse Guide for CA Law Enforcement - A mobile app "cheat sheet" for California law enforcement responding to abuse of elders and dependent adults. Includes warning signs of abuse, neglect, and financial exploitation. Available on iOS and Android. Free for a limited time.
Flower Garden - Users can virtually plant seeds, care for the plants, watch the flowers bloom, and create bouquets to share with friends and family. Great for seniors who miss their gardens. Available on iOS, Android, and Amazon. There is a free version, and a version that costs $2.99.
MindMate* - Provides fun and interactive games to help stimulate a person's cognitive abilities, as well as physical exercises and nutrition advice to help users stay both physically and mentally fit. This app was designed for those with Alzheimer's and Dementia, but anyone can use it. Only available on iOS. Free.
BrainTest* - Coming soon! (This app is currently completing a clinical validation study.) The science behind this app that helps users check how well their memory is working comes from The Ohio State University Wexner Medical Center. It's the digital version of the Self-Administered Gerocognitive Exam (SAGE), and can be used to help people more quickly identify mild cognitive impairment and early dementia. Pricing and availability TBD.
Eidetic* - This app uses spaced repetition to help a person memorize anything from a new phone number or address, to their favorite quote or fact. Depending on level of need, users can select from a variety of training intensities, ranging from one-day exercises to a routine weekly workout. Only available on iOS. Free.

Apps for working with visually impaired individuals
BeMyEyes* - This app enables blind or visually impaired individuals to link up with a sighted "helper" that speaks their language when they need help with things like reading a label, identifying a color, or determining what an object is. The app is now used in 150 countries, with more than 35,000 blind and visually impaired individuals being assisted by more than 500,000 sighted helpers. Currently available on iOS; in development on Android. Free.
TapTapSee* - This app allows a visually impaired person to take a picture of something with auditory guidance, and then the picture will be interpreted and explained out loud. It has a similar function to BeMyEyes, but it's a computer software helping instead of another person. Available on iOS and Android. Free.

Client visibility apps
Google Translate - Google's translator can translate sentences between 103 different languages. It offers voice, image, and handwriting translations for many of those languages as well and can translate bilingual conversations on the fly. Available for both iOS and Android. Free.
MobilePatrol - Social workers can enter a zip code and view a list of current jail bookings, most wanted lists, sex offenders, warrants, and missing children. Workers can also sign up for updates to be notified when the status changes for an individual. This can help workers stay informed about clients, research possible foster parents, or be notified if kids in their protection go missing. Available on iOS and Android. Free.
iGenogram - iPad-only app (iOS) that helps social workers draw genograms to understand personal relationships among family members, a critical piece of information in adult and child protective services. iGenogram produces multi-page PDF diagrams and reports that can be archived or exported by email. Workers with access to an electronic document management system could even import the genogram to the case file so other workers or supervisors can access the information. Costs $14.99.

Cool apps for real life
Pocket - Use Pocket to capture the content that comes at you all day long, and curate your own space filled with only the topics you care about. Save the latest stories, articles, news, sports and videos from any device, and any publisher or app. Then fuel your mind with a reading, watching, and listening experience designed for calm eyes, free hands, and fresh focus. Available for both iOS and Android. Free.
KeyRing - An app to scan and store existing loyalty cards so they are available electronically, rather than cluttering up your wallet. Available on iOS and Android. Free.
ShopSavvy - Allows users to scan the barcode of any item using the camera on a phone to find the best prices online or in stores. Users can also create wish lists and price alerts when an item goes on sale or hits a certain price mark. Available on iOS and Android. Free.
Waze* - Fantastic app for social workers on the go! When driving with the app open, users can receive spoken alerts from other drivers, like what roads are currently clogged or where accidents have happened. If you're also using the navigation function, your route will be changed to avoid major traffic blockages. Available on iOS and Android. Free.

Apps for self-care
(Editor's note: We've talked a lot about the importance of self-care for social workers, so we found these apps to help you be your absolute best self each and every day!)
FitOn - Stay active, reduce stress, and feel good with 100s of workouts with celebrity trainers and advice articles on taking care of yourself both mentally and physically. Available on iOS and Android. Free.
Personal Zen* - A scientifically validated app for reducing stress and anxiety. This app trains your brain to focus on the positive, rather than the negative, to boost stress and resilience, and decrease anxiety. Available only on iOS. Free.
Buddhify* - Great app for help with meditation! Contains over 80 guided meditation tracks that are under 30 minutes each and categorized for specific situations, such as "feeling stressed," "can't sleep," "difficult emotions," and more. The app also tracks your meditation information, so you can see your progress. Available on iOS and Android. $3.
Happify* - Based on studies in the fields of positive psychology, mindfulness, and cognitive behavioral therapy, this app contains various activities and games to help break bad habits that cause stress and replace them with habits that lead to happiness. Available on iOS and Android. The basic app is free, or you can upgrade to a paid "Plus" version for access to additional resources.
Charity Miles* - Do good for yourself and others at the same time! Earn money for 30+ charities by walking, running, biking, and other activities that boost your well-being. Available on iOS and Android. Free.
Moodnotes* - Use this thought journal/mood diary to track and identify what influences your mood, develop healthier thinking habits, and bring new perspectives to situations. Essentially, this app can help its users increase self-awareness, reduce stress, and boost well-being. Available only on iOS. Free.

Even more social work apps
You can find many more apps designed for social workers from an article in the North American Association of Christians in Social Work blog, which includes apps suggested by social workers.
Another comprehensive list is posted on the Social Work Apps Pinterest page, created by Dorlee M, MBA, LMSW and Nancy J. Smyth, Ph.D, LCSW.
The Social Work Degree Center also has a great list of apps focused on the practice of social work.

Here are the top 12 apps we think will help mobile social workers stay safe, save time, engage kids, and even deal with stress.