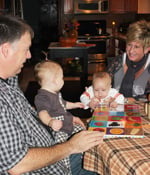 Agency replaced paper files with mobile document management
DUBLIN, OH—November 5, 2015—A mobile software application is helping Clark County Family and Children Services social workers spend more time working with children and families, according to a new case study released today by Northwoods.
The agency is using Northwoods' mobile document management solution, Compass®CoPilot, which has helped Clark County Family and Children Services:
Spend more time interacting with families
Save up to 2 hours per day on paperwork
Make processes more efficient
Improve social worker morale
Social workers are using the mobile app to electronically capture documents and case notes, take date- and time-stamped photos of families and living situations, complete forms with clients and have them electronically signed, and access necessary documents in the field.
Reducing the paperwork burden helps social workers increase the amount of quality time they spend with families, which is the best way for Clark County Family and Children Services to meet its mission to promote protection, stability and permanency for children.
"We can give families more of our time and concentrate on them and their needs rather than worrying about getting signatures or getting paperwork back," said Jennifer Young, program specialist.
About Northwoods
Northwoods' only focus is helping state and county human services agencies increase client service levels and productivity while cutting costs — allowing them to do more with less. Northwoods' human services software solutions are designed around caseworkers and social workers, not simply data collection. Our Compass®products automate the flow of client and case information based on how caseworkers throughout the agency need to use it. Northwoods is headquartered in Dublin, Ohio. For more information, visit teamnorthwoods.com.
###
Contact:
Tiffany Himmelreich
614.408.8772