"I'm big on efficiencies and using technology. If you're not using the latest and greatest software, you're behind." – Justin Zmyewski, Houston County (Minnesota) Commissioner
For Northwoods, the "latest and greatest software" means something that's designed to work the way child welfare and adult & aging agencies work.
That's why we created Traverse®—a content collection and case discovery solution that empowers child welfare and adult & aging agencies to make informed, confident decisions about safety.

What is Traverse?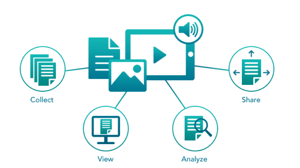 Social workers can use Traverse to collect, view, and share content and data anywhere, anytime. Traverse automatically analyzes the information collected with no additional work.
Social workers have a holistic view of critical case information, which they can apply to making informed, confident decisions focused on safety and outcomes, not just meeting mandates.
Traverse includes:
Content Collection: Social workers can easily collect content in any format to capture the whole story to improve outcomes, and for audit, compliance, and legal purposes.
Data Collection: Social workers can collect quality data without duplicate entry, increasing efficiency while reducing the risk for human errors.
Case Discovery: Traverse automatically surfaces and analyzes information collected, presenting a complete picture of a child or family's past and present to safeguard their future.

How Does Traverse Help?
The combination of data collection, content collection, and case discovery:
Empowers social workers to do more high-value work with families to reduce trauma
Repurposes social workers' time previously spent on business processes with innovative automated functions
Identifies trends across the agency, such as a specific type of drug and its impact on the community
Eliminates redundant work by facilitating efficient, economical, and effective point-of-entry data and content collection
Minimizes burnout and turnover by providing easy access to information social workers need
Here's what social workers and leadership from Houston County Department of Human Services (DHS) who are using the software have to say:

Spend More Quality Time with Families [Case Study]
View the case study to learn more about how the child/family and adult units at Houston County DHS are using Traverse to help families receive services faster and experience better case continuity, which the agency believes will lead to improved outcomes now and in the future.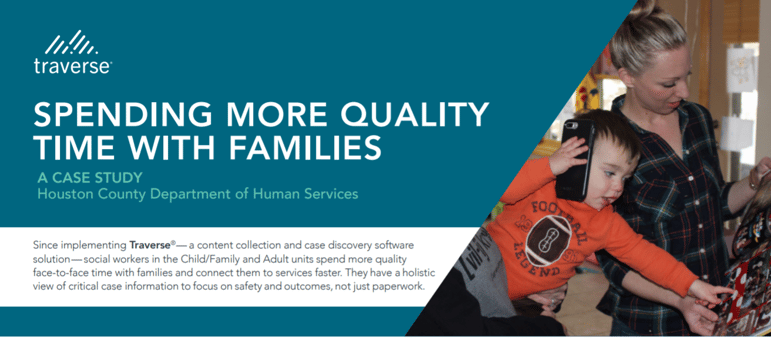 | | |
| --- | --- |
| | Rich Bowlen's goal is and always has been to give his very best day in and day out to do the most good for the most kids. As Director of Protective Services at Northwoods, Rich is dedicated to improving the lives of caseworkers and social workers so they can focus on what they do best: supporting the children, adults, and families that rely on the agency's care. |