"I'm big on efficiencies and using technology. If you're not using the latest and greatest software, you're behind." – Justin Zmyewski, Houston County (Minnesota) Commissioner
For Northwoods, the "latest and greatest software" means something that's designed to work the way child welfare and adult & aging agencies work.
That's why we created Traverse®—a content collection and case discovery solution to empower child welfare and adult & aging caseworkers with the right information at the right time to make informed, confident decisions.

What is Traverse?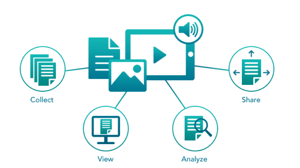 Caseworkers collect, view, and share case content from anywhere at any time using the web-based application and companion mobile apps to paint a full picture of the case.
Traverse automatically analyzes data and information to bring critical case content to light. Caseworkers understand the past and present to support informed, confident decisions for children, families, and the elderly.
Traverse includes:
Content Management: Caseworkers can collect documents, photos, audio, or video from anywhere—connected or disconnected—creating an organized, easily accessible electronic case file.
Data Collection: Caseworkers can autofill known information, complete state and local forms, enter case notes and narratives, and collect electronic signatures from anywhere.
Case Discovery: Using artificial intelligence, Traverse supports evidence-based best practices by automatically analyzing case content to quickly understand critical information from the past and present.

How Does Traverse Help?
Key benefits:
High-Value Work: Traverse eliminates redundant work, enabling caseworkers to do more high-value work with families to recognize and prevent further trauma.
Mobile: Mobile applications are optimized for when caseworkers are working remotely engaging with families and work in disconnected mode.
User Friendly: The intuitive design allows caseworkers to complete forms and collect documents, photos, audio, or video from anywhere.
Cloud-Based: Caseworkers can access electronic case files from anywhere. Built on Amazon Web Services (AWS), cloud hosting reduces the IT burden and ensures caseworkers have the most up-to-date version.
Collaboration: Caseworkers and supervisors can share essential documents, photos, and videos, and hand off work from the office or remotely.
Informed Decisions: Traverse automatically analyzes case content to help caseworkers quickly understand and utilize critical information from the past and present.
Here's what social workers and leadership from Houston County Department of Human Services (DHS) who are using the software have to say:

Spend More Quality Time with Families [Case Study]
Learn more about how the child/family and adult units at Houston County DHS are using Traverse to help families receive services faster and experience better case continuity, which the agency believes will lead to improved outcomes now and in the future.