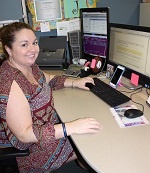 Type. Print. Cut. Paste. Print again. Repeat.
Type. Print. Cut. Paste. Print again. Repeat.
For child support caseworkers at Lenoir County Department of Social Services (DSS), creating court orders and motions was a tedious, paper-heavy, and time-consuming process.
Workers created a case in ACTS (Automated Collection and Tracking System, North Carolina's case management system for child support), then typed a court order in Microsoft Word® and printed it for a long line of reviewers – supervisor, paralegal, and attorney – who would handwrite or cut and paste changes onto a hard copy of the court order.
If the agency's attorney requested changes to the language before heading to court, caseworkers started the tedious process over, sometimes multiple times.

Lenoir County Boosts Productivity and
Client Service in Child Support

The process was so time-consuming that Child Support Establishment Supervisor Charmin Smith compared it to cutting out and piecing together paper dolls.
As a result, court orders could take months to complete internally, which jeopardized the agency's ability to fully establish cases within the required 90-day time frame after locating the noncustodial parent. It also fell short of Lenoir County DSS' requirement to get court orders to the judge in 5-7 days and signed by the judge in 30 days.

How Did Lenoir County DSS Simplify the Process and Automate Court Orders?
Lenoir County DSS implemented Northwoods' document management software to create template court orders and motions with current legal language, which can be updated as the law changes.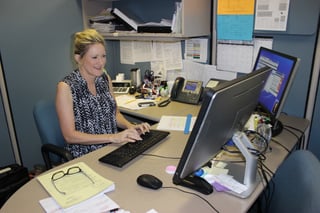 Now caseworkers can autofill basic client information, select the correct legal language, and add case-specific details into an electronic form, which can be saved, reviewed, and modified by anyone involved at any step.
The results:
Time savings. The new process has reduced the number of court orders being returned to caseworkers because the supervisor, paralegal, or attorney can easily make modifications without re-starting the process. It's also better for supervisors, who can review orders in batches, compared to previously reviewing them one at a time.
Increased productivity. Caseworkers can focus less on paperwork and more on casework – like locating noncustodial parents and generating show causes.
Better client service. The faster caseworkers can create court orders, the more productive they can be in their caseloads, and the sooner families can get their money.

"Now they can focus on locates, or generate
more show causes. It's freeing up a little more
time to be more productive in their caseloads,
which is what we want."

- Charmin Smith, Child Support Enforcement Supervisor

"I've always been a very big advocate
for Northwoods, for Compass Pilot.
I would not do this job I'm in without it.
It has been a huge timesaver."

- Jordan Jones, Child Support Agent II
What Else Has Improved for Lenoir County's Child Support Caseworkers?
Automating court orders is just one area where Lenoir County DSS' child support caseworkers have increased efficiency since implementing Northwoods' document management software. Additionally:
Improved client service in court. With access to Northwoods' software in court, plus a scan station stored in the clerk's office, caseworkers can electronically view and capture documents and information, boosting productivity and morale.
Reduced caseworker frustration. Documents are organized in a child support-specific taxonomy, so caseworkers can logically scan, store, and retrieve critical data.
Faster case closure. Lenoir County DSS's case closure rate increased from 94.4% in March 2015 to 97.5% in June 2016, well above the 75% required closure rate.

Lenoir County Boosts Client Service in Child Support [Full Case Study]
Want to learn more? View the written case study and check out the video case study series to hear firsthand reactions from Lenoir County's child support supervisors and caseworkers.