APHSA's IT Solutions Management (ISM) for Human Services Conference is hands down one of our favorite conferences of the year. It's a great opportunity to hear from experts at all levels of government about the most important IT topics and innovations impacting human services.
That said, we know ISM can also be overwhelming—especially if you've never been before.
We asked our team to share their advice to help you make the most of the 2019 conference, including tips for first-time attendees, sessions we suggest adding to your agenda, and of course, all the ways you can connect with Northwoods. We look forward to seeing you in Milwaukee!

Our Tips for First-Time ISM Attendees
Northwoodians have been attending ISM for more than a decade. So, we asked our team to share something they wish they would have known before attending their first conference. You'll likely notice a common theme: make sure to plan ahead!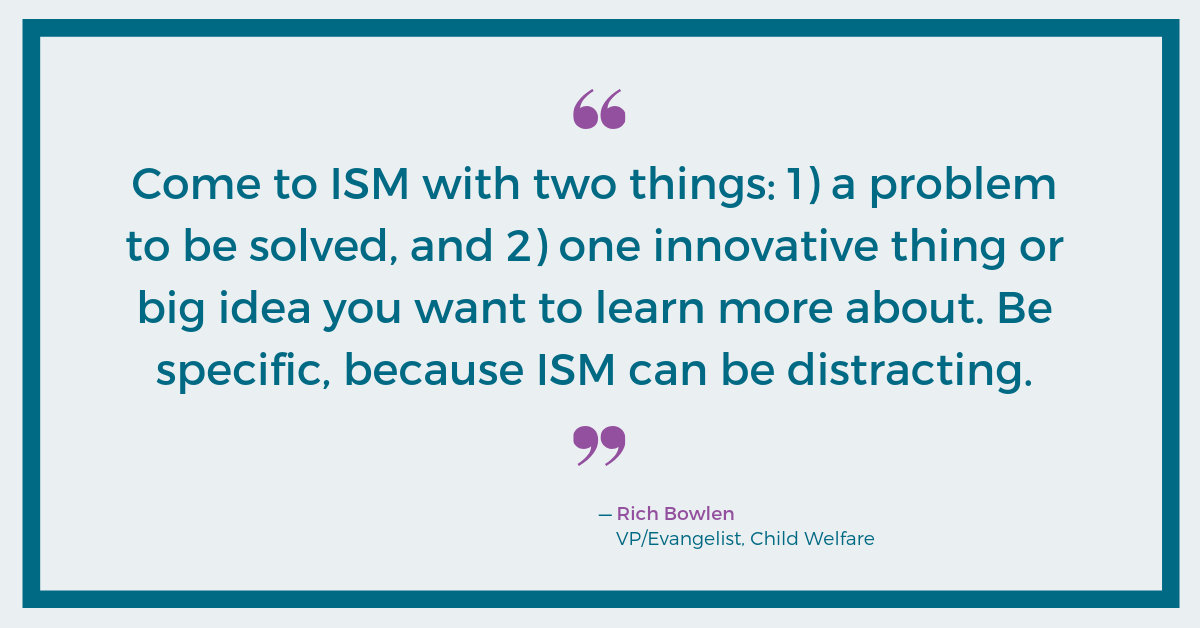 "Come to ISM with two things: 1) a problem to be solved, and 2) one innovative thing or big idea you want to learn more about. Be specific, because ISM can be distracting. Share these things with others and listen to what they have to say about them. Ask a lot of questions and encourage others to do the same. Remember, your organization has sent you as a scout on a mission to see what's out there. Promote conversation around your needs so you return home motivated, excited, and encouraged to WOW your state or colleagues with things they'll want to see." — Rich Bowlen, VP/evangelist, child welfare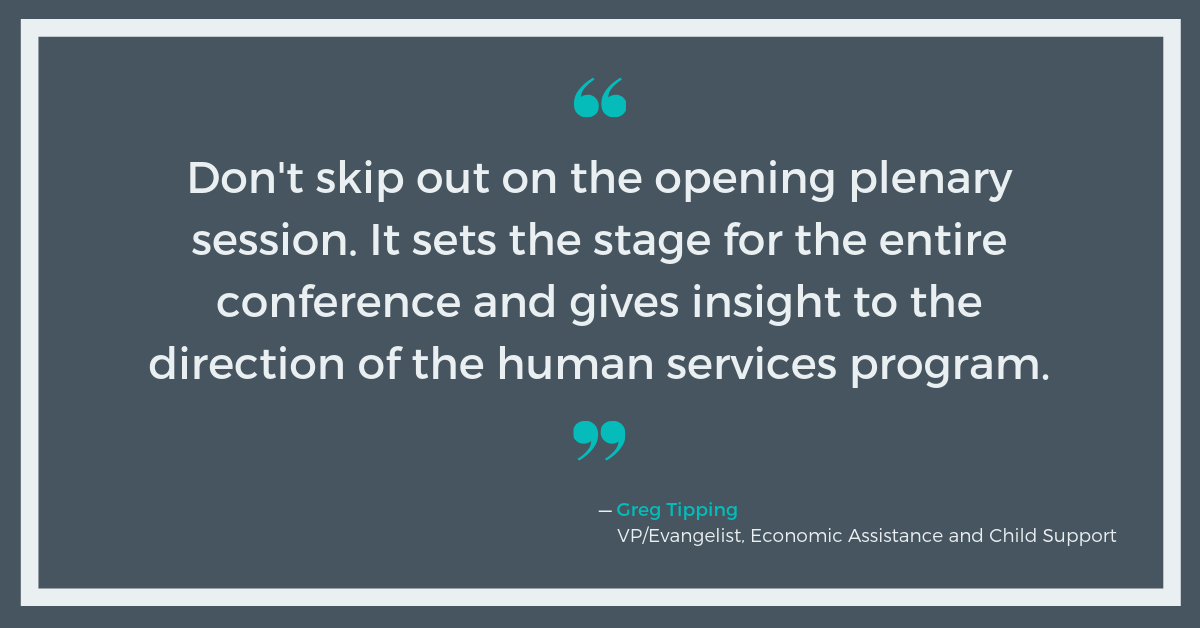 "Don't skip out on the opening plenary session. It sets the stage for the entire conference and really gives insight to the vision and direction of the human services program." — Greg Tipping, VP/evangelist, economic assistance and child support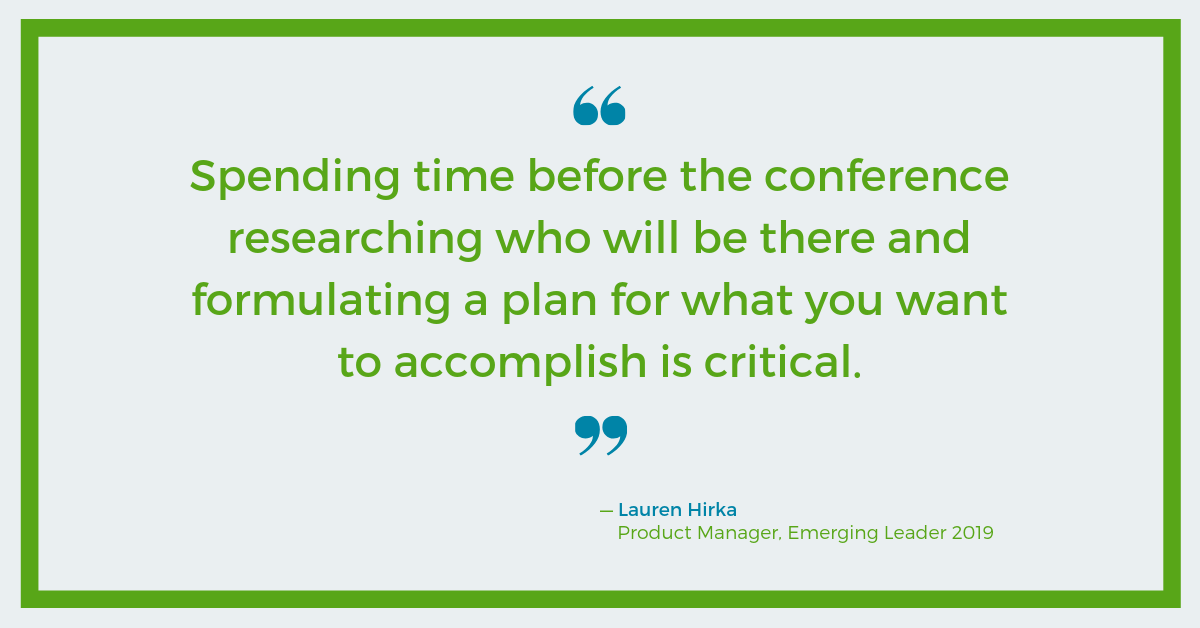 "I wish I knew to set up meetings with people/vendors prior to going to the conference. There are SO many vendors and attendees that it is a bit difficult to navigate so spending time before the conference researching who will be there and formulating a plan for what you want to accomplish is critical." — Lauren Hirka, product manager and Emerging Leader 2019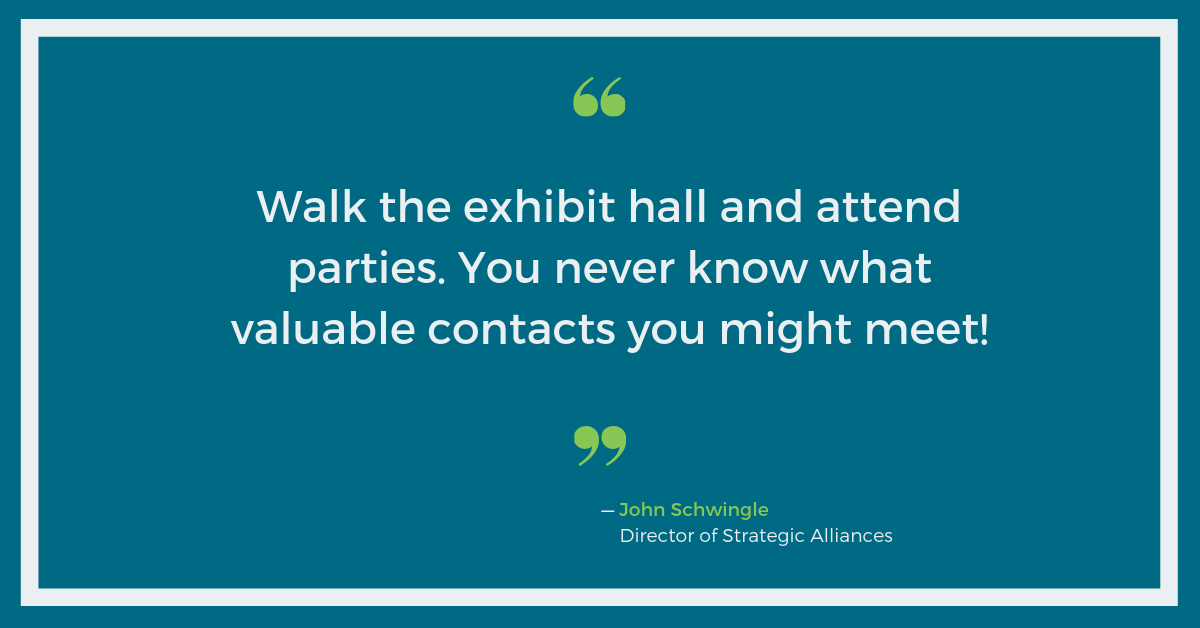 "Looking back, I wish I had planned better! ISM offers an abundance of sessions and topics that are relevant. My advice is to plan your days well to allow proper coverage. Additionally, walk the exhibit hall and attend parties. You never know what valuable contacts you might meet." — John Schwingle, director of strategic alliances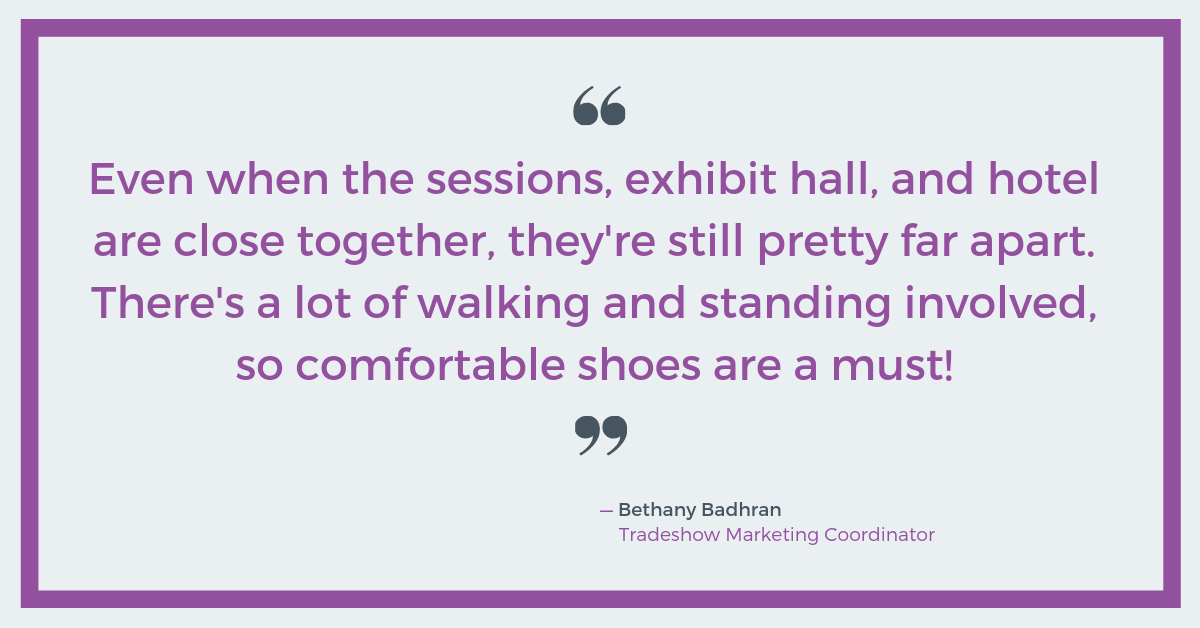 "Even when the sessions, exhibit hall, and hotel are close together, they're still pretty far apart. There's a LOT of walking and standing involved, so comfortable shoes are a must. Prepping yourself for a lot of people, a lot of vendors, a lot of information, and a lot of great sessions is never a bad thing!" — Bethany Badhran, tradeshow marketing coordinator

Here are some additional quick tips from the rest of our ISM team:
Carefully look at session descriptions (not just the title) when deciding which ones to attend.
Really engage in the vendor area—innovative ideas that may change your perspective are available.
Get on people's calendars early, as it's hard to connect with others amidst thousands of attendees.
Bring both casual and business casual clothes.
Expect to reconnect with an old friend at the conference.
Have some fun! Where are the big parties, and who's hosting?
There are events every night that are worth attending, so pace yourself!
Use the app to keep track of all your plans.
Use social media and the official conference hashtag #ISMMKE to share all the great things you learn and connect with speakers, vendors, or other attendees.

ISM Sessions to Add to Your Agenda
This year's ISM agenda will focus on business-driven technology, data analytics, inventive strategies, modernizing the workforce, and operationalizing changing technology. There's a ton of great stuff to choose from, but these are some of the sessions our team is most excited about (listed in order of day/time).
Pro tip: don't forget to download the "APHSA Events" app ahead of time to map out your plans and make sure you're taking full advantage of the conference schedule.
Workforce Well-Being: The Time is Now!
Monday, September 23 | 1:45-3:15 pm
"I hope to better understand the stresses that eventually lead to worker burnout and turnover so that our product designs can avoid and/or help mitigate those concerns." — Don Abney, chief technology officer
How HHS Agencies are Using Cloud to Modernize Operations and Improve Outcomes
Monday, September 23 | 3:45-4:45 pm
"Conferences like ISM help fuel agencies' vision and future planning, so I look forward to having a broader understanding of the messages that agencies are hearing. It's helpful when we're at the table planning and discussing potential opportunities because it brings clarity to their potential thought process." — Andrea Tipping, business development manager
Requirements: Unlocking the Secret of How to Ask for What You Really Need
Tuesday, September 24 | 1:45-2:45 pm
"I am hoping this session helps agencies navigate through writing requirements for things that users need and not the technology that needs to be purchased." — Lauren Hirka, product manager and 2019 Emerging Leader
Emerging Leaders Poster Viewing Session
Tuesday, September 24 | 5:15-7 pm
"It's always interesting to see everyone's posters and (if you get to) hear their presentations. Most of the participants have different points of view than the session presenters, so there's always something to learn or a different way to approach problems/issues/situations." — Rupam Chokshi, director of portfolio management and Emerging Leader 2018

Connect with Northwoods at ISM
Want to talk to our team in Milwaukee? Stop by the booth, see us at sessions, or just flag down anyone you see wearing a long-sleeved t-shirt with the Northwoods logo on the front and a word cloud on the back. You can also reach out ahead of time if you want to set up a specific day/time to meet up.
Meet other first-time attendees: We know this post doesn't answer all your burning ISM questions, but never fear: there's a session for that too! Plan to participate in a short orientation for first-time attendees on Sunday, September 22, from 2:45-3:30 pm. You'll hear from conference veterans and former Emerging Leaders—including Northwoods' Rupam Chokshi, director of portfolio management—on getting the most out of sessions, the exhibit hall, the app, and other networking opportunities that throughout the conference.
Attend our session: Join us on Tuesday, September 24, from 11:15 am-12:15 pm for "Flash Forward to 2025: How Has Technology Changed Social Work?" to start thinking about what social work technology will look like in six years (and beyond), and how your organization can begin planning for that future today. You'll hear from Don Abney, Northwoods' chief technology officer and Rupam Chokshi (moderator), plus be encouraged to tweet along using the conference hashtag #ISMMKE to share your ideas and keep the conversation going.
Hear from our Emerging Leader: Lauren Hirka, product manager, will present "Meeting Users Where They Are: Designing Technology for Enhanced Engagement" during the Networking Reception and Emerging Leaders Poster Viewing Session. Lauren will share how this approach to design will empower caseworkers to drive better outcomes.
Visit our booth: Stop by booth #407 to see our child welfare solution, Traverse®, in action. (Psst! You'll get a sneak peek at a highly anticipated new feature in the works: the ability to surface medical and education events to get a more complete picture of what's going on with the case.) We'll also be demoing our web-based distributed scanning application, Compass® Capture for Web, plus showcasing the Ohio Enterprise Document Management System (EDMS)—which includes Traverse for child welfare—that's helping 21,000 users across six program areas deliver high-quality citizen-centric services.
Party with us: Say "ale yeah!" to joining Northwoods and Amazon Web Services (AWS) for some late-night fun, refreshments, music, and networking at Milwaukee Ale House on Tuesday, September 24 from 8 pm-12 am. Register now to snag your spot (and a free shirt!). You can also register at ISM by scanning a QR code using your phone camera—just look for signs at our booth and AWS' booth or track down a Northwoods or AWS attendee for the code.
Are you going to ISM this year? What other tips do you have for first-timers? What sessions/events are you looking forward to? Let us know in the comments!