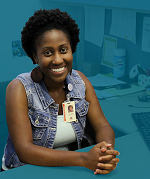 Editor's note: This testimonial references a product that will be sunset in 2022. Learn more about our next-generation child welfare technology or view more recent case studies.

Keeping case initiation rates high and turnover low are two big priorities for Child Welfare program managers; however, without the right tools and processes in place, both are much easier said than done. Just ask Lenoir County Department of Social Services (DSS).

In 2006, the turnover rate for Lenoir County's Child Welfare unit was 73% because documentation requirements and emotional stress were taking such a big toll on social workers. Inefficient processes affected case initiation rates too, which hovered below the 95% state standard at 80-85%.

Now, workers have access to office-based and field-based document management solutions designed for Child Welfare that give them more time to focus on engaging clients, building trust, and delivering quality service. As a result, turnover has decreased to 17% and social workers are consistently exceeding the state standard for case initiation with a 97% rate.

Lenoir County's Challenges in Child Welfare
The emotional stress that comes with the job combined with the struggle to keep pace with documentation requirements was taking a toll on Lenoir County's Child Welfare social workers. Children's Services Program Manager Monica Williams said it best:
"We only have more and more and more paperwork. It's always documentation, documentation, documentation. That's just our world. I don't know when we have time to do all this documentation and then to actually have face-to-face time with families."
Inefficient tools and processes for managing documentation led social workers to rely on paper case files, which had a negative impact on case initiation and closure rates and led to high turnover.

How Did Lenoir County Simultaneously Improve Service and Decrease Turnover?

Since implementing Northwoods' office- and field-based document management solutions designed for Child Welfare, social workers have access to client and case information wherever they need it.
As a result:
Exceeding case initiation timeframes. With an electronic case notification process and electronic access to client and case history, social workers have no problem initiating cases in the required timeframe. Because documentation is scanned in and entered as it's received, there is no delay moving cases from unit to unit inside Child Welfare either, meaning social workers can close or transfer cases to foster care or adoption faster.
Reduced turnover by 77%. Implementing electronic document management in the office and in the field has helped reduce stress, boost morale and improve day-to-day work for social workers. As a result, turnover in the Child Welfare unit decreased dramatically by 77% over 10 years from a 73% turnover rate in 2006 to a 17% turnover rate in 2016.
Most importantly, social workers can spend more time with families, provide clients more holistic, quality service, and reduce trauma to children.

"This has been life changing. I feel like I'm providing quality services to the families that we serve by spending more time with them. Gone is the stigma of what's presented on TV about child protective services social workers just going in and stealing children from their families, just making profit."

Jessica Chatman, Social Worker IAT, Assessments

"I commute and hour and a half one way, every day to this job because I am aware that all of the surrounding counties where I live don't have this system and they are doing paperwork. I don't plan on going anywhere else because I know what type of stress that could add to my day."

Alesha Powell, Social Worker IAT, Assessments

Lenoir County Cuts Child Welfare Turnover by 77% with Document Management [Full Case Study]
Download the written case study or watch the video to hear more from Lenoir County's supervisors and social workers about how saving up to 3 hours on documentation per day, per worker gives the Child Welfare unit more time to focus on child safety and increasing face-to-face time with families.


| | |
| --- | --- |
| | Chuck Barber is a Protective Services Practice Management Consultant for Northwoods, where he works to ensure successful technology projects for state and county human services agencies. Chuck's human services proficiency comes from his front line Public Assistance experience and through implementing, training, and supporting numerous Northwoods technology projects. |