As government agencies get more comfortable with technology, a new challenge arises: integrating disparate systems to securely exchange data and information so agencies can use it to improve service delivery and make informed decisions. We invited Senior Solution Architect Greg Davis to give a peek behind the curtains at how our integration team helps customers connect their systems and data in a way that ultimately benefits both the agency and the communities it serves.
I have been a solution architect and data integration engineer for over 20 years. In that time, I've worked with content management systems like Hyland Software's OnBase®, Compulink's Laserfiche®, IBM's FileNet®, and Microsoft® SharePoint, and case management systems like SACWIS, Connections, CAPS, CMS/CWS, Trails, and SSIS.
When it comes to human services agencies using these systems to their full potential, one of the biggest challenges we face is connecting to, and extracting data from, disparate systems—especially if they were not originally designed to share data.
While the thought of integrating disparate systems and data may seem overwhelming, the benefits far outweigh the cost. Let's discuss a few of the challenges to data integration to prepare you for the road ahead.

Integrating Systems of Record with Systems of Engagement
First, a little background:
The typical system that Northwoods integrates with is a system of record containing demographic information on the children and families that our customers serve and the cases that caseworkers manage.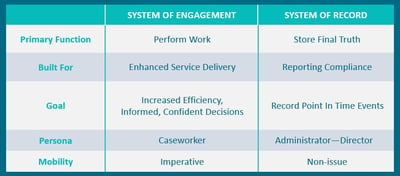 Many systems of record were built several years—even decades—ago with the primary purpose of archiving data to satisfy state and federal requirements. As a result, they can sometimes be difficult to use and it can be time consuming to find the information you need.
That's why social workers also need a system of engagement, a user-centric application that is intuitive, focuses on the information most important to them, facilitates interactions with families, and can travel with them where ever they go.
Both systems are important, and that's where things get tricky.

Challenges and Questions to Expect When Starting to Integrate
Integrating a system of record with a system of engagement can be challenging, especially since not all systems of record are designed to send data to a 3rd party application. There are both technical and legal issues to consider.
For example, in many instances when Northwoods begins a project to implement our Traverse® product in a new county or state, it is the first time the customer has ever needed to "open the doors" to their system of record, which presents a few questions:
What are the legal concerns regarding sharing data?
How will access to the system of record be provided?
What security controls are in place to protect the data?
Is data encrypted in-transit and at-rest?
Government entities have a fiduciary duty to protect the privacy and security of the people they serve, which is why it is critical for any data integration solution to meet the requirements regarding access, security, and encryption.
To work through these challenges, agencies should expect several meetings, demos, and conversations to ensure all questions and concerns have been addressed before contracts are signed.
I asked Liz Myers, the director of social services at Tioga County Department of Social Services in New York, to share her perspective since we've worked together. As Liz says, "The process to obtain the proper approvals for the data files was lengthy and required multiple levels of State approval."
For this reason, my advice is to begin the data access approval process as soon the decision is made to purchase a system of engagement to allow plenty of time for all parties to meet their legal obligations.

Let's Get Technical—What Happens Next?
Once data access is approved, the technical folks are set loose to make it all work.
For child welfare, we begin the process of integrating our customer's system of record with Traverse by researching any existing documentation that is available on the source system (for example, data dictionaries, database schemas, or reports).
Then, Northwoods' integration engineers and business analysts conduct discovery sessions with the customer's subject matter experts (of course, some project managers are also thrown in to make sure we all behave!). The discovery sessions are used to build the specifications and business rules for the data integration solution.
We also decide on the best method of connecting the systems to share data without disrupting business processes and with minimal impact on internal resources.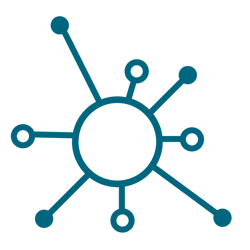 For more modern systems, much of this data sharing may be conducted over an application programming interface, or API. In other cases, data sharing may involve a direct connection to a secondary instance of the system of record database, such as a replica or reporting database. We have also worked with CSV data files that are extracted from the system of record and securely transferred on a regular basis to provide the information needed for Traverse.
Here, it's important to remember that another benefit of a system of engagement is the curation of data, which provides only the most relevant information to social workers. While a system of record may contain over a hundred data points for a specific case, a system of engagement doesn't need to pull in every single one.
When we connect the two systems, we make a point to focus in on what's most important for a social worker's day-to-day tasks, only bringing in data that adds value to the worker while they're interacting with clients. This helps to minimize the risk of exposure to sensitive data and avoid possible duplication of data, while providing social workers with the information they need to make effective decisions.
Lastly, besides building a data integration solution to integrate case and client demographic data, we may also decide to migrate documents, forms, pictures, video, and other content from another content management system to Traverse. This process is what ultimately supplies Traverse with historical context to enhance its case discovery functionality, or the ability to automatically analyze case content and data, and quickly surface critical information.

Integrate Data to Improve Service Delivery
After all the technical dust settles and the integration is complete, the system of record has been given new life with Traverse. Social workers now have a human-centered, easy-to-use, web and mobile interface to access their case data.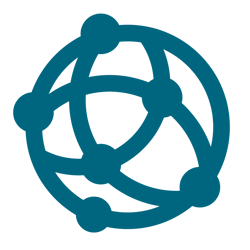 They're spending less time trying to find the information they need. They're discovering new data they never knew existed, or "dark data" that was previously hidden or impossible to retrieve. They're filling out and signing forms in real time and capturing documents while conducting home visits.
You can have confidence your agency has accurate, timely, and complete case files without causing duplicative work or taking away from workers' time with families.
At the end of the day, the time spent working through the legal and technical challenges of integrating disparate systems is worth it. As Liz Myers says, "Data integration continues to be an ongoing process that is worth the time and effort to ensure consistency between the two programs."
Do not let valuable data remain trapped in a system of record. Consider providing your social workers with a powerful system of engagement and help them better serve the children and families in your community.


| | |
| --- | --- |
| | Greg Davis brings over 20 years of experience to his role as senior solution architect on Northwoods' solution engineering team. He is a certified AWS Solution Architect Professional and has led the integration teams on several large, statewide projects of varying complexity. Greg is a very technical person, but as a certified teacher and excellent communicator, he is able to deliver difficult content in an easy-to-understand manner. |