Editor's note: Modern technology can help make the information you capture more searchable, discoverable, and useable to help others. Read our new post, Not Your Average Electronic Document Management System, to learn more about what features to look for when you modernize.
Economic assistance caseworkers face constant deadlines to process applications and redeterminations.
However, outdated, inefficient document management tools and processes often get in the way, which can delay clients from receiving the benefits they need.
This could leave them feeling frustrated and vulnerable. Of course, that's the opposite of what caseworkers are aiming to do.
The good news? The right technology can help alleviate these problems, allowing caseworkers to serve their clients quickly and professionally and start them on the path to stability and well-being.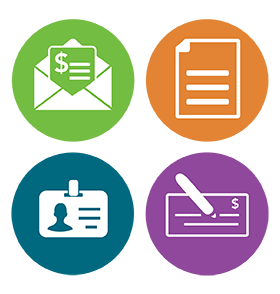 Take scanning and indexing documents, for example.
Verifying a client's income, expenses, and other information is essential in determining his or her eligibility for benefits. To process new applications and re-certifications efficiently, caseworkers need tools for easily collecting documents that validate these claims, and storing them in a secure system that's accessible across the agency.
The challenge is, not all scanning solutions are created equal. More traditional, centralized tools and processes often require multiple workers, multiple steps, and a lot of time and paper. On the other hand, modernized, distributed capture methods are typically more efficient and user-friendly.
Both can provide value under the right circumstances. It's all about finding the right solution for your agency's specific needs and business processes. Here are four questions we discuss to help you determine if your current tools and processes are providing as much value as you need.

Are your tools built around your specific work processes?
Trying to apply a generic piece of scanning software to the specific eligibility determination process is like trying to fit a square peg into a round hole—it'll create more problems than it solves.
Forcing caseworkers to use tools that aren't designed around how they do their jobs can cause friction in the process, which makes it difficult for your agency to meet mandated requirements for timeliness, accuracy, and participation.
On the other hand, a distributed capture solution that is intuitive, quick, and built specifically for collecting verification documents will mitigate these issues and help caseworkers gain efficiency.

How many steps are necessary before a document becomes available in the system?
A client's verification documents enter your agency, then what?
We've heard scenarios where one worker has to scan the document, another person has to check it for errors, and yet another person has to manually enter the client's index values. Eight to 10 steps later, the information is finally ready to be stored.
The more steps and handoffs between when a document enters your agency and when it gets stored, the greater chance for errors. For example, paperwork can get misplaced or documents can get filed incorrectly, which can lead to high error rates when your agency gets audited.
Cut the number of steps and you can free up caseworkers' time to focus on your agency's mission: helping clients.

Can caseworkers immediately access the documents that have been scanned?
Caseworkers should be able to access a client's information at a moment's notice—something that's much easier said than done if they have to rely on an outdated or paper-based system to find what they need when they need it.
Even if a document gets scanned right away, the paper copy will likely just get added to a pile of other documents waiting to be filed. Then, if a caseworker needs to help a client whose information is buried, they either have to collect it again, or make the client wait while they fish through the stack of files.
A more modern system allows caseworkers to provide clients with answers immediately, on their schedule, and without duplicating effort. As a result, service levels and client satisfaction increase.

How much support do you need from IT to keep the system running?
Centralized scanning solutions are often very complex and require a lot of support from IT to maintain. So, what happens when an issue arises?
People won't stop coming through the door to apply for benefits just because your system has stopped working. Collection always needs to continue.
The less you'll have to rely on IT to keep things running properly, the more efficient your caseworkers can be.