"Partnership is how we're going to elevate Ohio to the next level." – Ervan Rodgers, Chief Information Officer and Assistant Director, State of Ohio
In June, Columbus had the honor of hosting one of the monthly Human Services Information Technology Advisory Group (HSITAG) Public Sector Council Meetings at the iconic Ohio Statehouse.
State CIO Ervan Rodgers, along with Ohio Job and Family Service Directors' Association (OJFSDA) Executive Director Joel Potts and RecoveryOhio Director Alisha Nelson, talked about some of the most significant IT initiatives underway in Ohio to modernize how our government delivers and coordinates services.
Read on for some key takeaways from their remarks. But first, a brief overview of HSITAG for those who aren't familiar.
What is HSITAG?
CompTIA's HSITAG is a private sector industry association representing executives from over 40 of the nation's leading companies that work with public human services programs at all levels of government.
We work together as a collaborative community to move the industry forward through knowledge sharing, educational outreach, and guidance.
Our goal is to understand and address critical challenges that human services agencies are facing, plus provide a forum to brainstorm how technology innovation can enable change. (You can learn more in this blog post from Council Chair Paul Hencoski, "HSITAG Connects Tech Companies with Government Human Services Leaders.")
A large part of this collaboration is monthly meetings where we come together to hear from federal, state, and local government and industry leaders.
Coincidentally, I joined the HSITAG programming committee around the same time that several technology initiatives started to pick up speed across the state of Ohio. I invited leaders from some of the governmental organizations steering these efforts to share their stories with our group.

Highlighting Ohio's Citizen-Centric Approach to Innovation
During the meeting, Ervan, Joel, and Alisha each discussed some of their key activities and goals, plus opportunities to leverage technology to achieve them. Their remarks centered on a few common themes—collaboration, citizen-centric services, and shifting our mindset when it comes to innovation.
(A quick note: Due to some last-minute budget discussions, Alisha only had a couple of minutes to speak. LeeAnne Cornyn, director of children's initiatives for Governor Mike Dewine's Office, had also prepared to give remarks but got pulled into the same discussions. On behalf of HSITAG, I want to thank them both for their time!)
Here are some highlights and key takeaways from the event:
Partnership and collaboration are the cornerstones for success.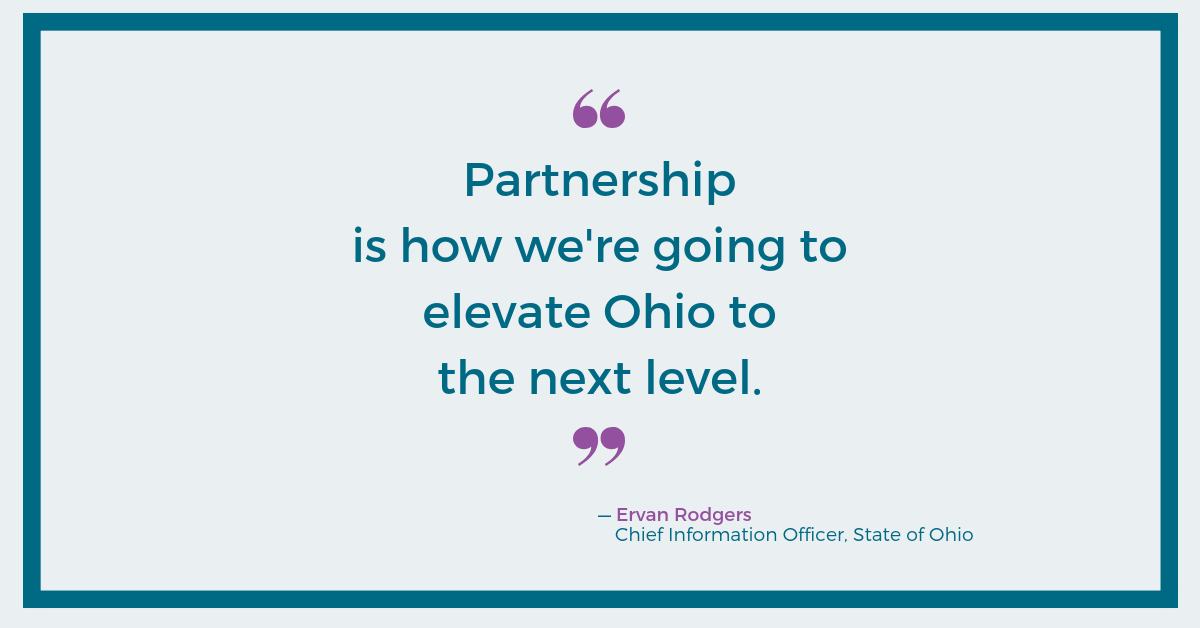 Ervan's CIO strategy hinges on making sure all of Ohio's boards, commissions, and agencies are going in the same direction and working toward the same goals.
For example, one of his first initiatives after taking the reins was to bring together CIOs and potential connectors from across all of Ohio's agencies for a "think tank" to discuss their ideas, challenges, and expectations. The group will continue to meet monthly, providing an ongoing forum for idea-sharing and to connect each person/agency with partners, resources, and ideas they may not have had access to on their own.
Alisha and Joel also spoke about the need for better collaboration and communication between agencies. After all, one in four Ohioans receives assistance from local offices at any point in time, and for each person served, a whole community of people is affected. We can't approach each issue or individual in a silo, as we're all ultimately trying to serve the same families.

Apply a private sector mindset to public sector innovation.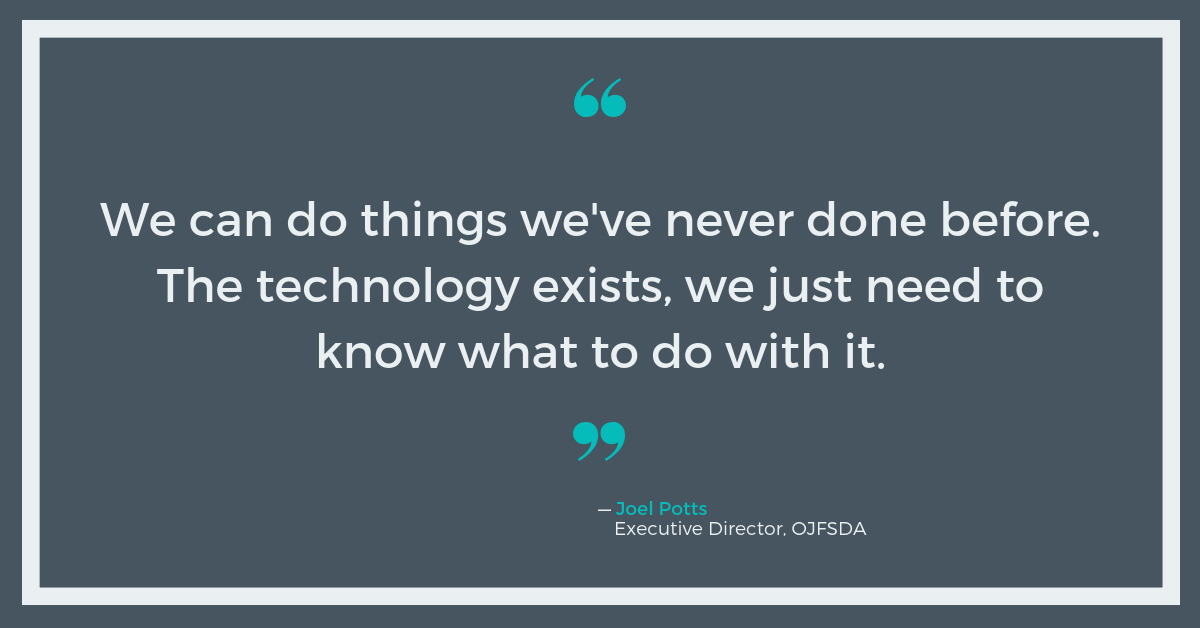 Ervan and Joel both emphasized the importance of applying a private industry mindset within the government space to make sure we're leveraging technology, data, and infrastructure to their fullest extent. As Joel noted, the world is changing and is demanding government agencies keep up.
For so long, human services agencies have felt limited by what we can't do because of outdated systems, processes, and policies. Now is the time to shift the mindset—to put the focus on what we can do that we couldn't do before.
This starts with redefining objectives and outcomes to better meet the needs and expectations of today's modern, mobile workforce, while giving them technology that disrupts how they engage families in a positive way.

Put citizens at the center of every service and interaction.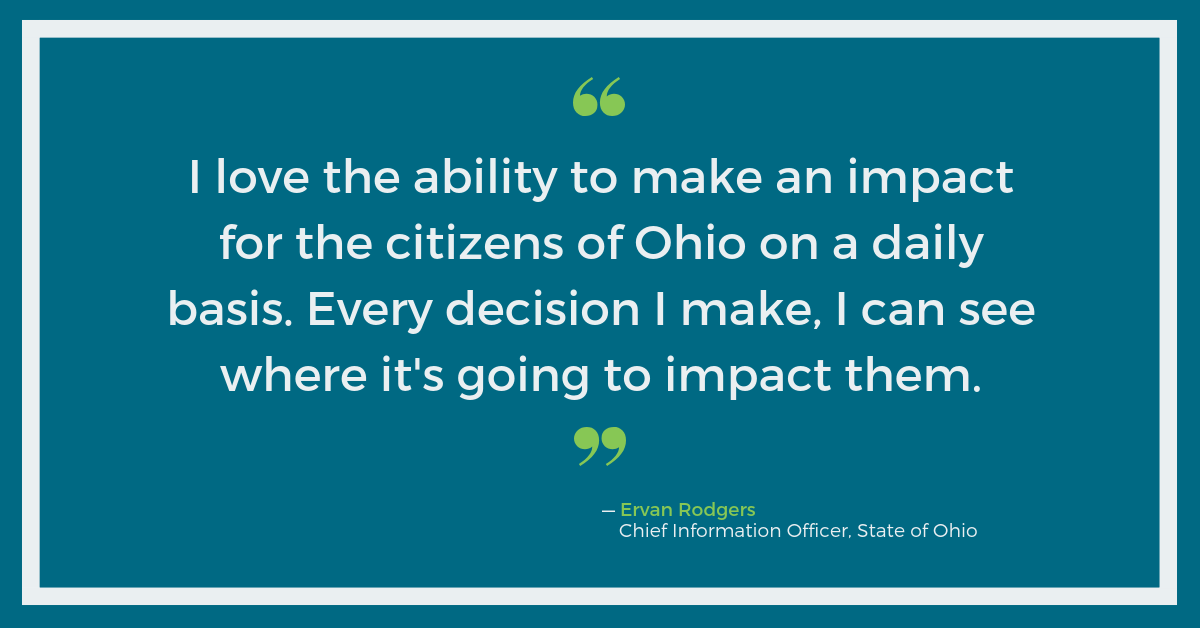 InnovateOhio, led by Lieutenant Governor Jon Husted, aims to apply forward-thinking technology to streamline and improve how the citizens of Ohio interact with state services.
Ervan shared that he's working to ensure the goals of InnovateOhio are planted firmly within the entire Department of Administrative Services so that every decision is made through the lens of how it will improve the citizen experience. Right now, the focus is making sure all agencies are leveraging the cloud and other state assets in a unified fashion, while knocking down data- and information-sharing silos to transform service delivery across all programs.
Joel added that it's easy to see why the public is so frustrated by the system—there are simply too many competing priorities to be effective.
His call to action: we must approach innovation not only in terms of technology, but also in terms of policy, practice, and internal operations, to make sure citizens are getting everything they need when and where they need it.