Child welfare caseworkers need to know how technology supports their practice, priorities, and daily work. Otherwise, it's just another obstacle standing in the way of their mission to help kids and families.
Our new Human Services Huddle video series is designed to help you connect the dots through feature previews and use cases that show exactly how our tools help caseworkers help others.
Keep reading for a preview of how Traverse, our cloud-based document management, forms management, and mobility software for child welfare, supports kinship and trauma-informed care—two things we know caseworkers want to learn more about. After you've read the brief overview, watch the full videos to learn more.

MAKING KINSHIP LAST
Identify possible caregivers and positive supports to keep kids as close to family as possible.
Ensuring support from the right people in a child's life is imperative for a child's well-being. However, when hundreds of people are mentioned in a case, it is hard, if not impossible, to identify that one familiar face, friendly shoulder, or trustworthy connection who can provide support exactly when and how the child needs it.
Traverse assists caseworkers in uncovering all people mentioned in a case, plus understanding the nature of relationships between them and their willingness to support the family, so that kids are always able to remain connected with people who care about them. Here are a couple of examples:
A child may mention that they have a "coach" or "friend" they can stay with, but not give the person's full name. A caseworker could use full text search within Traverse to find where those generic terms, such as "coach" or "friend," have been mentioned and then view the associated document or content item to find more context about who the person is—their name, where they live, how to contact them, and to what extent they're open to being involved in the child's life.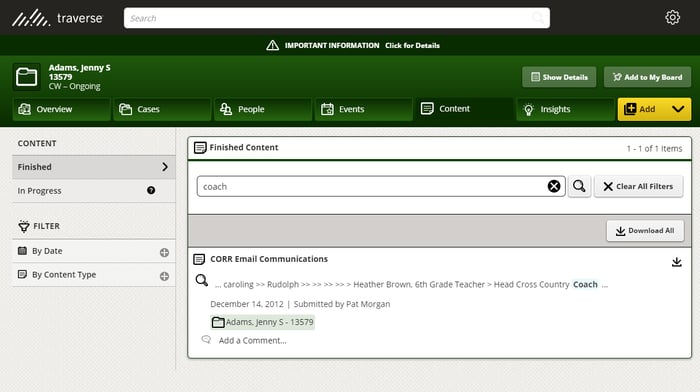 A caseworker preparing for a family team meeting may want to make a list of possible supports before the meeting starts. They can use Traverse to generate a list of every person mentioned in the case, as well as how many times. They can then invert the order to focus on people who have only been mentioned once or twice and likely haven't been brought up by the family yet. That way, they can make suggestions to the family of people they haven't already thought of who may have helped in the past and be willing to provide support now.
Kids do best when they're able to remain with family. Whether a child needs a long-term caregiver to stay with or just someone to provide transportation, look after them for a few hours, or attend a school meeting, Traverse can help caseworkers quickly get people in place without having to involve the court system or foster care.

APPLYING A TRAUMA-INFORMED CARE APPROACH
Recognizing a family's complete history to inform decision-making and prevent further trauma.
Child welfare caseworkers look to promote healing and recovery from the moment they connect with a child. Doing so requires them to not only understand the child's current situation, but also demonstrate thorough knowledge of past experiences and what has happened to lead them to where they are today.
The challenge? Critical and unique insights that are essential to providing a complete picture of the trauma a child or family has experienced in the past gets buried or lost because they are provided to multiple different workers over long periods of time, while so much other information keeps coming in on top of it.
Caseworkers need to understand what has happened, but don't want to inadvertently cause triggers or create more trauma by asking a child to retell their story.
There are several ways that Traverse empowers caseworkers through surfacing little known, or hidden, information at the right time to fully support their understanding of the past in a way that helps provide a much clearer picture of the present:
Traverse shows major concepts in a case related to drugs, risk factors, and protective factors, as well as specific terms that align with each one, to support making informed decisions. The automatic process uses a combination of machine learning and industry experts to contextualize what a caseworker is reading based on evidence-based and practice-based models. (Here's an infographic that explains exactly how this works.) For example, if "counseling" is shown as an important term connected to the concept, "Concrete Supports in Times of Need," a caseworker can dig into any content that has mentioned the term to learn more about what the family's experience has been. That way, they don't have to start from scratch to ask the family if they're open to going, but can instead focus on questions like: when was it helpful? When was it not? This way the family feels more empowered to help determine what happens next.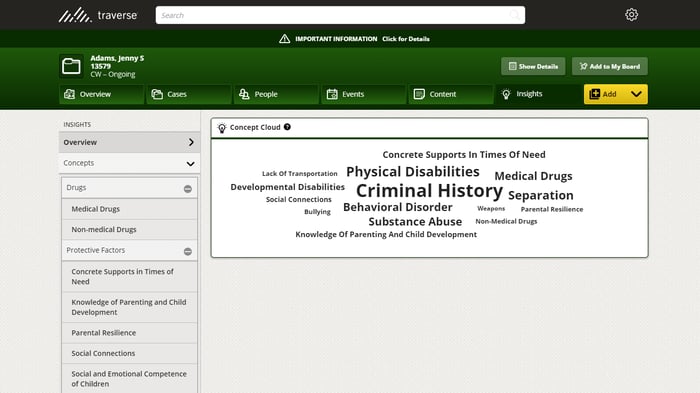 Caseworkers can use full text search to get an understanding of what questions have already been asked. For example, they could search for the keyword "family violence" or "domestic violence." This will create a list of all content or documents that reference these concerns, including forms or referrals from outside service providers so that caseworkers can also see who else has already explored important topics they want to know about. They can gain insight to who was involved and how the situation was addressed—all before even having a conversation with a child so they don't have to ask the same questions over again.
Traverse looks for activities that have happened throughout the case to create a timeline of significant events—transitions (placements, schools, admissions, moves, etc.), medical events, and legal events. Caseworkers can filter the list by date or event type to see cycles of when things have happened in the past and are likely to happen again. For example, if a worker sorts events to look specifically at transitions, they can see keywords like "displacement" or "discharged" to learn about previous interruptions and anticipate when things may become stressful for the family. That way, they can avoid various triggers associated with asking about something that was traumatizing in the past.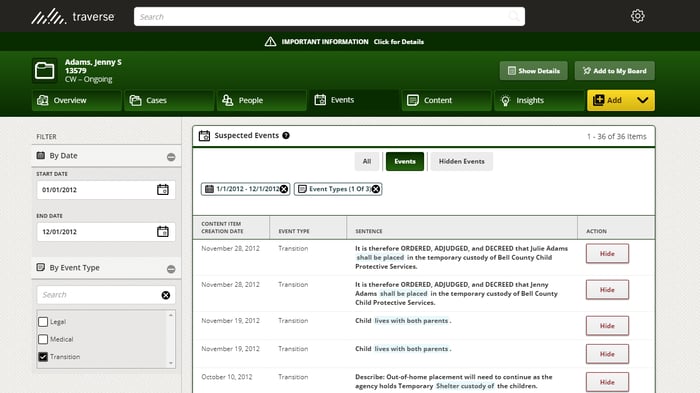 Understanding a child or family's complete history is key to truly applying a trauma-informed care approach. It's what we've always known, but there's never been an easy way to digest such extensive histories. Traverse arms caseworkers with the ability to quickly and easily mine for this critical information so they can provide services in a way that is accessible and appropriate without inadvertently causing additional trauma. They can build trust and collaborate with families on making decisions, which leads to more meaningful outcomes.

What other practice models or topics do you want to learn more about? Reach out and we're happy to share how our technology helps. Keep an eye on the Human Services Huddle series for more videos!