It's no secret that child welfare social workers are more time-strapped than ever.
This presents a constant challenge for supervisors and directors as well: figuring out how to help workers be productive and drive meaningful outcomes in environments that don't naturally lend themselves to it.
In the words of Bethany Moen, social services supervisor at Houston County Department of Human Services in Minnesota: "It makes a stressful job even that much more stressful. There's always that sense of never being caught up and never being prepared for what's next. And in this business, there's always something coming next."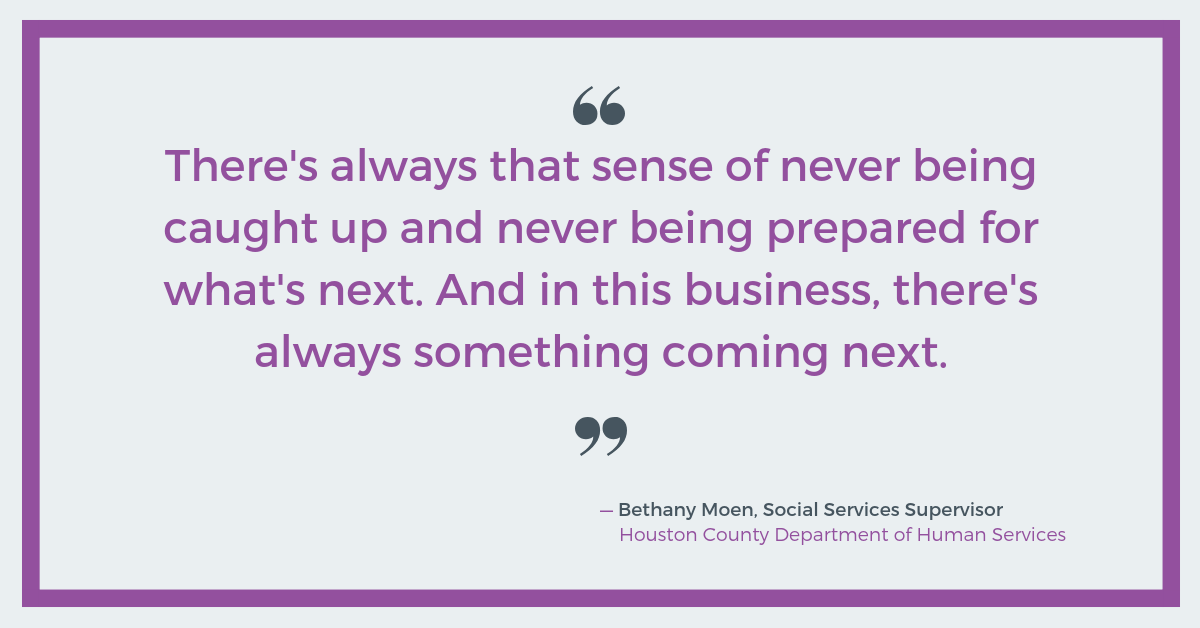 At Northwoods, we're deeply familiar with how agencies' processes for collecting, accessing, and sharing information can intensify these productivity problems, negatively altering outcomes for children and families in the process. That's why we're here to help.
Skim through a copy of our latest eBook to explore how child welfare directors and supervisors can clear five common productivity hurdles that stand in workers' way. How? By giving them human-centered technology solutions rooted in solving real problems and designed for engagement, efficiency, and service delivery.

5 Hurdles Blocking Social Worker Productivity in Child Welfare

Here's a preview of how social workers and agency leaders describe each of the five hurdles included in the eBook, and a brief look at how the right solution can quickly make a positive impact.

Time Spent on Administrative Work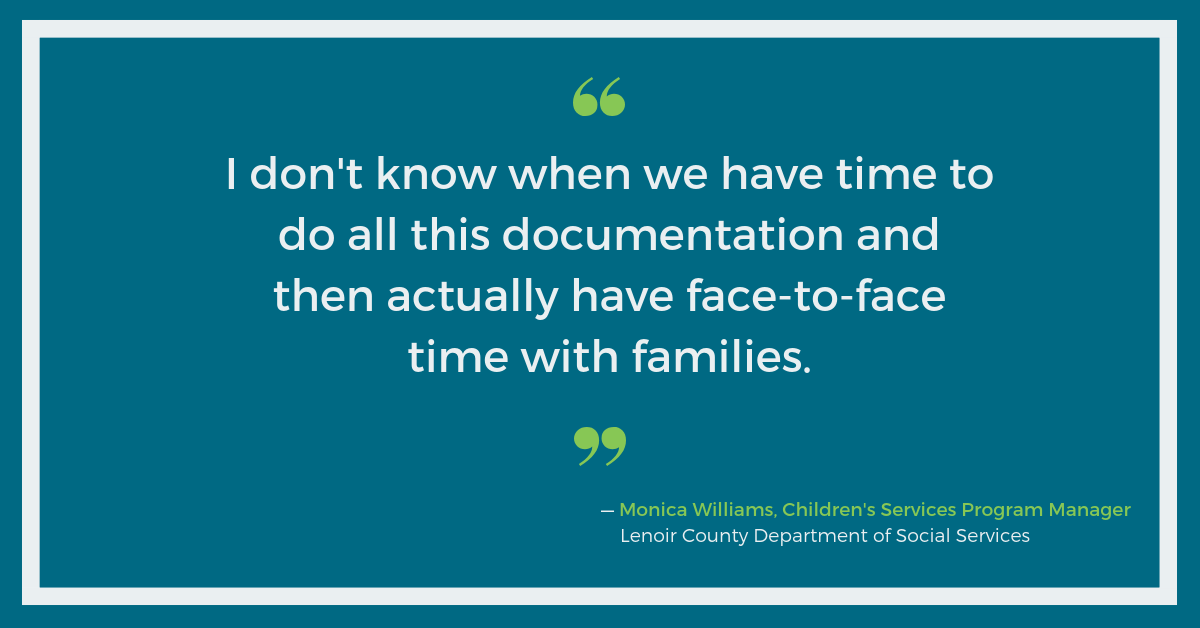 "We only have more and more and more paperwork. It's always documentation, documentation, documentation. That's just our world. I don't know when we have time to do all this documentation and then to actually have face-to-face time with families." – Monica Williams, Children's Services Program Manager, Lenoir County Department of Social Services
Overwhelming and redundant administrative work limits quality time spent with children. It also adds stress, forcing workers to worry if they're doing enough to develop meaningful relationships with families.
With the right solution, however, social workers can repurpose up to two hours per day previously spent on administrative tasks to maximize time interacting with families. They can improve case continuity and deliver quality services faster.

Accessing and Applying Information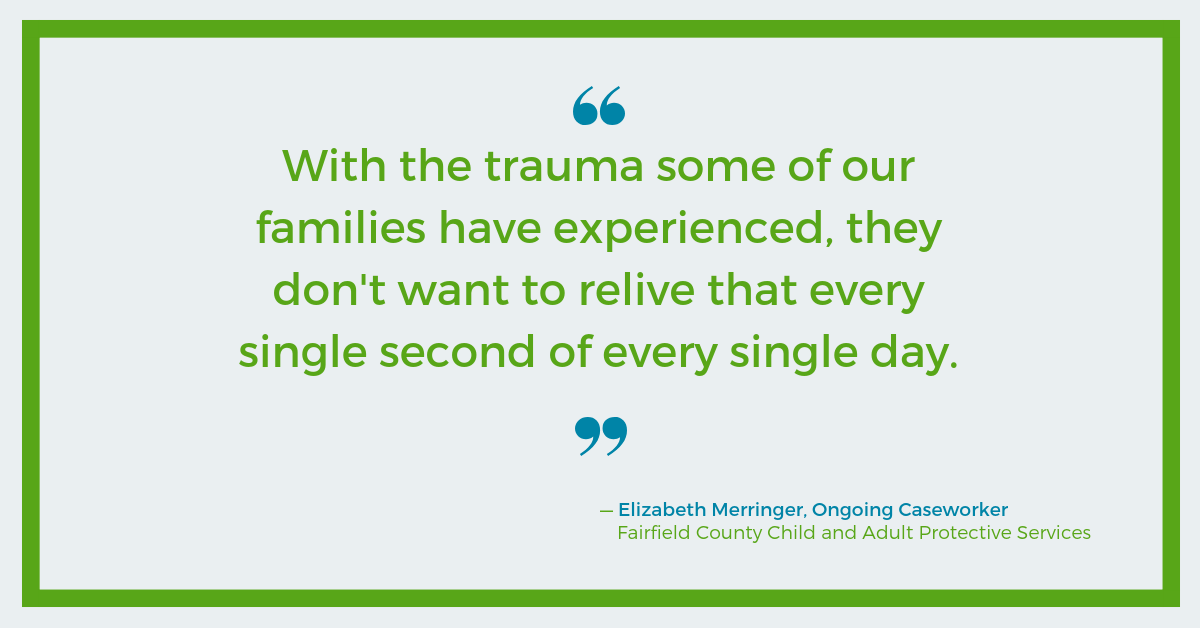 "With the trauma some of our families have experienced, they don't want to relive that every single second of every single day. When we go into a place and they are saying something, it shouldn't be a surprise to me." – Elizabeth Merringer, Ongoing Caseworker, Fairfield County Child and Adult Protective Services
The sheer volume of information coming in too quickly and from multiple sources is daunting and difficult for social workers to manage. Critical details are often buried deep within a case file and become virtually impossible to uncover.
That's why social workers need the right tools to easily view critical information and quickly familiarize themselves with all the details of a case, including those that were previously hidden or buried.
That way they can use that understanding to prioritize a family's risk factors and focus on their greatest needs.

Limited Time with Families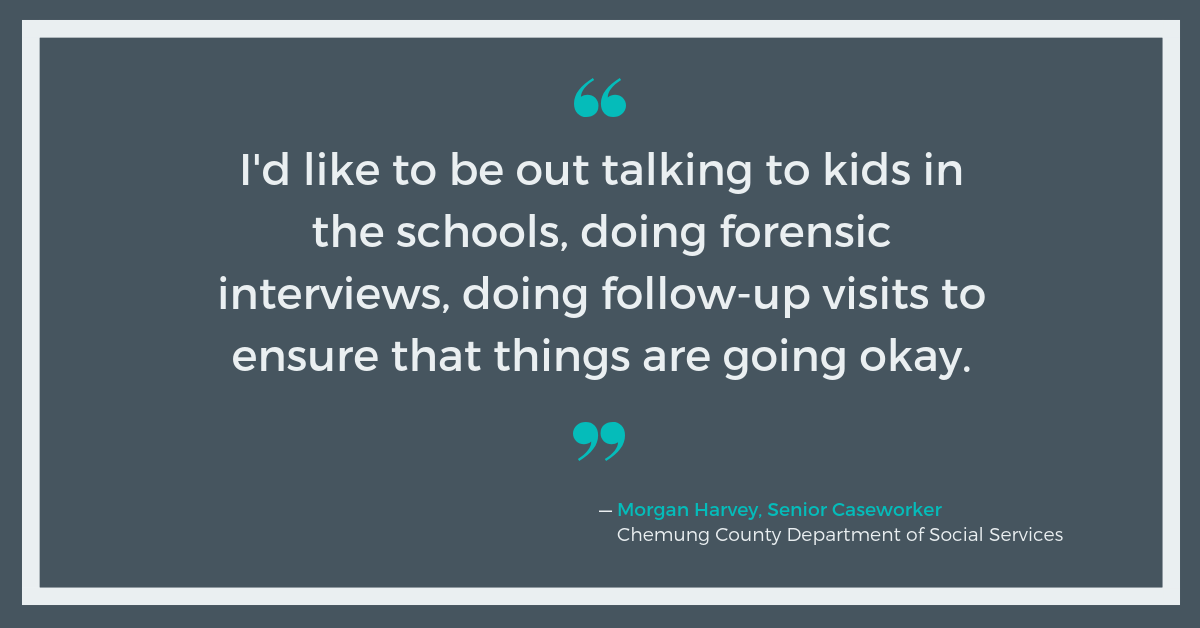 "Ultimately I'd like to be out talking to kids in the schools, doing forensic interviews, doing follow-up home visits to ensure that things are going okay rather than spending time on paperwork and making sure everything is documented." – Morgan Harvey, Senior Caseworker, Chemung County Department of Social Services
Caseloads are constantly increasing in number and complexity and social workers are stretched beyond their limits. Children and families who are in desperate need of time and attention may not receive it, which creates even greater risk.
By reducing administrative burden, you'll give social workers as much time as possible to focus on families—promoting well-being, building trust, finding resources, and linking supportive services.
This will ultimately help increase child safety and improve permanency outcomes.

Turnover and Retention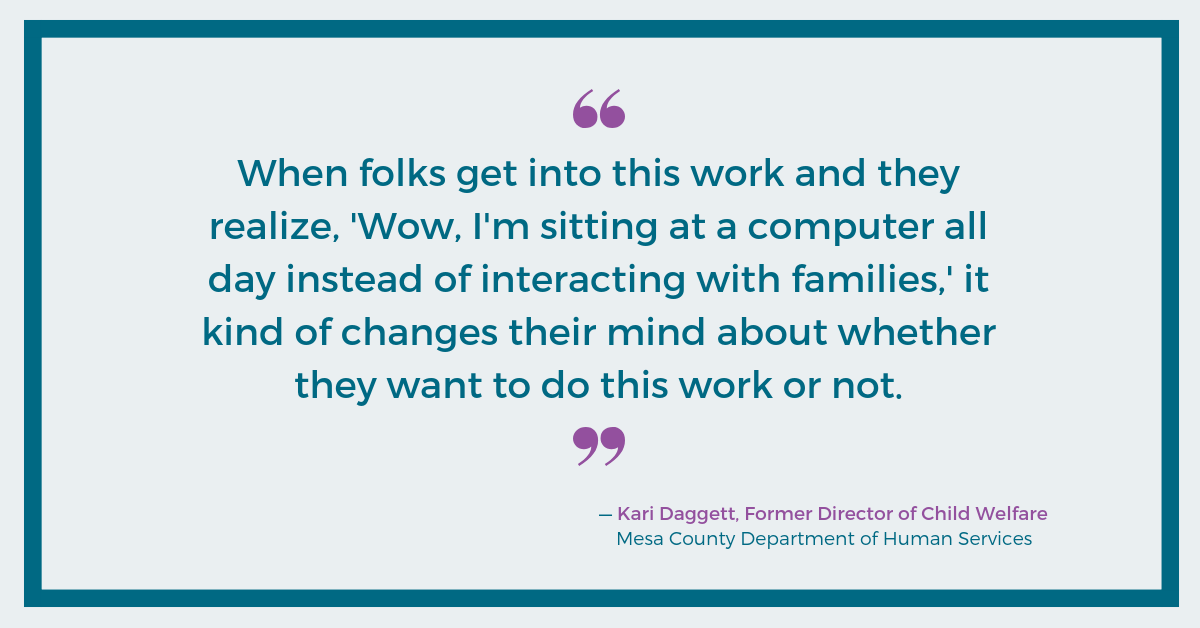 "Our workloads are very high and very demanding and very complex. When folks get into this work and they realize, 'Wow, I'm doing a lot more paperwork and I'm sitting at a computer all day instead of interacting with families,' it kind of changes their mind about whether they want to do this work or not." – Kari Daggett, Former Director of Child Welfare, Mesa County Department of Human Services
Paperwork, inefficient processes, emotional stress, secondary trauma, and other factors cause social workers to burn out and leave. This turnover makes it difficult for an agency to meet its mission.
Implement technology that's proven to lessen these burdens and free up time to make a difference and help children.
When workers are provided the right tools for the right reasons, they appreciate how well agency leadership clearly understands their day-to-day needs. This improves morale and can help break the burnout cycle.
Related resource: "A Deep Dive into Social Work Burnout (and What Your Human Services Agency Can Do About It)"

Data Collection and Quality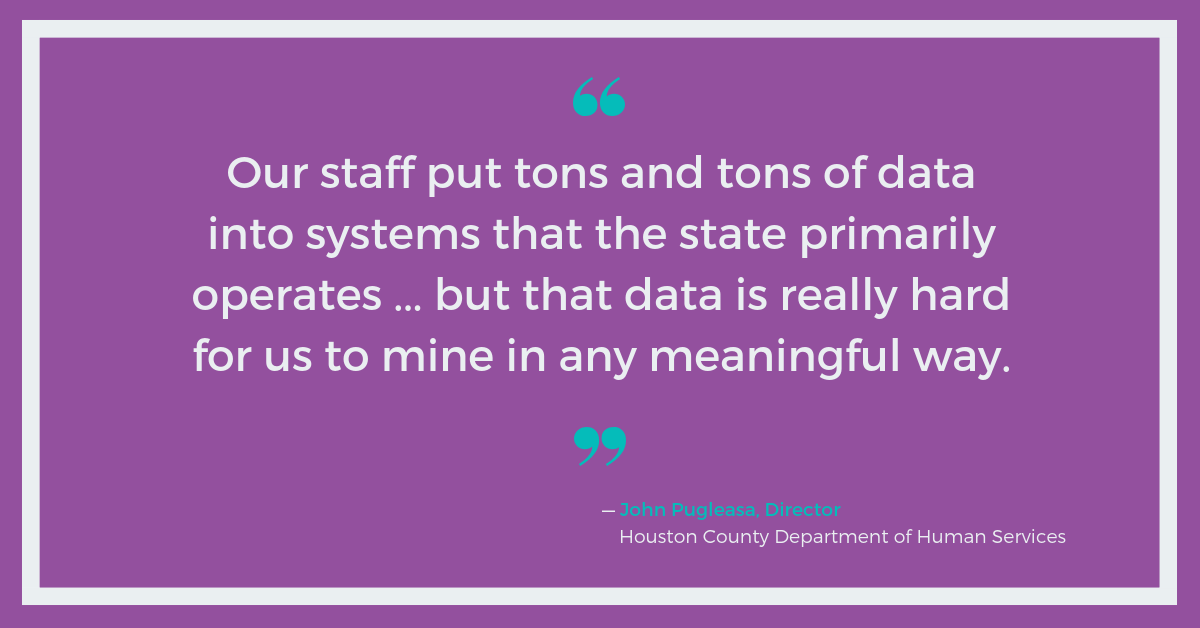 "Our staff put tons and tons of data into systems that the state primarily operates. That data is used for their purposes for compliance ... but that data is really hard for us to mine in any meaningful way to be able to make management decisions or case-specific decisions." – John Pugleasa, Director, Houston County DHS
Many agencies are still working with data collection systems designed to meet state and federal requirements, rather than sync up with their daily activities and needs. Having the right information for compliance is obviously important, but it's not the same information that social workers are using to make in-the-moment decisions.
As a result, social workers spend too much time collecting, entering, re-entering, or verifying data, and not enough time using it in meaningful ways to inform their actions.
Proper tools can help remove obstacles from data collection and sharing processes by allowing social workers to share data with anyone who needs it, from co-workers and supervisors to service providers and, of course, state systems.
Today's technology has significantly modernized the ability to do both. You can put the "social" back in social work, while also increasing data quality.

We understand it's your goal as an agency leader to give your workers the time, tools, and support they need to focus on families and do the job they were hired to do.
We believe a system of engagement designed to eliminate redundant work, fit the flow of daily activities, and provide them with the ability to focus on critical elements that promote safety and well-being is the answer.
Download the eBook, "5 Hurdles Blocking Social Worker Productivity in Child Welfare," to learn more.