Imagine you're a working parent balancing three minimum wage jobs to provide stability for your family but find yourself needing to apply for temporary assistance to get by.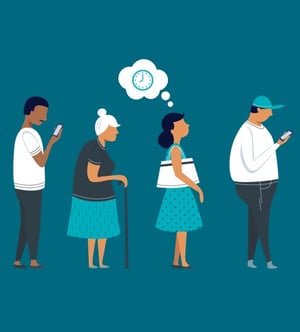 You don't have much time between shifts, so you drive to your local agency to start the application process over your 45-minute lunch break … only to get stuck in line as soon as you enter the lobby. You're not sure where to go or what to do. Do you stay and risk getting back to work late? Do you come back tomorrow and hope you'll get served faster?
To the vulnerable citizens who need your help, a line in your lobby may feel like an immediate disservice.
They'll be frustrated by the time they get to a worker and their appointment will be less productive. They'll lose confidence in your ability to quickly and accurately provide benefits. The ripple effects will continue.
So, what can you do about it?
We recently hosted a webinar about how to transform your human services lobby from chaos to calm. In just 30 minutes, you can learn how a comprehensive, commercial-off-the-shelf (COTS) solution for queuing and lobby management can help your agency maximize productivity and provide superior service.
No time to watch? Keep reading below for a short summary and overview of how Northwoods can help.
Transform Your Human Services
Lobby from Chaos to Calm

Consider the following challenges and questions. If any of these sound familiar, it may be time to implement a solution:
Frustrated clients: Do clients know where to go/what to do when they enter your lobby? How long are clients waiting to get served? How much time does your staff spend putting out fires?
Overworked staff: Are your workers happy/satisfied with what they accomplish each day? Are they caught up entering their applications for new intakes? Are frustrating processes causing turnover?
Increased agency traffic: How many applications are being processed? Have any significant events happened (e.g., changing eligibility requirements, natural disaster, etc.) to create an influx of clients? Are community outreach programs driving more people to apply for benefits?
Lack of visibility into operations: Who is entering your lobby and why? Are you processing more new intakes or re-certifications? Do you have more scheduled appointments or walk-ins? What are your peak traffic times? Do you have tools that accurately provide this type of visibility?
State and federal mandates: Are you meeting timelines for processing applications? What about expedited appointments? Do you have real-time data to ensure you're achieving what's necessary? What's your current process for tracking/reporting on outcomes to the state?
It's no secret the clients who enter your agency are dealing with personal and economic challenges before they even walk through the door.
We know the last thing you want to do is create more frustration, but a confusing lobby and long wait times may inadvertently leave them feeling even more vulnerable.

Improve Client Service While Eliminating Lobby Wait Times with Northwoods
Whether you're looking to reduce wait times, improve lobby management and queuing, increase appointment productivity, or boost client and caseworker satisfaction, Northwoods is here to help.
Here's a brief overview of how our lobby management solution helps streamline client flow throughout the agency: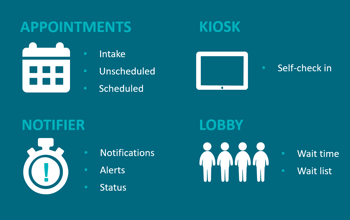 Kiosk—Improve client self-service: With Compass® Appointments Kiosk, clients check themselves in for appointments—scheduled or unscheduled—on a touch-screen self-service kiosk or through a greeter who checks in clients using a tablet. Kiosk updates the client's appointment status and notifies the appropriate caseworker of the client's arrival.
Lobby—Keep clients informed: Whether a client checks in through a kiosk, a greeter with a tablet, or the front desk, Compass® Appointments Lobby displays information on lobby monitors, allowing clients to see their place in line and when it's their turn to be served. Alerts on monitors let people waiting know who's being served and where to go (clients can also receive a text message when their caseworker is ready).
Notifier—Streamline communication and collaboration: Send notifications, alerts, and status updates back-and-forth between front desk workers and caseworkers when a client arrives. Also follows an agency escalation path to prevent clients from getting lost or waiting too long.
Appointments—Seamlessly manage client visits: Behind the scenes, Compass® Appointments works with Kiosk, Lobby, and Notifier to manage scheduled and unscheduled appointments and create transparency with a centralized calendar. Intelligent workload distribution balances appointment assignment among workers, helping ensure that clients are served quickly.
Data Analytics—Use data to best serve clients: Last but certainly not least, the reporting tools provide leadership with better visibility into appointment data, queue management, worker activity, and lobby flow.
The details: Appointments is a COTS product that can be configured to meet your agency's needs and business processes. It can be hosted in the cloud or on-premise depending on your resources (you can read the benefits of a SaaS solution for human services here).
Clients who have invested in Compass Appointments have reaped the following benefits: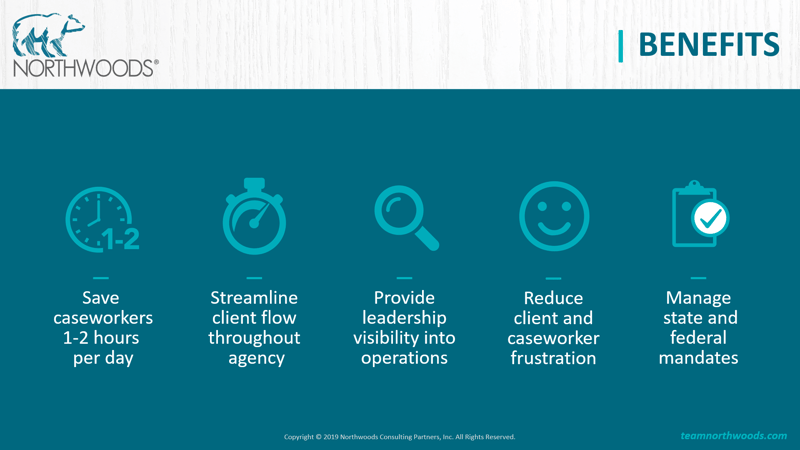 Improved appointment management and communication saves caseworkers 1-2 hours per day
Quickly matching the right person with the right worker streamlines client flow throughout the agency
Reports provide leadership visibility into operations to properly allocate staff and resources
Streamlined processes, improved lobby flow, and less wait time minimize client and caseworker frustration
Agencies have confidence they're processing applications and completing tasks in a timely manner to meet state and federal mandates

Watch the 30-minute webinar to see Compass Appointments in action and hear challenges and benefits first-hand from Chemung County Department of Social Services in New York. You can also view our case studies featuring San Joaquin County Human Services Agency, which has one of the busiest lobbies in all of California, and Cabarrus County Department of Human Services in North Carolina to learn more.