Rupam Chokshi, director of product marketing, has been an integral part of our organization for many years and continues to help us grow and improve. His in-depth knowledge of the health and human services (HHS) sector, modernization of technology, and improvement of business processes is a key factor in Northwoods' ability to build software solutions that are designed around solving state and local HHS agencies' most important problems.
We're proud to see Rupam selected as one of APHSA's 2018 "Emerging Leaders" for next week's annual ISM conference, one of our favorite events for discussing and learning about the most important IT topics and innovations.
In advance of the conference, we asked Rupam a few questions about how technology has made a positive impact on HHS and what lies ahead for the industry.

How has HHS technology evolved since you started working at Northwoods?
When I started, we focused mainly on helping agencies go paperless and reengineer their workflows and processes to gain efficiency. Now, although it's still important, the document management side of things to some extent is on the backburner.
Most agencies we visit typically have at least some form of electronic document management in place, so we've shifted toward mobility and helping workers access their documents and case management tools in the field, too.
More recently, Northwoods has really been on the forefront of using innovative, emerging technologies to help workers discover their cases, in terms of not only what's happening with their ongoing work, but also what has happened in that case for the last 10-15 years.
Especially in programs like child welfare where there's significant turnover, not every worker has the full story they need when working a case or making decisions, so having the ability to summarize that information into key insights has been a big deal.
It's really been a huge change from where we were—simply trying to make documents available electronically—to designing software solutions that read those electronic documents and make sense of them the same way a human worker would.

How does this shift impact HHS workers and agencies?
It's essentially giving workers the ability to do what they signed up for, which is taking care of human beings and getting them to a better place.
They can do more high-value work with vulnerable families or recipients of benefits instead of solely focusing on entering data, collecting compliance-related documents, and making sure the agency will pass audits.

So, what's next? Where do you see the industry headed in the next five to 10 years? What tools have the potential to make the biggest impact?
We're currently searching for the information that's hidden and making it available for workers to use. The next step is applying emerging concepts like machine learning and deep learning to make predictions based on that insight.
The public sector is already big on business intelligence and big data—they're able to forecast sales or determine what tools and resources they'll need to improve business outcomes.
As technology adapts, government is heading in that direction now, too.
The key is that we've got to collect and surface all this data first before we can make somewhat accurate predictions based on it. That way, we can empower workers with knowledge and boost their confidence when making decisions.

What are some other technology trends you're watching right now?
Lately I've been doing research around blockchain technology (who isn't talking about blockchain, right?) and how it can be applied in a meaningful way for HHS.
The idea is still fairly new and just catching on in government.
As the technology evolves, becomes more widely adopted, and is brought down to an everyday technologist level where it's more broadly available, I'm sure it will have applications.

What will you be talking about at ISM?
I'm a big believer that technology should always be rooted in solving problems, no matter how much it changes. Additionally, tools have to be intuitive and easy to use if they're going to truly help someone overcome the hurdles that get in their way every day.
So, I'm going to discuss how the most meaningful solutions for HHS are built around three pillars: problem, technology, and design. Along with that, I'll be sharing how I and everyone at Northwoods approach these three things when building solutions around our users.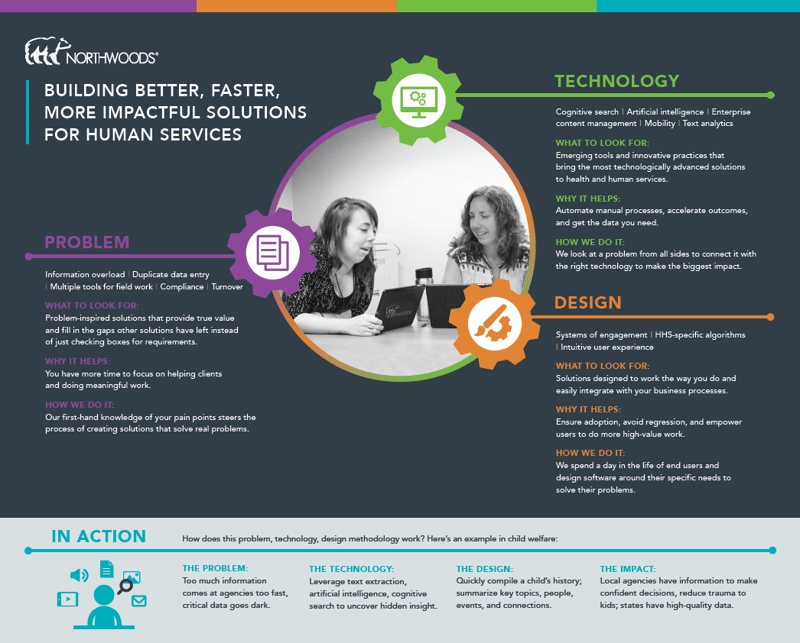 If you'll be in Seattle for ISM next week, look for Rupam during the Emerging Leaders Poster Session on Tuesday, September 18 from 5:45-6:30 pm at the back of the exhibit hall. You can also see his poster on display outside the exhibit hall throughout the rest of the conference.
Additionally, stop by booth 513 to meet the full Northwoods ISM team and see our solutions in action, or hear from our leadership team and customers at these can't-miss sessions:
Impacting Outcomes with Dark Data and a System of Engagement

| Tuesday, Sept. 18: 11:15 am-12:15 pm

Choosing Your Modernization Strategy: Modernization Isn't One Size Fits All | Tuesday, Sept. 18: 1:45-2:45 pm
View the full ISM agenda for additional details.