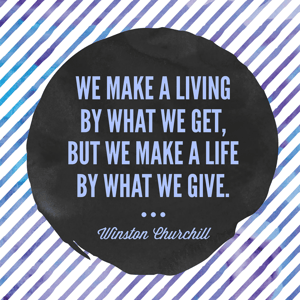 Today is #GivingTuesday, a global day of giving celebrated annually on the Tuesday after Thanksgiving.
Since its inauguration in 2012, #GivingTuesday has become the unofficial kickoff to the year-end/holiday charitable season.
For many, "giving back" simply means making a monetary donation to the charity of their choice.
However, we recognize that not everybody has the means to support their favorite causes financially.
In celebration of #GivingTuesday, we've compiled 10 ways you can give back without breaking the bank.

First, here are some tools and apps you can use to make a donation to the charity of your choice without actually spending any additional money.
AmazonSmile
AmazonSmile is a simple and automatic way for you to support your favorite charitable organization every time you shop on Amazon, at no additional cost to you.
Shopping at smile.amazon.com is essentially the same as shopping on Amazon.com (here are the specifics), with the added bonus that the AmazonSmile Foundation will donate a portion of the purchase price to your favorite charitable organization. You can choose from nearly one million organizations to support. (PS: Not sure where you want your dollars to go? Choose the Northwoods Foundation and we'll make sure your money counts!)
Goodsearch & Goodshop
Goodsearch has raised over $12 million for more than 100,000 nonprofits and schools through over a billion charitable actions.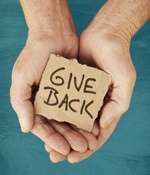 The concept is simple: each time you search the web though Yahoo!-powered Goodsearch.com, a donation will be made to the charity of your choice. The more you search, the more you earn for your cause.
Goodsearch also powers Goodshop, which similar to AmazonSmile, will donate a portion of what you purchase from 3,000 partner stores.
Donate a Photo
Take a photo, make an impact.
For every photo you share through the Donate a Photo app (available through iOS and Android), Johnson & Johnson gives $1 to the cause or charity of your choice.
You can donate one photo per day—an effortless $365 to charity each year. Nearly 3 million photos shared so far have helped 154 causes.

Next, remember there are plenty of things you can donate that aren't money.
Books
Reading has been proven to help both children and adults reduce stress, improve focus and memory, expand vocabulary, and boost critical thinking skills.
Several organizations exist to give books new life after you're done reading them. For example:
Diapers
Did you know 1 in 3 American families lack a sufficient supply of diapers to keep their babies clean, dry, and healthy?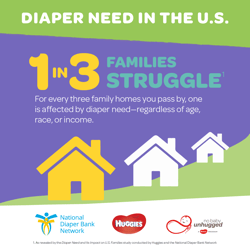 Not only does a lack of clean diapers expose babies to potential health risks, but since most childcare centers (even free and subsidized facilities) require parents to provide a day's supply of diapers, it means that many parents can't go to work or school because they can't leave their babies at these centers.
The National Diaper Bank Network supports over 300 member organizations and works with 4,000+ partner agencies in 47 states. Learn how to host a diaper drive or other ways to help reduce diaper need in your community.
Food
Children and adults face hunger in every community across the country.
In 2016, 41 million people struggled with hunger in the United States, including 13 million children.
Feeding America is a nationwide network of 200 food banks and 60,000 food pantries and meal programs that provides food and services to people each year.
Visit their website to learn more about food insecurity in your community, or find a local foodbank that you could support through a food drive.
Shoes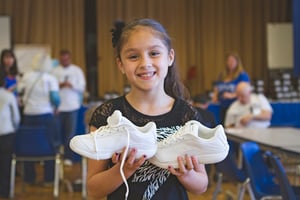 In developing countries, a good pair or shoes can mean the difference between whether or not a child is able to attend school or an adult is able to go to work.
Soles 4 Souls is a non-profit enterprise that creates sustainable jobs and provides relief through the distribution of shoes and clothing around the world.
Since 2006, Soles 4 Souls has delivered more than 30 million pairs of shoes in 127 countries and all 50 states.
You can donate gently used shoes individually, or host a shoe drive in your community or office. All shoes are given to those in need in developing counties or through disaster recovery relief efforts.
Time
Volunteering isn't just good for the community. It can actually help you be happier and live longer too!
VolunteerMatch makes it easy for good people and good causes to connect through the web's largest volunteer engagement network, serving 100,000+ participating nonprofits and helping attract more than $9.28 billion worth of volunteer services since 1998.
You can sign up for VolunteerMatch as an individual or organization, and then search for local or virtual volunteer opportunities that match your interests.

Random Acts of Kindness
Lastly, don't limit giving back to just charities and organizations. One simple random act of kindness can make anyone's day a little brighter! Here are 100 ideas to get you started: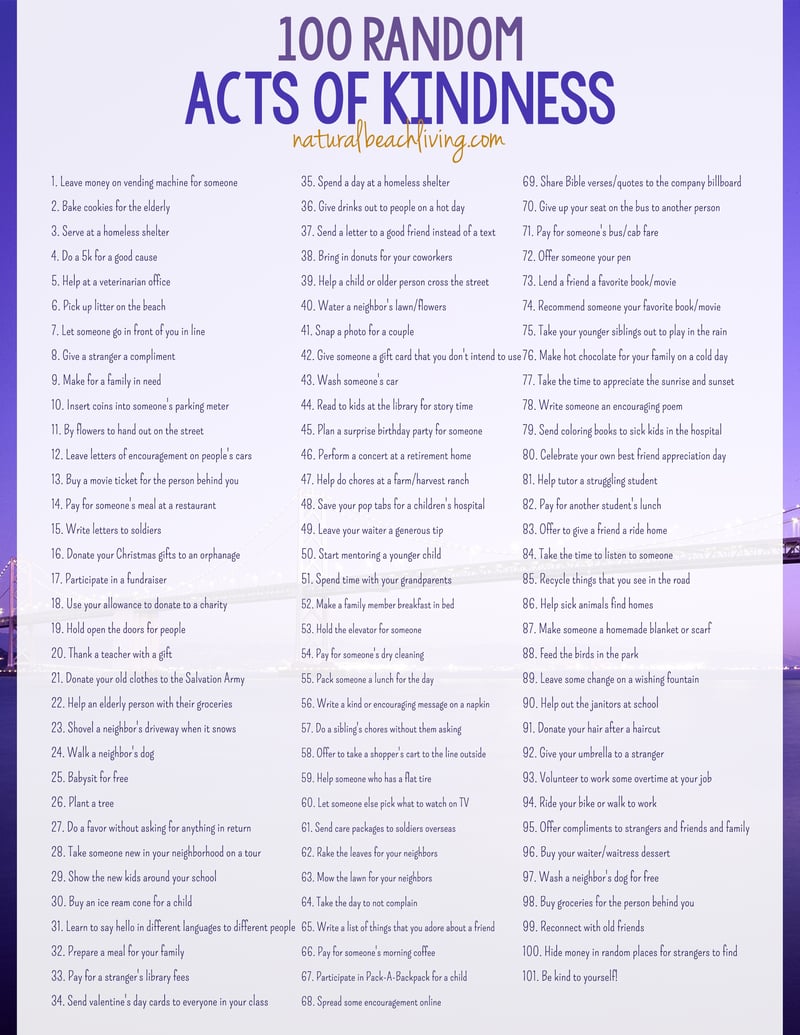 Graphic/photo credits: National Diaper Bank Network, Soles4Souls and NaturalBeachLiving.com
Disclaimer: Aside from the Northwoods Foundation, Northwoods is not associated or affiliated with any organization or nonprofit referenced in this blog post.