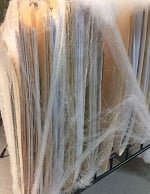 For many human services agencies, important documents and case information are long gone as soon as they're filed in the system.
Think about it this way: most basic document and content management systems force workers to wait until the end of a case to scan and file their documents, which means they don't have access to information when they really need it—while working the case. It's hard for supervisors to coach and advise workers when they don't have instant access to information either.
By the time critical information becomes available in the system, the case is already closed.
It's time to bring your content and document management back from the dead.
Below are three ways Northwoods' content and document management solutions can help you breathe life back into your processes.
We've also included links to case studies that show the benefits agencies in North Carolina and New York have seen from bringing their document management back from the dead in three program areas—economic assistance, child support, and child welfare.

Provide instantaneous access to all documents throughout the agency.
Economic assistance caseworkers should be able to access clients' information at a moment's notice—something that's much easier said than done if they have to rely on an antiquated document management system to find what they need. When it's time for the agency to prepare for audits, workers can get pulled away from providing services for hours or even days if individual documents or case files have to be located and organized.
With Northwoods' office-based document management solution, case and client data can be immediately available to all workers electronically as soon as it's scanned into the system—meaning caseworkers can instantly access accurate, up-to-date, quality client records.
Learn more: Robeson County Goes 100% Paperless with Software for Social Services from Northwoods

Make information accessible anywhere
—

even in court.

Accessing and managing documents in court is a challenge for many child support caseworkers. It can be especially frustrating if a worker can't find or pull up something when a judge asks for it, plus it takes time to get everything scanned back into the system upon returning to the office.

However, when caseworkers and supervisors have access to a laptop with Northwoods' software at the courthouse, they can print information out if requested by a judge. Additionally, with an in-court scan station, they can immediately scan and index documents as soon as they're signed by a client or judge.

Learn more: Lenoir County Books Productivity and Client Service in Child Support

Automate manual and time-consuming tasks.
Taking photos of a family's living situation is a regular responsibility for child welfare social workers, but without the right tools in place, it can be a tedious and cumbersome task. For example, time-stamping and tagging photos with important case information takes a lot of time, as does making sure the photos are scanned and filed in the right place.
Northwoods' mobile content management solutions give workers the ability to take photos that are automatically and immediately stamped with the date and time, client's information, worker's name, and any comments the worker wants to include—which speeds up processes and frees up more time to focus on making important case decisions.
Learn more: Chemung County Caseworkers Shift Time from Paperwork to People


| | |
| --- | --- |
| | Greg Tipping—Vice President of Northwoods' Complex Solutions Group—helps agencies uncover and solve their most complicated, challenging, and unique business problems. Equipping agencies with custom solutions to deliver services better, Greg fulfills his mission to make a difference in the lives of folks that rely on support from agencies to get by day to day. |
Social workers are coloring to raise money for kids in our #ColorForAKid fundraiser. For every completed coloring page, the Northwoods Foundation will donate $5 to the Dave Thomas Foundation for Adoption®. Here's how you can get involved.