Last month, a few Northwoodians attended APHSA's National Health & Human Services Summit. We attended sessions focused on predictive analytics, preventative care, improving outcomes, and integrating services, all of which had one theme in common: transforming the industry through the Human Services Value Curve.
What is the Human Services Value Curve, you ask? Keep reading to learn more.

Understanding the Human Services Value Curve
The Value Curve is a framework to help your agency improve your business model, which in turn means you'll be able to deliver better outcomes. It encourages organizations to be more collaborative, creative, and innovative – three keys to ensuring your agency can adapt and adjust as new technologies and case management methods push the human services industry forward.
Simply put, the Value Curve can help your agency make a larger impact on the individuals and communities you serve.
Here's a more detailed overview from the June 2016 issue of Policy & Practice:
"The Value Curve is a lens – a way of looking at what we do from the point of view of our customers – and its four levels represent ways of engaging consumers and their communities that result in greater impact as organizations move up the Value Curve.
At the first level, called the regulative level, the key wo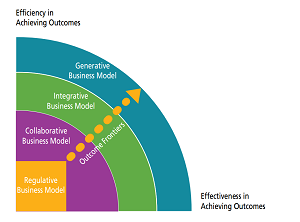 rd is 'integrity.' Consumers receive a product or service that is timely, accurate, cost effective, and easy to understand.
Next, at the collaborative level, the keyword is 'service.'
Consumers have an easier time of it when they 'walk through a single door' and have access to a more complete array of products and services because programs, and even jurisdictions, are collaborating to make it happen for them.
At the integrative level, the key term is 'root causes.' Products and services are designed using consumers' input so that we address their true needs and even begin to reach 'upstream' to address causal problems rather than 'treating the system.'
At the generative level, the key term is 'bigger than the family.' Root-cause analysis is done at a 'population-wide level,' resulting in prevention strategies and other forms of support broader than those an individual or family would receive directly."

Applying the Human Services Value Curve
The Value Curve is by no means a one-size-fits-all solution for agencies. Nor is it something agencies can traverse quickly. The path from regulative, to collaborative, to integrative, to generative (the ultimate goal) is a long one – and it requires extensive amounts of time, resources and expertise to move from one stage to the next.
As you think about how to get started advancing your agency along the curve, consider the following questions:
Are we maximizing efficiency and effectiveness? Where do we have room to improve?
If there were no limits, what outcomes would we hope to deliver to our clients? How can we innovate and think more creatively to be able to deliver those outcomes?
What opportunities exist to engage and collaborate with other agencies?
Do we have the right resources and expertise to be able to increase our capacity?
Will we need new/additional funding to increase our capacity?
If we commit to change, can we get buy-in from staff? Will they accept or reject our efforts?
Do we have the right technology in place to support our change initiatives?
The Value Curve sets the framework for agencies to improve outcomes, but it's up to each individual agency to establish a culture that allows them to evolve their business model to do so.
If you think you're ready, here are some additional resources to help:

| | |
| --- | --- |
| | Rich Bowlen is Director, Protective Services at Northwoods, where he is dedicated to improving the lives of caseworkers and social workers. Rich has 25 years serving in child protective services and is known for his passion for improving the lives of children. |
A new Northwoodians attended APHSA's National Health & Human Services Summit in May, where sessions focused on transforming the industry through the Human Services Value Curve. We rounded up some resources to help agencies better understand the Value Curve, plus think about how applying it can lead to better outcomes and greater impact.