Editor's note: The deadline to use the Coronavirus Relief Fund has been extended to Dec. 30, 2021, and this post has been updated to reflect that change.
While the Coronavirus Relief Fund established under the CARES Act is meant to provide much needed aid to state and local governments tasked with responding to COVID-19, questions remain about how the money can be properly spent.
We've spoken to human services directors in several states about using the Fund to improve telework capabilities for public employees to enable compliance with COVID-19 public health precautions.
Time is of the essence to help your frontline staff continue serving your community safely, so we've answered some common questions around how to take advantage of relief funds below.
Of course, you can always reach out to us for additional information or help to ensure your agency's needs are accounted for.

Q: What are the requirements for the permissible use of Fund payments?
A: The U.S. Department of the Treasury's "Coronavirus Relief Fund Guidance for State, Territorial, Local, and Tribal Governments" provides the most thorough guidance. In summary, it says that state and local governments may use funds to cover the following:
| | | |
| --- | --- | --- |
| COVID-19 Related | Not Budgeted | Incurred During |
| Reasonably necessary expenditures incurred due to the public health emergency with respect to COVID-19. | Expenditures were not accounted for in the budget most recently approved as of March 27, 2020. | Costs were incurred during the period that begins on March 1, 2020 and ends on December 30, 2021. |

Q: Are there any specific guidelines for local health and human services agencies?
The short answer: no. Many county and agency leaders we've spoken to are still trying to wrap their heads around what exactly the federal guidelines mean. For this reason, we recommend keeping an eye on the Treasury's Coronavirus Relief Fund FAQs as some answers continue to shift over time.
For economic assistance and child welfare organizations, we've interpreted "reasonably necessary expenditures" to include things like:
Supporting remote work by establishing telework capabilities
Accessing case information remotely
Converting critical case file documents from paper to digital
Limiting the need for clients to come to the agency
Streamlining your lobby to comply with social distancing requirements
Minimizing worker contact with clients in the field
Automating processes to support surge in applications/intakes due to COVID-19
Connecting individuals and families with supportive services
Facilitating compliance with mandated requirements
Implementing efficiency measures as part of a COVID-19 recovery plan (e.g., back file scanning) or to support a jurisdiction not yet affected, but likely to be impacted

Q: So, what funds are available in my state?
A: The CARES Act stipulates that the $150 billion provided to the Coronavirus Relief Fund is allocated to governments in states, territories, and tribal areas. The Center on Budget and Policy Priorities' fact sheet breaks down the distribution of funds by state and summarizes how the money was allocated:
"Each state will receive at least $1.25 billion while the most populous states (California and Texas) will receive over $10 billion each, we estimate. In most states, a portion of the funding will go to local governments serving populations over 500,000. Tribal governments will receive $8 billion."
The Treasury's document, Payments to States and Eligible Units of Local Government, further details how much state and local money was distributed, while GovTech Navigator's graphic provides a helpful visual representation of the state-by-state breakdown: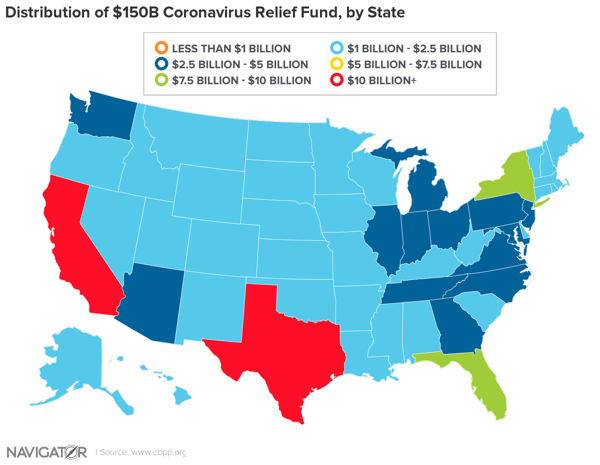 The National Conference of State Legislatures has also published (and updates daily) a database, "State Actions on Coronavirus Relief Funds," that provides up-to-date, real-time information for all 50 states.

Q: Which state departments or offices are overseeing the distribution of Fund payments?
A: Below are some of the offices we've identified as coordinating the distribution of funds, and the percent of allocations that have been spent through June 30, 2020, according to the Department of the Treasury Office of Inspector General. Don't see your state in the list below? Again, just let us know and we're happy to help.

Q: How is my state handling funds and how do we submit a request?
A: It's up to each state to determine how to allocate and manage funding at the county level. So far, the National Conference of State Legislatures database shows that 23 states have introduced 43 bills related to COVID-19, with only some of those bills detailing how the states would be distributing their Coronavirus Relief Fund dollars to local governments. Here are some examples:
North Carolina initially placed $150 million in a reserve fund to distribute across counties that were not eligible for direct funding, including a base allocation of $250,000, plus additional funds based on population. Each county manager submitted a plan for how to use their allocation based on broad guidelines and categories determined by the state. (Note: counties were recently notified that they can submit plans for a second allocation. Requests are ongoing.)
Minnesota is also distributing funds based on each county's population in 2018. Local governments complete and submit a Coronavirus Relief Fund Certification Form for the state to approve. As of June 29, 2020, the state had received and approved certifications for 64 counties, and 196 cities and towns, for a total of $596,086,068.
California's state budget approved on July 13, 2020 allocates $1.3 billion to counties to be distributed based on population. Each County Administrator signed a "Certification for the Receipt of Funds" that agrees to spend their allocation in accordance with provisions from California's 2020 Budget Act and submit a report on their expenditures by September 1, 2020.
Wisconsin used its funds to launch the "Routes to Recovery: Local Government Aid Grants" program. Every county, city, village, and town was allocated a portion of the program funds, which it can withdraw for eligible reimbursements. To draw down its allocation, the local government reports its expenditures for reimbursement through an online expense reporter.

Q: What are some of the keywords we should incorporate in our request?
| | |
| --- | --- |
| Compliance with public health measures | Public health emergency |
| Direct response to emergency | Social distancing measures |
| Second-order effects of emergency | Public health precautions |
| COVID-19 PHE recovery planning | Prepare for future COVID-19 outbreaks |
| Essential employees | Essential services |
| Required staff | Frontline staff |
| Telework | Remote work |
| Critical work | Worker safety |
| Remote access to case files | Electronic document submission |
| Virtual meetings | Touchless interactions |

Q: Who at my county is coordinating with the state to determine how to spend our local allocation?
A: This varies, but it's most likely that your County Treasurer, County Manager, County Finance Officer, or County CEO has been designated as the responsible person to oversee the use of the funds. This person can explain how money has been budgeted and portioned out so far, plus what's still available.

Q: How do we ensure the critical services being delivered by local frontline workers are represented in our county's planning and budgeting?
A: Your county's CRF manager is likely juggling multiple funding requests and may not know technology exists to help public employees in social services enable compliance with COVID-19 public health precautions.
Contact us and we'll provide a sample message to help your agency and support your staff.

Q: But what about all the other local entities/organizations that also need funds?
A: Some agency leaders have questioned if it's appropriate to invest in technology while workers are being laid off or furloughed and other organizations need funds for their own meaningful projects too.
We strongly believe that technology isn't just an investment in your agency; it's an investment in the well-being of your community. You're not only rising to meet increasing service demands brought on by COVID-19, but also minimizing exposure and mitigating risks associated with person-to-person contact.
Plus, investing in technology now is necessary to ensure your agency can respond efficiently whenever the next crisis inevitably hits. Read our blog post to learn more on why it's important for human services agencies to prioritize and invest in technology amid COVID-19.

Q: What Northwoods solutions can be eligible for Fund payments?
A:Traverse is a cloud-based, commercial off-the-shelf (COTS) document management, forms management, and mobility software purpose-built for human services agencies. Powered by Amazon Web Services (AWS), Traverse has you covered on security, disaster recovery, and uptime.

Benefits:
Accessible anywhere: web-based technology and mobile apps make it easy to work remotely

User friendly: intuitive design, in-app learning, live chat

Champions collaboration: share documents/forms between workers and supervisors, as well as clients and external collaborators

Cloud-based: reduce storage/costs and lighten IT burden

Easily integrated: API-enabled to share information, enhance case management/eligibility systems, and eliminate redundancies

Operational visibility: Meet timeliness and accuracy goals
Learn more about how Traverse helps adult & aging, child welfare, and economic assistance.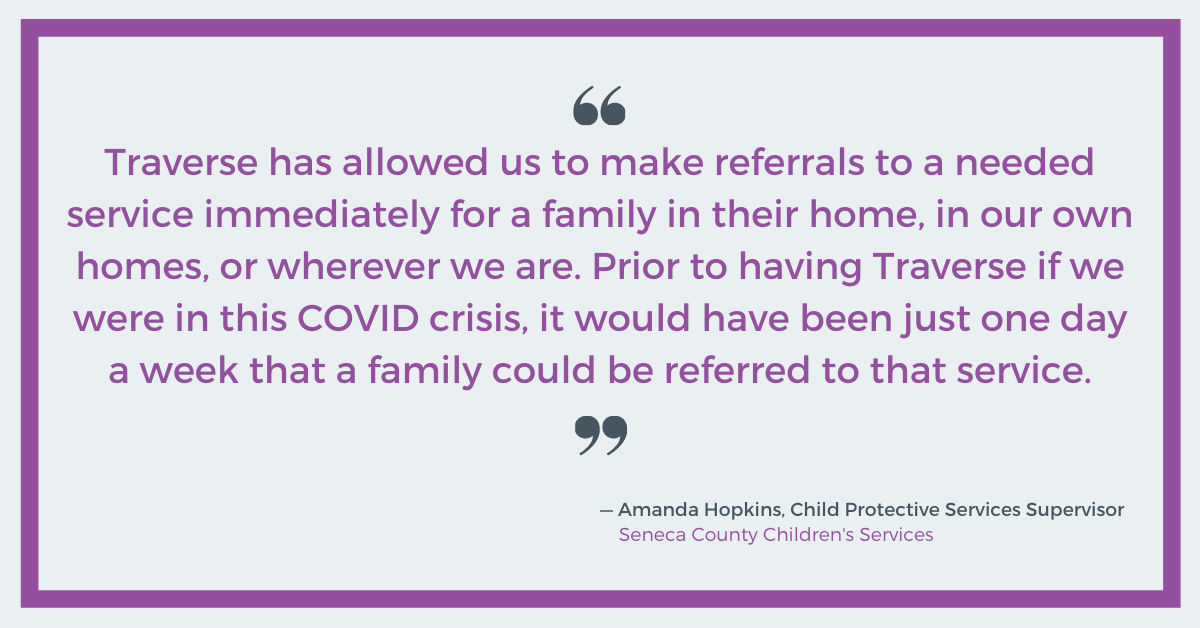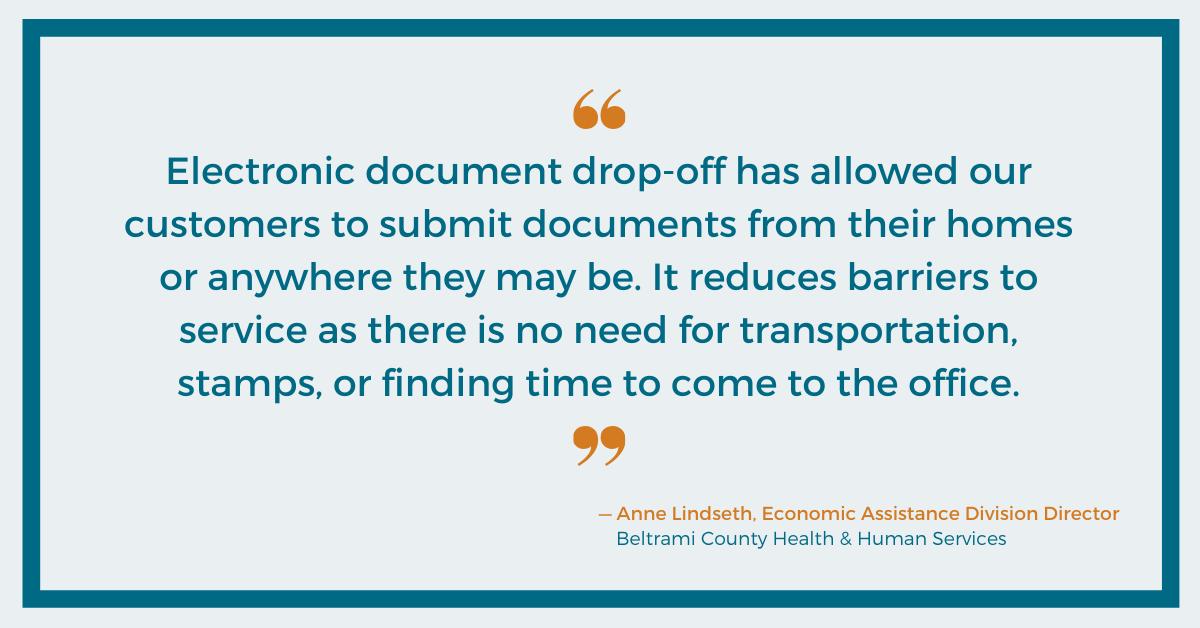 Q: This has been helpful, but I still have questions. What should I do now?
A: Northwoods' technology, practice, and policy experts can help you navigate this process, develop a technology roadmap, understand what funds might be available for your county to leverage, or answer any other questions you may have.
If you plan to request Fund dollars to put toward technology, read our guide, "Technology Toolkit: An Essential Buyer's Guide for Human Services," for additional advice and resources to consult throughout the process.
We also recommend consulting these additional resources for more detailed information:


| | |
| --- | --- |
| | Rupam Chokshi believes that technology should always be rooted in solving problems. It is through this lens that Rupam approaches his role as director of portfolio management, where he oversees market analysis and product strategy. By ensuring Northwoods' products solve our customers' most important problems, Rupam can help free up their time to focus on the most important aspect of their jobs—their clients. |
| | |
| --- | --- |
| | Kathy Sturman, manager, business development operations, oversees Northwoods' sales support, operations, and enablement efforts. She focuses on researching and understanding how to identify our customer's critical business issues, how pending and new legislation impacts human services agencies, and how our solutions improve business processes and address issues. |