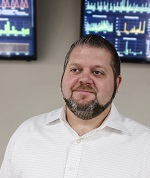 Don Abney, Northwoods' Chief Technology Officer, has spent the last 20 years developing and delivering technology services across several industries. He's also one of the smartest humans you'll ever meet.
Don recently sat down with our Business Development team to answer some questions about how Product Delivery (PD) at Northwoods continues to evolve and innovate to meet customers' needs.
His answers were just too good not to share!
For starters, why do you come to work every day?
I spent the first half of my career accumulating a lot of experience and knowledge that helps solve technical problems.
Unfortunately, the nature of software work in this region of the country can get redundant. At a certain point, I started to feel like a solution without a meaningful problem to solve.
Northwoods is creating some of the most socially impactful technology solutions I've ever seen.
We're endeavoring to do something that might actually change the world, and certainly change the lives of some families and individuals.
I don't feel like a solution without a problem anymore, because I've been given the chance to use 20 years of experience to make a dent and do meaningful work.
It's a really fun mission to be on, to do what we do and help businesses be successful as a result of helping people.

How has Product Delivery (PD) at Northwoods evolved? What's your vision for the future?
Northwoods PD looks a lot different now than when I started.
The software folks have learned how to interact with the business, and to some extent they've become business people themselves.
People understand what they're building and why they're building it, so it's no longer just a software shop on one side of the office and a business shop on the other.
There's also better communication between the humans who need software and those who make it.
We're tightening feedback loops and using visualization to be able to compare what we're actually building to what Human Services organizations have expressed as a need.
We're attracting experts in modern software product methodologies, and we're constantly looking at better ways to get the value we're developing into the hands of people who need our tools.
So, my vision for PD is really my vision for Northwoods. I want Northwoods, the business, to look at PD as a valuable partner, and someone they can trust and depend on. If we're helping drive innovation and looked to as part of the overall strategy for the company, that's success.

How do these changes impact the people using our software?
If I'm going to use a piece of software, I need something that's usable, meets my needs, and changes and grows with me over time.
That's what I want for our customers too, so these changes are positioning us to be able to get value into their hands much faster and more intentionally.
We're modernizing the way we get software out the door so you don't have to wait six months or a year to upgrade. You can count on Northwoods to deliver a product that is purposely designed to be usable and delivered in a timely fashion.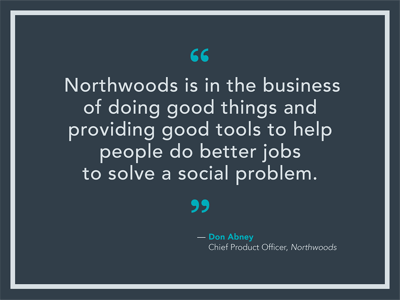 What makes Northwoods different than other places you've worked in the past?
For one thing, I have never walked in to a more passionate, committed, intelligent group of people in my entire life. It really is all about people here.
Also, it feels like the money we make is a side effect of the work that we do, and that's a really neat thing.
I think a lot of businesses would tell you, "Oh, we're not in the business of making money," but then they don't actually behave that way.
Northwoods is truly in the business of doing good things and providing good tools to help people do a better job to solve a social problem, and it's by good fortune that we make money as a result of doing that. That's a first for me.

What would you say is your superpower?
I truly believe at the core of my existence that technology problems are people problems.
When you start with people and empathize with the human beings who are using software to solve problems, you can achieve incredible things.
To be a technologist, but to also be a good person and a good leader, makes all the difference in the world.
That's a pretty rare combination.

What's your proudest accomplishment so far at Northwoods?
Delivering something new to the world that is also valuable is one of my favorite things to do.
The day I heard back from a customer in North Carolina that they had used our software to identify and locate a family member to care for a child and keep that child out of foster care may still be my favorite day at Northwoods so far.
In that moment I was able to capitalize on that vision of using my superpower to actually change at least a small part of the world.
The other thing that makes me really happy is seeing the human beings at Northwoods get closer to achieving their potential.
When they start to feel that same sense of accomplishment and start doing things they didn't even know they could do, I think I'll have my next favorite day.

While you've got the mic, what's a common misperception about software development you'd like to disprove?
Historically, and through a series of not so great experiences, businesses tend to believe their software shop is very limited in terms of what they can deliver.
I would like to flip that script on its head a little bit.
In this day and age, we can do almost anything with technology. (Whether we should or not is a different story.) What I really, really want is to blow away the perceived constraints.
I'd rather we had to occasionally fail to deliver big, creative ideas after trying to make them a reality than to think that we didn't put forth one of those big, creative ideas because we believe ourselves to be limited.

Anything else you want our customers and readers to know?
People don't often perceive technology shops as being centered around human beings, but Northwoods PD certainly fits that description.
We're not some faceless group of techie nerds sitting in the corner, and we're not some huge consulting agency that's going to bill you by the hour.
We're truly concerned about what you're doing every day and how we can deliver technology that helps you do it.