Technology can never replace human interaction in child welfare. And it shouldn't. Connecting with children and families is fundamental to improving outcomes and well-being.
The current COVID-19 pandemic has caused many child welfare agencies to quickly pivot to support a remote workforce, and enable people to connect and share important information in new and different ways. Some child welfare experts predict connecting remotely will become part of the new normal for child welfare through things like video chats, collaboration apps, or instant messaging tools.
Traverse, Northwoods' child welfare software, is empowering remote work across the country today, while supporting caseworkers' efforts to provide critical service delivery, in a variety of ways. Here are five best practices from agencies using Traverse.

Quickly accessing and using case information
Caseworkers must have the ability to access critical information that may still be stored in a paper case file. With limited or no access to the office, accessing, reviewing, using and sharing this information has become virtually impossible.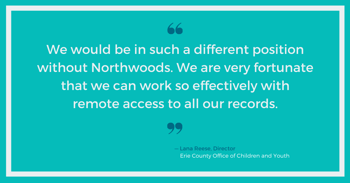 Traverse creates organized, easily accessible electronic case files. It stores the entire case history, including documents, forms, and photos that it converts into readable text using artificial intelligence (AI).
Caseworkers are using Traverse to do simple keyword searches in the digital case file to find information quickly from a laptop or tablet from anywhere, with or without a connection.
Traverse also has the ability to organize content in the way that is most meaningful to the way individual caseworkers work by giving them the ability to sort (filter) by key issues, topics, entities, or various activities specific to that case. (Read more: Northwoods Mobilizes Content for Caseworkers Using AWS-Based Application)

Collaborating on forms and assessments
When able to be in the office, caseworkers could easily poke their head into a supervisor's office or talk over a cubicle wall to a co-worker to ask questions or validate decisions. In our new normal, workers still have the need to share information and questions about their cases with their team. Traverse fills that gap.
For example, caseworkers and supervisors communicating via video chat can split their screen—video chat on one half and Traverse on the other—to review case information together to make decisions about next steps. They can also collaborate on completing drug and alcohol assessments, psychological assessments, or referrals for services by electronically routing forms to one another.

Collaborating for (or in) team meetings
Remote team meetings that require representatives from multiple organizations throughout the community are a challenge (think Family Team Meetings, RED Team meetings, group supervision, court staffing, etc. where participants may include workers from several different parts of the agency, as well as providers, partners, parents, counselors, teachers or other supports).
Traverse enables information sharing and transparency for all participants, regardless of their location, as they come together to make difficult decisions on even the toughest cases.
Because workers can easily surface specific and critical information collected throughout the life of the case, all meeting or staffing participants are able to ask creative questions and propose new or different approaches to supporting that specific family. Everyone who is involved can see and discuss the same information or document stored electronically in Traverse.

Diving deep into case history
Agencies know what they are experiencing today is the calm before the storm—a slowing in calls and reports coming in as a result of everyone being required to stay home and many children not interacting with mandated reporters—but a surge in reports is inevitable.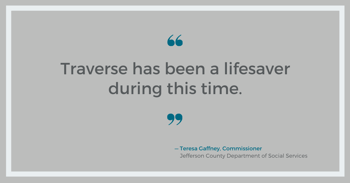 Workers are using this time to dive into case history to better understand families' deep issues, root causes, and driving behaviors so they're prepared to quickly respond when the time comes.
Traverse uses AI to read entire case files and surface key insights that enable caseworkers to mine all the content and take this deep dive to understand children and families as well as they can.
For example, workers using Traverse are clearly seeing evidence of themes in their cases and uncovering little known or hidden information. This is resulting in amazing revelations to understand how to best promote the safety and stability of the family. (Related Resource: Investing in Essential Technology and Remote Connection for Child Welfare)

Pinning content to boards
If you've used Pinterest, you are familiar with the concept of pinning something to a virtual bulletin board to come back to later. Traverse has similar functionality, as each account includes one board that caseworkers use to pin items to review with a supervisor, resources to share with coworkers, or key information found in a case to add to an assessment or form.
Additionally, as workers are diving into a child or family's history, they're finding information or topics in the case that either they didn't know existed, didn't expect to find, or need to inquire about further. Workers are using their board in Traverse to pin content to revisit later for further investigation.

See Traverse in action or reach out to get a demo of how to apply these best practices to a real case. You can also see more quick tips we shared with Traverse customers to help them take advantage of their software as they first started transitioning to remote work.