Human services agencies face several hurdles when it comes to investing in technology.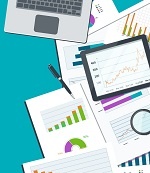 One of the most significant is ever rising costs to manage—and ever decreasing dollars to fund—expensive technology-related projects.
Even when resources are limited, it's not impossible to come up with the money to purchase and maintain innovative technology solutions. (Plus, the cost won't seem so bad once you realize the value of your investment!)
All it takes is a little upfront planning and creative thinking. We've compiled four tips to help you get started.

Think outside the box.
Many agencies still operate under the assumption that technology has to be purchased one certain way at one certain time, which can be overwhelming to anyone working with a limited budget.
Keep in mind that payment options have become more flexible, and the ability to successfully finance a technology project seems much more manageable and realistic.
For starters, you could combine several different funding sources—e.g., supplement reimbursement money coming in with an innovation grant or loan from a for-profit partner.
You could also consider a model that allows you to pay smaller amounts over a longer period, or coordinate with another local agency to share services or drive down implementation costs.

Do your homework.
Each financing option has its own subset of terminology and requirements associated with leveraging it.
Whether you're weighing a block grant against a discretionary grant or differentiating between an operational expense and a capital expense, you need to be familiar with the nuances and specifics of each option to determine which is right your agency.
You should also know the difference between local, state, and federal budgets to make sure you're maximizing all three. For example, federal money is the most restrictive, so you should spend that first, followed by state and then local.

Plan ahead.
Even if you're not sure exactly how you'll use the money once it's approved, make sure you earmark funds for new technology as early as possible.
You might request a certain amount for "modernization" initially, and then figure out the specifics later in the process.
Remember too that each budget goes into effect at different times (federal in October, state in July, and local in January), so be strategic about when you tap into each pool of money and you may be able to spread payments over multiple fiscal years.

Use your resources.
Funding isn't a problem you have to solve by yourself.
Engage your county's commissioners or finance/IT committee members, a state procurement official or concierge, or your agency's board members to help you identify and understand options and resources available to you.
There are also several online resources you can consult for additional information and advice.
In fact, we designed the following guide to help agencies better understand, search for, and evaluate various funding options available.
Download a copy, and don't hesitate to reach out to us with any questions!

FUNDING TECHNOLOGY PROJECTS IN HUMAN SERVICES

Like what you're reading?
Subscribe to our blog for daily, weekly, or monthly notifications.


| | |
| --- | --- |
| | Michael's role as vice president and chief financial officer revolves around numbers—calculating them, interpreting them, and communicating them. Michael was taught at a young age that everyone has a responsibility to make the world a better place. By working at Northwoods and supporting customers that devote their lives to doing so, Michael can fulfill a duty he was brought up to believe as a kid. |