In September, Pennsylvania's Auditor General Eugene DePasquale released State of the Child, a special report that assesses the state's broken Child Welfare system. The report and accompanying press release underscore an ongoing and critical issue: caseworkers and supervisors need more support and resources to do their jobs effectively and truly keep children safe.
Full summary:
Often we are so worried about what needs to be done to help the children of tomorrow that we overlook the children that need our help today. Not only do we overlook these vulnerable kids, but also the people serving on the front lines to protect, strengthen, and create permanency for them and their families.
Many of these caseworkers and their supervisors have gone the extra mile to identify, recommend, and even test out workable solutions to better serve the kids that need their help. And what do they get in return?
Without fail, they are constantly told they are contributing to or working in a broken system.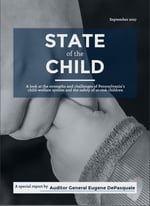 Rather than getting help they've been requesting for years, they receive more legislation, more policies, and more mandates … along with less financial investment to deliver on them.
State of the Child, a special report released in September by Pennsylvania's Auditor General Eugene DePasquale, assesses the state's broken Child Welfare system, highlighting five interlaced challenges that severely impact caseworkers' ability to do their jobs effectively, and 17 recommendations for improvement.
More importantly, it underscores just how badly workers (not just in Pennsylvania, but nationally) need better support, systems, and resources.
In a press release issued to accompany the report, DePasquale said:
"What I found for my 'State of the Child' report is appalling.
I'm talking about wholesale system breakdowns that actually
prevent CYS caseworkers from protecting our children
from abuse and neglect."
I applaud Auditor General DePasquale for keeping these issues on the front burner, and it is my hope that he and his team act boldly enough to work together with Pennsylvania Department of Human Services (DHS), the Office of Children, Youth and Families (OCYF), county Children & Youth Services (CYS) agencies, and other partners to turn the report's recommendations into actions.
However, I also want to use this report to underscore an even larger issue that I hope Child Welfare advocates nationwide will join me in rallying against.
Over the years, Child Welfare has been the recipient of reactionary policy. This approach is what often leads to the countless mandates and policies that go unfunded, and increases the already overwhelming burden experienced by those serving on the front lines as a result.
Further, agencies have always known the information brought to light in this report, as well as several other similar ones that have preceded it.
Given that reports like this have been offered for 10, 15, or even 20 years, why is this one different? If similar recommendations have been offered in other states, how are they still considered innovative? What recommended policies and actions identify the funding necessary to implement these recommendations at a local level—where the children actually live?
Bottom line, we continue to see reports and recommendations like this, and yet children continue to face horrific circumstances that jeopardize their very lives.
We're past the point of needing more suggestions. We need bold action that breaks traditional approaches and methodologies. We need a whole community of advocates and decision makers willing to stand up and insist that private, public, and governmental agencies put their individual agendas aside and represent innocent children facing serious harm.
As stated in the report:
"As a society, our goal must be clear:
no child should ever be mistreated,
because one abused child is one too many."
So, my fellow advocates, I ask you: what are you willing to stand up for and represent? If we don't advocate to try something new, to truly take action, who will?
I'm not sure about you, but I still carry the picture of the very first child I encountered as a new worker so many years ago. To this day, she's a constant reminder that we have to try harder, to do better. After all these kids are going through, they deserve leadership that is willing to take a risk.
At Northwoods, we believe in doing whatever we can to help those putting their boots on the street to assure that each child they see can believe that tomorrow will be better than today.
Will you join us?