Finding the best placement the first time for a child coming into care is every foster care or kinship social worker's mission. But that's easier said than done when you only have a partial understanding of the child's story. What if you could uncover a complete history of previous placements, medications, behavioral issues, and other key information to shape your decision? Imagine if that child's case file could talk to you.
Maybe you're new to the case or an on call social worker required to immediately find a safe place for a child to stay the night. With little time and a lot at stake, you need a complete understanding of the family and case in a moment's notice. What are the important medical and emotional needs? What can help minimize trauma? Imagine if you could gain immediate insights from a wealth of historical knowledge to make quick decisions about safety and lessen the hurt just a little.
The best predictor of a child's future safety is a thorough understanding of the detailed past, including prior traumatic incidents, people connected to the family, and major events; however, understanding a child's whole story can feel impossible to social workers when critical information about the case is often hidden or virtually impossible to retrieve.
How can social workers uncover this critical information to make informed, confident decisions? Meet Traverse®—the protective services case discovery platform from Northwoods.
Introducing Traverse: The Protective Services Case Discovery Platform from Northwoods
Traverse automatically analyzes entire case files and shines light on "dark data"—case content that is hidden or virtually impossible to retrieve—to uncover specific information about a case, including major topics, key events, people, and related entities.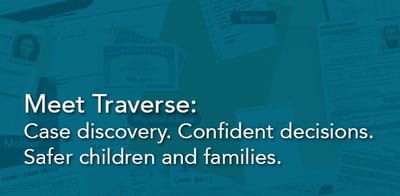 Traverse allows human services agencies to leverage the information they already have—analyzing years of information and volumes of case records to build connections that may have otherwise gone unnoticed to make well informed, more confident decisions.
Social workers can view content, topic word clouds, and event timelines to quickly come up to speed on what has and is happening in the case to:
understand family and non-family connections, safety concerns, and strengths when investigating abuse or neglect;
quickly respond to on call and emergency situations;
find the best placement for children the first time to reduce the number of moves and trauma;
better prepare for court hearings, family team meetings, and adoption; and
identify and address community trends contributing to child maltreatment, such as mental illness or substance abuse.
Don't just take our word for it. Check out our full library of user stories and videos to see how Traverse empowers CPS investigators, on-call social workers, court liaisons, protective services supervisors and program directors, and more with critical information quickly to make informed, confident decisions.

Why Do I Need Traverse? My Agency Doesn't Have Any Dark Data
You might want to think again. Child welfare agency directors we work with estimate that more than 80% of the information their agencies collect, process, and store at any point in a child's life is not effectively utilized by agency staff when they make safety decisions.
The problem is that the digital age has dramatically increased the volume of information, which is coming at social workers faster than they can manage.
Captions on photographs, social media, emails, treatment plans, medical records, and school and court records are just a handful of examples of dark data in child welfare. This hidden information cannot often be utilized by agency staff when making safety decisions for children. When social workers don't have access to the information they need, the children they serve are at risk for further trauma.
We created the following resources to answer common questions around dark data in child welfare, including the potentially fatal consequences if agencies fail to find and use it:
Shining Light on Dark Data
in Child Welfare

Uncovering Dark Data
in Child Welfare

Like what you're reading?
Subscribe to our blog for daily, weekly, or monthly notifications.


| | |
| --- | --- |
| | Rich Bowlen is Director, Protective Services at Northwoods, where he is dedicated to improving the lives of caseworkers and social workers. Rich has 25 years serving in child protective services and is known for his passion for improving the lives of children. |