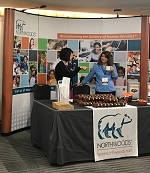 New year, new opportunities!
If one of your goals for 2018 is to keep your finger on the pulse of key issues, trends, and topics impacting your agency and/or community, attending one or two industry conferences throughout the year is a great way to get started.
We've vetted and attended a lot of conferences over time, and we like to start each new year with a list of recommendations.
This list represents events that not only have amazing programming and speakers, but also build in time for attendees to network, share ideas, and discuss how they're addressing key opportunities and challenges.

APHSA's National Health and Human Services (HHS) Summit
Who? HHS agency directors, program administrators, and professionals
What? The 2018 summit will showcase transformation efforts underway across the nation focusing on program integration, human services workforce capacity, and innovation in health and human services.
When? May 6-9
Where? Arlington, VA
Why? This is a conference we look forward to every year. Northwoodians who attend the summit always come back with a ton of insights on how policy changes and industry trends will affect our customers.
Find more information about all of APHSA's conferences and events

Ohio Job and Family Services Directors' Association (OJFSDA) Annual Training Conference
Who?

Representatives from Ohio's 88 County Departments of Job and Family Services, plus state and local policymakers, legislators, and commissioners

What?

OJFSDA's Annual Training Conference provides training, research, education, and idea-sharing to help attendees find new ways to better serve the citizens of Ohio.
When?

May 8-9
Where?

Columbus, OH
Why? Big things are happening in Ohio, and the state continues to earn accolades for improving its IT procurement processes in a way that helps agencies deliver services faster. OJFSDA's Annual Training Conference is a great way to hear first-hand from partners throughout the state about how these changes impact the way they do business.
Visit OJFSDA's website for additional information

New York Public Welfare Association (NYPWA) Annual Summer Conference
Who? New York's l

ocal social services and state agency administrators

What?

NYPWA's bi-annual conferences present a variety of different opportunities for the exchange of ideas, development of new initiatives, and refinement of existing programs and services among

New York's 58 local departments of social services, state government agencies, and other organizations.

When?

July 15-18
Where?

Sarasota Springs, NY

Why?

New York's commissioners share our commitment to always exploring new ways to help agencies modernize their tools and processes so that caseworkers can make the biggest impact on the community. We've been attending NYPWA's conferences for a few years now and always come away with great insights.

Visit NYPWA's website for additional information

Florida Coalition for Children (FCC) Foundation's Annual Conference
Who?

Child welfare agency directors, board members, program managers, supervisors, case managers, administrative staff, and advocates

What?

The FCC Foundation's 2018 Annual Conference will focus on the agencies and individuals who work on the behalf of Florida's abused, abandoned, neglected and at-risk children.
When?

July 23-25
Where?

Boca Raton, FL
Why? Last year at this conference, we spoke to several caseworkers about their need for tools to help uncover critical information that gets buried in their case files over time. (Psst: we can help with that!) This year we're hoping to continue those conversations and learn about what other tools caseworkers need to better serve kids.
Visit the FCC 2018 website for additional information

County Commissioners Association of Pennsylvania (CCAP) Annual Conference and Trade Show
Who?

Pennsylvania commissioners, county leaders, affiliates, and support staff

What?

CCAP's Annual Conference helps attendees get the information they need to take advantage of new and evolving services, processes, ideas, and approaches so they can better meet constituents' needs.
When?

August 5-8
Where?

Gettysburg, PA
Why? CCAP was a new conference for us in 2017, and one that we're very excited to return to in 2018. We value the opportunity to continue the critical conversation that Auditor General Eugene DePasquale started with the release of last year's State of the Child

report assessing and providing recommendations to improve the state's child welfare system.

Visit the CCAP Annual Conference website for additional information

National Adult Protective Services Association (NAPSA) Conference
Who?

Adult Services program directors, managers, supervisors, and direct service providers

What?

NAPSA focuses on the increasingly visible problems of elder and vulnerable adult abuse and maltreatment, providing a

forum for attendees to share information, solve problems, and improve services.

When?

August 28-30
Where?

Anaheim, CA
Why? We've heard from several customers that Adult Services isn't typically considered high priority when agencies make IT investments, even though programs can greatly benefit from having access to these types of solutions and resources. NAPSA is a great opportunity to discuss how Adult Services agencies are overcoming these hurdles, and what we can do to help.
Visit the NAPSA Conference website for additional information

APHSA's IT Solutions Management for Human Services (ISM)
Who? HHS agency directors, program administrators, IT directors, and federal/state officials
What? ISM brings together federal, state, local, and private sector thought leaders to discuss lessons learned, emerging issues, and key trends relating to technology in health and human services.
When? September 16-19
Where? Seattle, WA
Why? Hands down one of our favorite conferences to hear from experts at all levels about the most important IT topics and innovations impacting human services.
Find more information about all of

APHSA's conferences and events

County Welfare Directors Association (CWDA) of California Conference
Who?

California child welfare agency directors, program managers, and supervisors

What?

The CWDA Conference provides an opportunity for attendees to promote innovation and to expand their approaches to best serving children, families and aging individuals.
When?

October 10-12
Where?

Anaheim, CA
Why? California often receives accolades for

technology innovation in child welfare, so this another conference we always like to attend to hear about digital, forward-thinking strategies and ideas to improve service delivery.
Visit

CWDA's website

for additional information

What other conferences are on your radar this year? Let us know in the comments. You can also visit our website to see a full list of national and state-specific conferences we're planning to attend each quarter.